Lang and Wu Present Their Work
On November 17, 2018, two EML Seniors, Kasinda Lang and Wan-Ting (Joyce) Wu, successfully presented their respective research at the Southern California Conference for Undergraduate Research (SCCUR).

Lang, an English Literature and Language major, developed her project under the guidance of Dr. Aaron DeRosa. Analyzing Kazuo Ishiguro's novel Never Let Me Go in a neoliberal context, Lang articulates the debilitating effects of technological surveillance on the construction of selfhood. In Lang's reading, Ishiguro's novel demonstrates how nonconformity is subsumed within neoliberal entrepreneurship, making "orphans" of us all.

Wu, an Applied Language Studies major, worked under the guidance of Dr. Olga Griswold. Wu analyzed the use of passive voice in discourses surrounding sexual violence. Based on the data collected from the Ford-Kavanaugh hearings, Wu convincingly argues that, in this context, passive voice strips women of agency and voice.

Lang and Wu's professionalizing experiences position them as rising stars in their fields, and the department is proud of their accomplishments.
Lang at SCCUR 2018 at Pasadena City College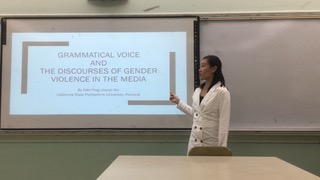 Wu presents her research at SCCUR 2018