2017 Graduate Symposium Showcases M.A. Research
The EFL Department held its annual graduate symposium on Friday, April 14. Thirty-seven graduate students presented research in literature, rhetoric & composition, and TESL (Teaching English as a Second Language) across nine panels and five posters. Topics ranged from pedagogical uses of social media to representations of gender in literature to measuring English language proficiency. This original research presented displayed the depth of scholarship and diversity of topics pursued by students in the EFL graduate program.
In addition to graduate student research, the Graduate Symposium provides space for the Outstanding Graduate Faculty Award, won this year by Dr. Aaron DeRosa. Congratulations to all of the students who presented, as well as to Dr. DeRosa. Many thanks are due to Dr. Smith, Graduate Program Coordinator, and Connie Cuellar, Graduate Program Assistant, who put the Graduate Symposium together.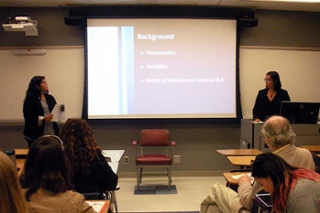 Presenters Alejandra Pulido and Allison Bruins
---
Presenter Andrea Montoya
---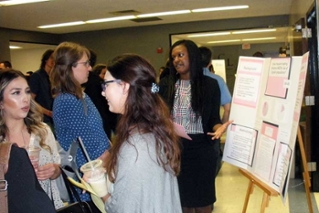 Presenter Capri Hines
---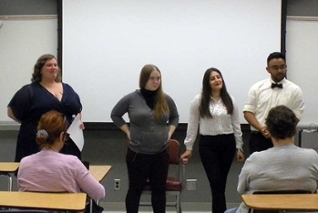 Presenters Amanda Riggle, Rebecca Williams, Ninet Aghasatourian, and John Pervez