Lillian Wilds Shakespeare Scholarship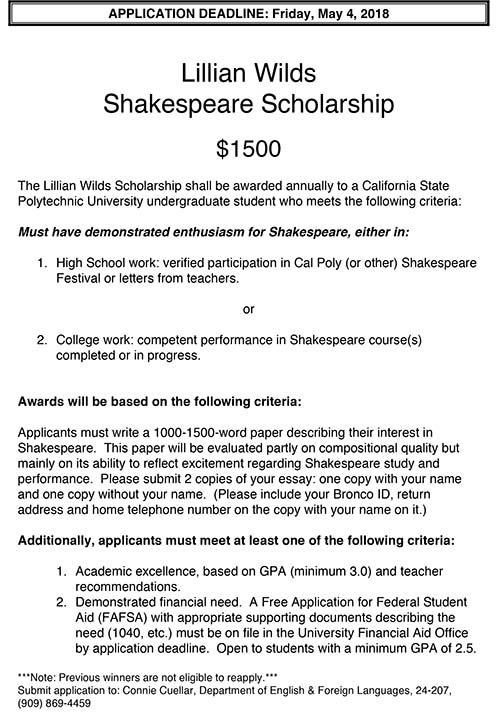 CPP students are invited to apply for the 2018 Lillian Wilds Shakespeare Scholarship. Applicants must have demonstrated enthusiasm for Shakespeare, either in their high school work (verified through participation in Cal Poly's or another Shakespeare Festival or through letters from teachers) or in their college work (verified through competent performance in Shakespeare courses completed or in progress).
Applicants must write a 1000-1500-word paper describing their interest in Shakespeare. This paper will be evaluated partly on compositional quality but mainly on its ability to reflect excitement regarding Shakespeare study and performance.
Additionally, applicants must meet at least one of the following criteria:
Academic excellence, based on GPA (minimum 3.0) and teacher recommendations.
Demonstrated financial need. A Free Application for Federal Student Aid (FAFSA) with appropriate supporting documents describing the need (1040, etc.) must be on file in the University Financial Aid Office by application deadline.
The Lillian Wilds Shakespeare Scholarship application is open to students with a minimum GPA of 2.5.
To apply, please submit 2 copies of the essay: one copy with your name, and one copy without your name. (Please include your Bronco ID, return address, and home telephone number on the copy with your name on it.) Submit application materials by Friday, May 4, to Connie Cuellar, Department of English & Foreign Languages, 24-207, (909) 869-4459.
Note: previous winners are not eligible to reapply.