The Department of Political Science promotes and tenures outstanding faculty member
Neil Chaturvedi is awarded tenure and promotion
Congratulations to Neil Chaturvedi who has been tenured and received promotion to the rank of associate professor. The tenure track process plays a vital role in helping Cal Poly Pomona recruit and retain a well-qualified and diverse faculty. This recent news is one step further in achieving the University's goal of managed change and the recruitment and retention of a well-qualified and diverse community of teacher-scholars.
Neil Chaturvedi, Associate Professor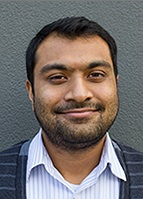 Dr. Chaturvedi is a professor of political science with a focus on American politics. His research and teaching interests include Congress, the Presidency, elections and voting behavior, and race and ethnicity. His research has been published or is forthcoming in Religion and Politics, Politics Groups and Identities, and The Journal of Asian American Studies. Currently, he is working on a book manuscript focusing on the power dynamics in the United States Senate, arguing that despite conventional wisdom and political science logic, centrists in the Senate are more vulnerable than powerful.