Chemistry Scholarship Commemorates 50-Year Anniversary of Department of Chemistry and Biochemistry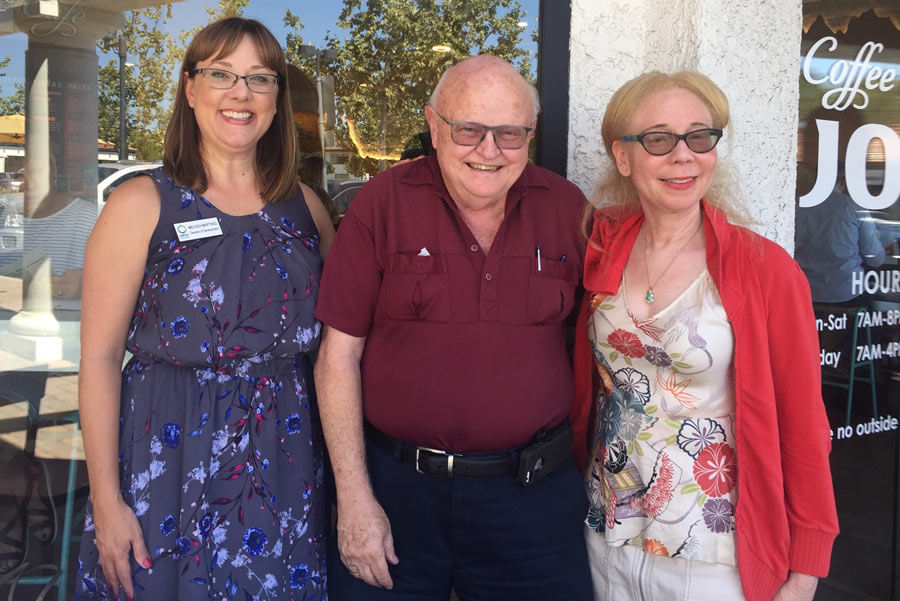 From left to right: Melissa Martinez, Ernie Simpson, Niedre Heckman.
The driving force behind the Chemistry (Au) Golden 50th Anniversary Scholarship is Professor Emeritus Ernie Simpson. "It's my way of honoring the people whose shoulders we've stood on and learned from," said Simpson. He's referring to the fine faculty, staff and administrators he's worked with in the College of Science. "In honor of the chemistry department's 50-year anniversary we set a goal to raise $50,000 so the scholarship can be endowed."
They haven't quite reached their goal but they're getting closer. Simpson admits that he's not comfortable asking for money. When he talks to alumni he asks, "Have you used your chemistry?" For most the answer is yes. They are accomplished in their fields and enjoy staying in touch with Simpson who taught many of them.
Simpson's modesty is apparent when he speaks of standing on the shoulders of the giants of chemistry, because for many CPP alumni, he IS one of the giants. His career at Cal Poly Pomona started in 1968 when chemistry was just an option in the Department of Physical Sciences.
From 1978 to 2001 Simpson was the Director of the Cooperative Education Program. The program, which involved around 2,000 students across the university, provided paid internships to students, bridging the gap between college and career. The program also created vital connections with industry. Because of the relationship, some companies donated equipment and money for scholarships. Simpson said, "In 1988 we got the industrial chemistry course approved which was important because most chemists end up in non-academic careers."
Every year, former students and Co-op alumni of Simpson return as guests to speak to chemistry Professor Margolese's Industrial Chemistry classes as part of Professor for a Day. "Our students have been very successful over the years," Simpson said. Current students get a lot out of the alumni visits. "They get to hear it from people actually working in the field." Simpson has been involved in Professor for a Day since its inception in 1999.
Simpson got involved in scholarships in 2001 when he started the Faculty Early Retirement Program. The first scholarship he set up was called the Co-op Alumni Scholarship. He also supports the Collins College with the Dr. and Mrs. Simpson Wine Scholarship. Wine is a subject Simpson is passionate about and he still gives seminars on the chemistry of wine at CPP. That interest began around the time he started at CPP when his mother-in-law enrolled him in a California Wine Institute course and then a wine club. Professor Vasu Dev, who served as Chemistry Department Chair, introduced Simpson to Vernon Singleton at UC Davis. Singleton was a pioneer in the study of phenolic compounds which affect the texture, color and taste of wine. Simpson has given over 250 talks on the chemistry of wine for the American Chemical Society (ACS) and is the section chair of the San Gorgonio ACS section.
Simpson said, "The Chemistry Golden Scholarship isn't about any one person. If I could donate it all myself, I would because this is needed. Back when I got started supporting scholarships $1,500 could cover the cost of a year's tuition. That's not the case anymore. It's important to give back and to think ahead in terms of the future of this field."
Alumna Niedre Heckman ('88, chemistry) said, "Dr. Simpson was one of my mentors when I participated in the Student Affiliates of the American Chemical Society club and also my professor when I participated in the Co-op program.  The program was wonderful.  It's how I got my first full-time job."
Heckman, who made a substantial donation to the scholarship fund added, "There are students out there who don't know how to achieve their dream of getting a college degree. If I can help such students, I think that's a great thing to do.  Kindness to others is priceless.  If people can support the Chemistry (Au) Golden 50th Anniversary Scholarship they should because this endowed scholarship will be self-supporting and continue to give for countless generations."
For information on how you can support the Chemistry (Au) Golden 50th Anniversary Scholarship contact Melissa Martinez at: 909.869.4160 or melissam@cpp.edu