[an error occurred while processing this directive]
Motor Development Clinic will Celebrate 40 Year Anniversary in 2019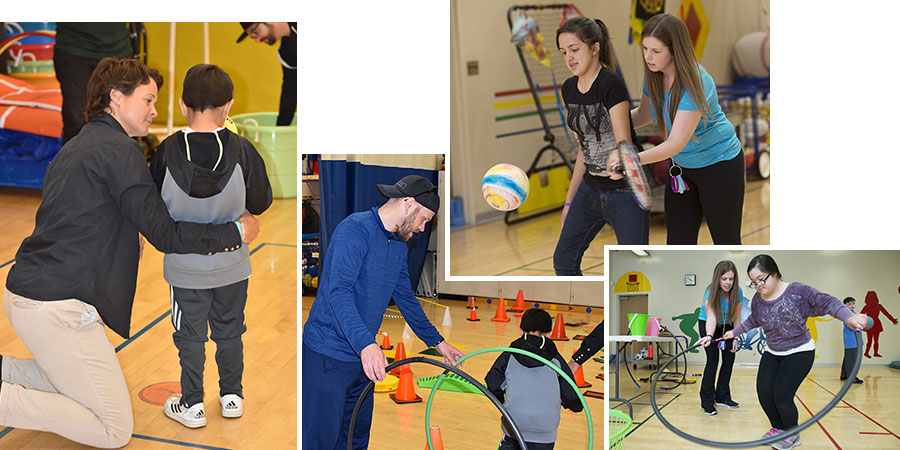 The ability to walk, run, and play sports is something that most of us take for granted. But for children with developmental delays these things do not come naturally. Since 1979 the Motor Development Clinic at Cal Poly Pomona has been helping such children to lead more active and fulfilling lives.
One mother put it this way, "You haven't just given my child the ability to kick, to dribble, or to ride a bike, you've given my child his self-confidence. You've given him the ability to be included, to belong."
The clinic also changes the lives of the CPP students who work with the children as part of their pedagogy course. Alejandro Chavez ('18, pedagogy) said "It's so rewarding for both me and the student. Seeing a student smile when they're able to throw a ball after weeks of struggling to do it — there's no better feeling in the world."
Chavez's experience at the clinic led him to volunteer two summers there.  He's currently working on his teaching credential with the adapted physical education (APE) added authorization and is preparing to enroll in a master's program. His experience at the clinic validated his interest in working with children with disabilities.
"The clinic is a perfect example of learn-by-doing. You can't get this from a lecture." Chavez said. Another student, Elisianna Normann agreed, "We're so lucky because we're actually teaching. We get to do it all, the paperwork, the planning, the teaching, and we learn how to deal with challenging behaviors."
"What I learned through the clinic about motivating students and dealing with behavior has also helped me in dealing with typical elementary school students." Normann said.
Assistant Professor Beth Foster who is director of the clinic in the kinesiology and health promotion department said, "Our Kinesiology students start out apprehensive at first but around their sixth week of teaching you can see the change — they're more confident."
The clinic serves about 15 children who are between five and fifteen years of age. When a child comes to the clinic Foster does a motor assessment and CPP students also do an assessment, providing them with an important learning experience. Foster and Clinic Coordinator Sascha Hoemke develop an individualized plan for each child. Then, working under Foster's guidance, CPP students develop lesson plans. They also develop "homework" assignments for the parents to work on with their children.
Students usually work with only two children at a time during the semester. Volunteers help with summer sessions which are more like a sports camp and draw about 50 participants.
There's a shortage of special education teachers, including adapted physical educators, in the country and the College of Education and Integrative Studies received a $1.1 million federal grant from the U.S. Department of Education to address that need. Foster is involved in the APE part of that grant which provides full scholarships called Special Educators of Excellence in Diverse Settings (SEEDS). Her student Alejandro Chavez is a recipient of the scholarship.
The Motor Development Clinic is funded through a combination of fees and endowments and additional support would provide more opportunities for learning and allow the clinic to provide more services to the community. In addition to the number one goal of training future educators, Foster has ambitious plans for the clinic.
First, because early intervention can offset developmental delays, she wants to start an early childhood program. Second, she'd like to partner with a local school district to provide services to their students. Lastly, because of the importance of life-long physical activity, and the shortage of services for adults with intellectual disabilities, she'd like to start a Special Olympics team.
"Beth Foster is an exceptional professor and mentor who is always there if you need her. She presents at conferences and is active in the community. She's the type of teacher I aspire to be." Chavez said.
"I loved being an adapted PE teacher and taught 175 students at 13 schools. What attracted me to Cal Poly Pomona was the Motor Development Clinic because it allows me to continue working with people with disabilities." Foster said.
Foster became the MDC director in 2017 after Professor Emerita Perky Vetter served for 31 years. The founder of the clinic is Professor Emeritus Varujan "Barney" Anooshian. He passed away on December 4, 2018. The Anooshian Scholarship was established in his honor upon his retirement in 1986.