Huntley College Board of Advisors
Agriculture was the sole curriculum when Cal Poly Pomona was first established in 1938, offering majors in subtropical horticulture, ornamental horticulture, and agricultural service and inspection. And it remains a fundamental part of the university of the university's heritage and identity.
Today, the Huntley College of Agriculture prepares students to become leaders in the field of plant science, nutrition, food science and technology, apparel merchandising and management, animal science, animal health science (vet-tech), agricultural science, and agribusiness and food industry management. 
The purpose of the Huntley College Board of Advisors (HCBA) is to cultivate, advise, inspire, advocate, and collaborate for the betterment of the college and the enhancement of the student experience. The HCBA is committed to fostering a "learn-by-doing" environment, a cornerstone of a Cal Poly Pomona education.
The HCBA will accomplish its purpose by providing counsel, expertise, and support for the college, as well as helping to communicate the needs and achievements of the college to industry leaders.
This relationship is intended to be an active partnership that ensures the success of future generations of Huntley students to inspire creativity and innovation, embrace local and global challenges, and transform lives.
Members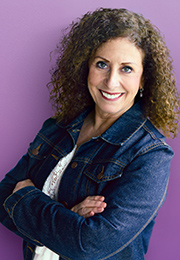 Karen Caplan is the chair of the Huntley College Board of Advisors. Caplan is a specialty fruit and vegetable guru and president and CEO of Orange County-based Frieda's Specialty Produce. Since introducing the Kiwifruit to America in the early 1960s, Frieda's has become the preeminent marketer and distributor of specialty produce to American supermarkets and foodservice distributors. A leader in the produce industry, Caplan was the first female chairperson of the national trade organization, the United Fresh Produce Association, and the first female president of the southern California-based Fresh Produce & Floral Council. In 2015, Caplan was the industry's Women in Produce honoree, and in 2016, she received the Jim Hicks Agricultural Achievement Award from Cal Poly Pomona. Caplan has served on numerous boards and leadership positions, including chairman and vice chairman of the USDA Fruit & Vegetable Industry Advisory Committee and board member of the 9th District Federal Reserve Bank, Los Angeles Chapter. Caplan is a frequent keynote speaker, panelist, and podcast participant on leadership, management and produce. In 2015 the Caplan's family business story was highlighted in the independent documentary film, "Fear No Fruit," and was an official selection of the 2015 Newport Beach Film Festival, San Luis Obispo International Film Festival, Carmel International Film Festival and the 2016 Sedona International Film Festival. Caplan earned her bachelor of science in agricultural economics and business management from UC Davis. She writes regularly for The Shelby Report (national), The Fresh Fruit Portal (international) and the Orange County Breeze (regional). Her widely-read blog, What's on Karen's Plate, can be found at friedas.com/karensblog and via Twitter @karen_kiwi.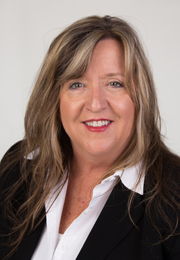 Rose Epperson is a certified arborist with over 35 years' experience in the tree care industry. She is a principal in West Coast Arborists, Inc. and a past president of the Western Chapter of ISA. Rose holds a Bachelor of Science degree in Business Administration from Argosy University. In an effort to bring industry associations together, Rose created Epicenter Management in 2005. Her company manages several industry associations including the Western Chapter ISA and the Society of Commercial Arboriculture. In 2005, Rose earned her Certification as an Association Executive from the American Society of Association Executives. In 2006, she incorporated the Western Chapter's John Britton Memorial Fund into a 501-c3 focused on research and education within the communities served by the Chapter known as The Britton Fund. Rose is active with ISA, a member of the California Urban Forest Council's policy council and a past-President and current board member of California Releaf. Rose put her money where her mouth is in 2012 when she joined growing group of tree care professionals who have dedicated their legacy to trees by becoming a member of the TREE Fund's Heritage Oak Society.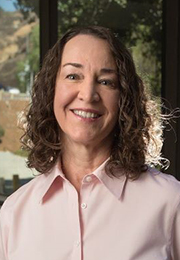 Janet Erickson is a food service supply chain veteran with over four decades in restaurant procurement, distribution management, and quality assurance. She was the senior director of supply chain operations for Brinker International, the parent company of Chili's Grill & Bar and Maggiano's Little Italy, from 2013 to 2017 and led the teams responsible for non-food procurement, supply chain technology and reporting, and supply chain support for the Chili's restaurants outside the United States. Prior to joining Brinker, Janet was the executive vice president of supply chain for Del Taco LLC where she was responsible for all aspects of Del Taco's procurement, food safety, quality assurance, and distribution. Earlier in her career, Janet held purchasing management positions with Carl Karcher Enterprises and Denny's Inc.
Since retiring from full-time work, Janet has been consulting with the National Restaurant Association's Supply Chain Expert Exchange Group, managing its conferences and serving as a liaison between their volunteer Governing Board and the Association.
Janet was a founding member of the board of the National Restaurant Association's Supply Chain Expert Exchange Group and was their first Vice Chairman. She served on the Board of Directors for the Produce Marketing Association from 2000 to 2007 and was Chairman of the Board in 2006, the first woman to serve in that role. She also served on the Board of Directors for the PMA's Foundation for Industry Talent. Janet was named the 2020 Distinguished Alumni for the Don B. Huntley College of Agriculture at Cal Poly Pomona.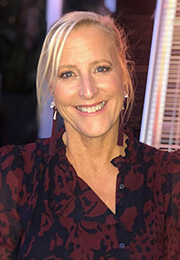 Susan Kellogg-Bell is a longtime fashion industry executive and consultant in New York, San Francisco, and Los Angeles. Raised in Chicago and Southern California, she graduated from UCLA and started her career at Macy's West, where she worked for eight years in several retail and buying executive positions. Kellogg then moved on to Liz Claiborne Inc., where she held a series of leadership positions over a nine-year period. From 2004 to 2007, she served as group president for bridge and contemporary brands with responsibility for Juicy Couture, Laundry by Shelli Segal, PrAna, Ellen Tracy, and Dana Buchman. Later, she served as CEO of Elie Tahari and president of contemporary brands for the VF Corp. Best known as a turnaround expert and brand re-invigorator, she led 10 senior executive teams through cultural and transformative change. Today, she is a business consultant, executive coach, and mentor for various organizations. A great-great-granddaughter of W.K. Kellogg, she also serves on the advisory board of the Cal Poly Pomona Philanthropic Foundation. Kellogg-Bell was presented with the 2019 Jim Hicks Agricultural Achievement Award from the Huntley College of Agriculture.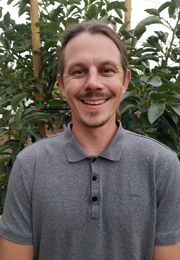 Landon Massey is the vice president of Preferred Landscape Inc., a union landscape contractor that works primarily with colleges, grade schools, private commercial businesses and public works projects. Landon attended Fresno State University for viticulture and enology, with his emphasis being Viticulture. After Fresno State, in the summer of 2007, following his passion of botany and agriculture, Landon joined Preferred Landscape Inc., a family-run business started in 1974 by his late grandfather. After his grandfather's passing in 2000 the company has been run by his uncle, Mark Rose, the current owner and president. In 2009 Landon joined the University of California Agriculture and Natural Resources Master Gardener Program. He completed his program and continued to volunteer for two years, helping design and build community gardens in public spaces and grade schools throughout Southern California. In 2013, Landon became the vice president under Mark and is being groomed to take over as president, as Mark approaches retirement. Landon also does residential landscape work on the weekends with his business partner, Dawn Saunders, a member of The Orange County Rose Society. In his private work he fulfills his passion more by combining agriculture and landscaping in the designs he creates. His energy is further expanded in his home in Placentia, Calif., where he and his partner, Paula Metheny (Cal Poly Pomona agribusiness alumna) have a 290-square-foot hobby greenhouse, garden beds, many exotic fruit trees, chickens and quail. Landon's work can also be seen on campus at the College of Business Administration and the Student Health and Wellness Center.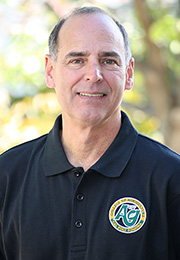 Michael Real is the founder and president of Real Food Marketing, a brokerage specializing in the sales and marketing of frozen fruit, fruit juice concentrates and purees for the ingredient market. Michael started in the food industry while in high school, working part-time at the Starkist research facility on Terminal Island. He is a graduate of the University of Southern California with a bachelor's degree in business administration with an emphasis in marketing and small business administration. Upon graduation he worked for T&P Custom Marketing a food broker of bulk ingredients. He left T&P in 1988 to start Real Food Marketing. He has been involved with the Institute of Food Technologist since 1980. He was on their national awards committee and was chair of the awards committee in 2001. He is a member of the local chapter SCIFT and has been chair of their Education and Research Grants Committee since 2004. He is involved with the Boy Scouts, Arcadia Rotary and AYSO, where he was instrumental in starting the youth referee program for the region.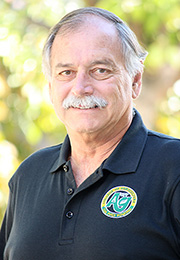 John J. Resich Jr. is an attorney and rancher and serves as chairman of the board and vice president of development of Green Hills Memorial Park, where he has designed, constructed and overseen the development of 17 projects over the last 15 years. He provides legal representation to cemeteries throughout California, gives legal advice concerning legislation and has testified as an expert witness for the cemetery industry. Resich owns ranching and farming operations in Wyoming, raising cattle and crops including corn, beans, alfalfa and grass. He earned his law degree at Santa Clara University in 1972. He received his master's degree in business at Chapman University in 2001. Resich founded the Marine Mammal Care Center, which rescues marine mammals and releases them back into the environment after they are treated, and is a former founding member of the San Pedro Peninsula Hospital Foundation. He also is a board member of the Cal Poly Pomona Philanthropic Foundation and the President's Advisory Committee, W.K. Kellogg Arabian Horse Center.