Clubs and Organizations
Get involved. Get connected. Make the most of your college experience.
Working hard in classes and getting good grades is, of course, priority #1 while in college. However, the very best college experience includes more than what happens in your required coursework. Opportunities to develop leadership skills, gain professional work experience, benefit from mentoring, develop lifelong friendships and a network of colleagues, and many other professional skills are available to you through participation in student life activities.
Studies consistently show students who participate in these additional activities achieve higher academic grades and enjoy their college experience much more. Apparel Merchandising and Management (AMM) has a very active program with lots of opportunities for student involvement outside the classroom. Read about the AMMA Club and the Fashion Society as well as the other listed activities. It's easy to get involved – just ask a professor if you don't know where to start.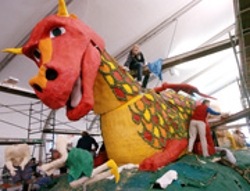 Build the next Rose Float for the annual Tournament of Roses in Pasadena, CA
Catch ride and show horses on our Intercollegiate Horse Show Team
For additional information on campus wide clubs and organizations, visit SELS