College of Business Administration
Experience the Polytechnic Advantage
Top 5%
The CBA is AACSB-accredited, joining less than 5% of the business programs in the world
Mobility
Celebrating 6 consecutive years as a Social Mobility Index Leader
48,000+
CBA graduates join a network of more than 48,000 living alumni
R.O.I.
Forbes' annually ranks the CBA in top quarter of America's Best Value Colleges
Growth
In 2020, CPP climbed to No. 22 on Money's "Best Colleges for Business Majors"
Congratulations Classes of 2020 & 2021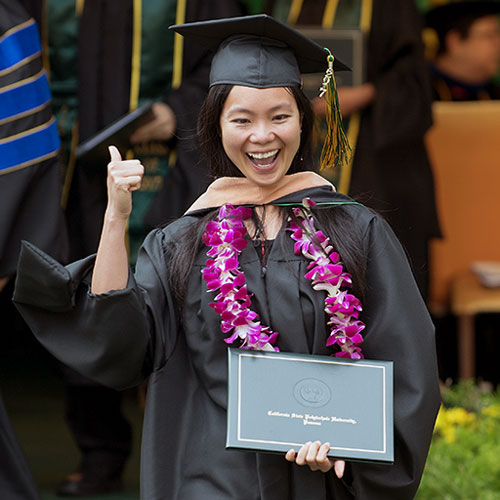 Dear CBA Graduates,
Prosperity awaits. As technology shrinks the world, new industries emerge daily. Innovation and talent are celebrated. Only ambition separates dreams from achievements. And while tools will change, remember the learn-by-doing spirit engrained into every Bronco graduate, and you will always be in demand.
Commencement is a formal way to recognize completion of a rigorous road, but it is also a sendoff to new paths filled with different challenges. As CBA Alumni, your success adds value to all CBA degrees. Be confident what you invest in the CBA will strengthen the past, present and future.
Classes of 2020 and 2021, on behalf of the entire College of Business Administration, congratulations! Continue to make us all proud. Enjoy celebrating your remarkable achievements with your loved ones and supporters and thank you for being you and contributing to the success of the CBA and Cal Poly Pomona.
Sincerely,
Erik Rolland, Ph.D.
Dean, College of Business Administration
College of Business Administration
Cal Poly Pomona
3801 West Temple Avenue
Pomona, CA 91768
cba@cpp.edu
(909) 869-2400