College of Business Administration
Experience the Polytechnic Advantage
TOP 5%
The CBA is AACSB-accredited, joining less than 5% of the business programs in the world.
Mobility
6 years running as a Social Mobility Index Leader
48,000+
CBA graduates join a network of more than 48,000 living alumni
R.O.I.
Forbes' annually ranks the CBA in top quarter of America's Best Value Colleges
Growth
In 2020, CPP climbed to No. 22 on Money's "Best Colleges for Business Majors"
Double or Triple Your Impact with Gift Matching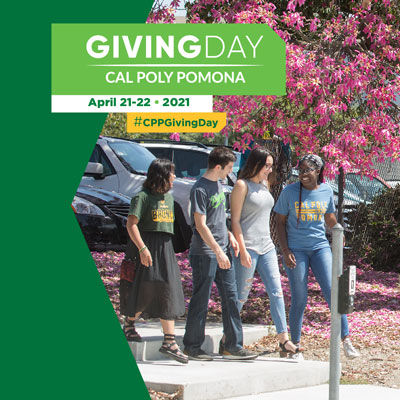 #CPPGivingDay is happening now! Join in on the 36-hour window to help build the future for Cal Poly Pomona and the College of Business Administration.
This year, our alumni and supporters have multiple ways to double or even triple your gift through match challenges. Here are a couple ways to maximize your impact:
Student Managed Investment Fund     SMIF 25 Gift Challenge   Your gift of any amount to any College of Business Administration fund will help us reach our goal of 25 CBA gifts to unlock an additional $20,000 gift to the Student Managed Investment Fund from David ('84) and Ruth ('84) Singelyn.
Equity in Business     25 Gift Challenge   Your gift of any amount to Equity in Business will help us reach our goal of 25 gifts to unlock an additional $10,000 to Equity in Business from Avanade, Inc.
CBA Calendar
Apr 22
9:00 pm

#CPPGivingDay Gift Deadline, Explore different options to double or triple gifts during CPP Giving Day, the 36-hour event where the CBA and CPP families join to help improve the future.

Apr 22
12:00 pm

PIHRA Insight with Industry, Attend the second part of a special two-day event! At Insight with Industry PIHRA will host an HR professional panel. Come and network with these professionals

Apr 30
6:00 pm

Beta Alpha Psi Spring Reception, Our annual Spring Reception will be honoring our members and club from this year. Please join us for scholarships, member recognition, networking, and more!
CBA Calendar
Contact Us
College of Business Administration
Cal Poly Pomona
3801 West Temple Avenue
Pomona, CA 91768
cba@cpp.edu
(909) 869-2400