Special Events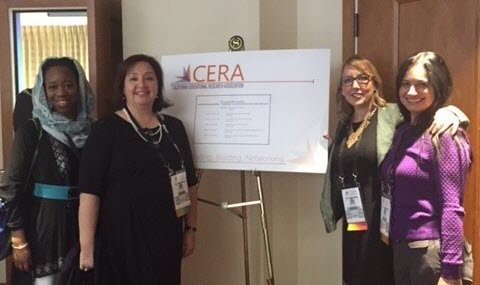 Conferences
Cal Poly Pomona Educational Leadership Doctoral Program students participated in the 94th Annual Conference of the California Educational Research Association (CERA) that was held in Anaheim, California on December 2-4. Three papers were presented by Cohort III students from the Educational Leadership Doctoral Program at Cal Poly Pomona at this regional conference. The titles of the papers were: "The Impact of the Teacher-Scholar Model on a California University" by Sakeena Ali, Ruba Khoury Aljweid, Emma Gibson, and Daniel Lesho; "Lead Learners, Teacher Sensemaking, and Impacts of Professional Development" by Dayna Mitchell and Rene Levario; and "A Pilot Study of Common Core Implementation" by Patricia Horton, Gerald Matthews, and Cathy Cervantes.
At the 95th Annual Conference of the California Educational Research Association (CERA) that was held in Sacramento, California, in December 2016, Donna Martyn, Saida Valdez, Rina Grion and Kim Sandoral presented a paper as well as Melody Isabella and Jacqueline Henry-Hogarth of Cohort 4. 
The CERA Conference was focused on providing a strong and cohesive bridge between past practices and Common Core's changes to curriculum, assessment, evaluation, research, and technology. A central objective of the conference was to provide resources, experts, and information that help participants to understand and adapt to these changes to their classroom, school, and institution.
The California Educational Research Association (CERA) is a not-for-profit organization of professionals working at all levels of education dedicated to improving the practice of instruction, assessment, evaluation, conducting and applying educational research, and using data to inform instructional practice. The goals of CERA are to:
• Advance the knowledge and interests of those who are professionally involved in educational research, evaluation, assessment, and related fields
• Provide opportunities to share recent findings in educational research
• Provide professional development and networking opportunities to members
• Work cooperatively with other regional and national research organizations
The CERA Conference accepts proposals for the conference sessions, and the selection is based on a peer-review, blind-review process. Congratulations to the students who shared their research at CERA this year.
Annual Events
Pre-Commencement Celebration
Completing one's coursework and proposing, implementing and defending a dissertation is a monumental effort. In fact, fewer than 3% of all Americans have earned a Doctoral Degree. In recognition of our graduating cohort, we hold a pre-commencement event prior to graduation to celebrate each finishing student's doctoral journey and the honor they bring to their family and other loved ones.