Music Industry Conference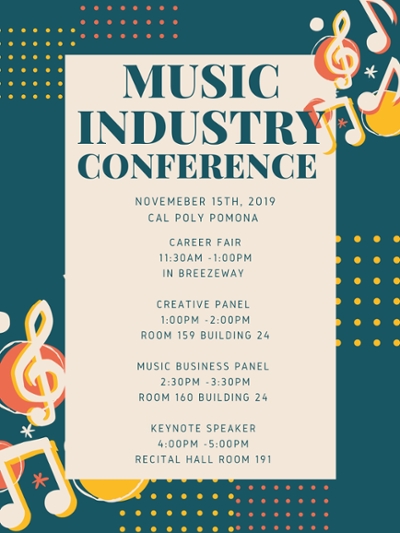 Students in the music industry studies program will be hosting a Music Industry Conference on Friday, November 15, 2019 from 11:30AM - 5:00PM. Attendees will get to learn from the experiences of professional in the music business as they address the theme: "Getting from Here to There: How to Create a Career in the Music Industry." 


Most exciting of all is CPP alum and founder of Warped Tour, Kevin Lyman, will headline the conference as they keynote speaker. There will also be a career fair, creative panel, and music business panel. 
Be sure to bring your resumes for the career fair! 
Details of event:
Internship/Job Fair: 11:30AM - 1:00PM, Music Building Breezeway (building 24)
Creative Panel: 1:00PM - 2:00PM, Building 24, room 159
Music Business Panel: 2:30PM - 3:30PM, Building 24, room 160
Keynote Speaker: 4:00PM - 5:00PM, Recital Hall, Room 191