BSLA - Bachelor of Science in Landscape Architecture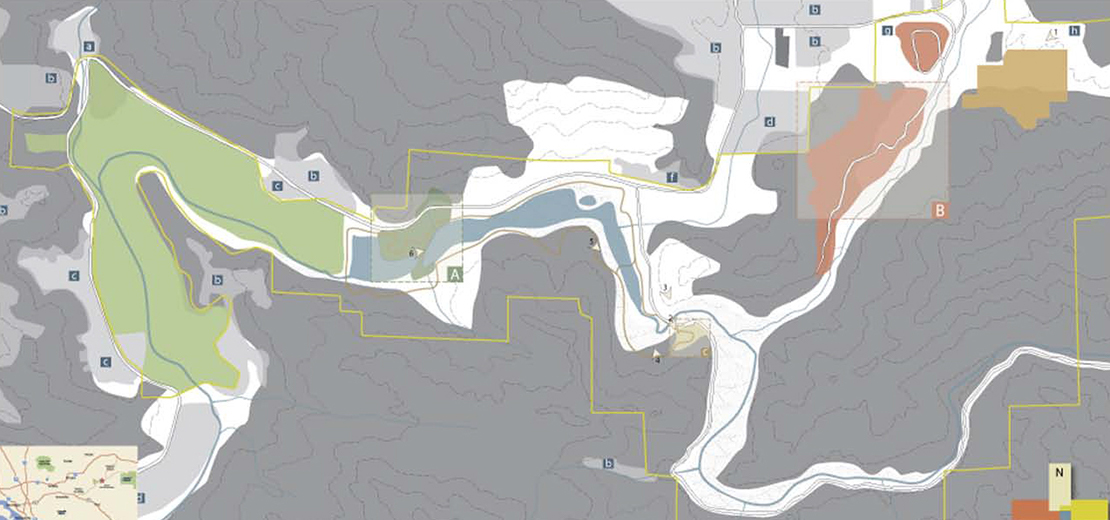 Landscape Architects are concerned with the design, management, preservation, and use of the land.  The curriculum provides a foundation in all of these areas with a particular emphasis on design, along with the cultural and technical subjects that support it.  Coursework includes study of landscape design and planning processes, graphic communications, ecology, plants and planting design, construction methods and environmental history.  Instruction fosters the development of creative and problem-solving abilities, communication skills, technical knowledge, environmental awareness and professional attitudes.  In most courses, students develop design proposals or technical solutions for actual sites.
The Bachelor of Science in Landscape Architecture (BSLA) is a general professional degree, nationally accredited by the Landscape Architectural Accreditation Board and approved by the California Board of Landscape Architects as meeting part of the qualification requirements for licensure examination.
Strengths of BSLA Program
1. Location.
The surrounding landscape includes significant seacoast, mountain and desert environments. The southern California metropolitan region is one of the most complex and diverse urban regions in the world with a population of over sixteen million people. The location offers a challenging variety of ecological and social issues for study by students and faculty. The proximity of several major libraries, museums, botanical gardens, recreation areas, and many executed works of landscape architecture is also an important asset for the program. This context has been an important catalyst in the development of the Department's vision statement, "Regenerating Los Angeles," which challenges faculty and students to address issues facing human kind in the 21st century.
2. Students.
The program benefits from an energetic, active, and diverse student body, which is a reflection of the university's mission as part of the California State University system, as well as the cultural diversity of the Los Angeles region. In addition, we regularly have exchange students from other programs and/or countries participate in our curriculum. This provides tremendous opportunities for interaction and exchange of experiences and backgrounds. The department also has an internationally-recognized graduate program, composed of students from many disciplines and universities, including a number of international students. Interaction between students in the two programs is strong, due to joint courses and the proximity of studio spaces.
3. Faculty.
The faculty, including full and part-time members, has a diverse range of interests, knowledge, experience and expertise to offer to the program. Despite teaching loads that are greater than most other teaching and research institutions, the faculty has maintained vibrant scholarly and creative careers, involving notable book and article publications, participation in competitions, exhibitions, conferences, and professional practice. The California State University system places a clear emphasis on teaching through a student-centered approach; faculty members at Cal Poly reflect this emphasis in their availability to students as well as their awareness and concern for individual students' progress.
4. Community Service.
The program has a tradition of emphasizing community service projects as case studies for studio inquiry and other courses. In the tradition of Cal Poly's "Learn by doing" philosophy, students frequently engage real-world problems in studio, often in the context of serving communities in need. The University has an official designation for service-learning courses through the Center for Community Service-Learning. A number of the program's courses are routinely designated as service-learning courses. In addition to officially designated service-learning projects, a number of informal community engagement projects are pursued in core and elective courses within the program. Evidence of this can be seen in the ASLA student awards in community service that the department has received.
5. Opportunities to Study Abroad.
The Department's Italy program offers the opportunity for students to live and study abroad for one quarter, exposing them to other landscapes, cultures, and students from other design schools. This program is now 18 years old and is heavily subscribed by seniors and graduate students in the Department, as well as students from a number of other landscape architecture programs in California. A faculty and student exchange with Kyushu Institute of Design in Japan has also been active in recent years. The department also supports the ENV Inter-disciplinary Study Broad Program in China. This is a program run by faculty of Architecture and Planning that has a major travel component as well as a collaborative studio with North China University. And finally, a travel program with a contemporary focus is being developed and has had a successful first trip in 2009. In addition to the these programs, numerous international exchange programs in other parts of the world are available through the University's International Center and allow similar opportunities for Cal Poly students, while earning academic credit. The Department continues to support international travel (for individuals and our coordinated programs above) as a priority and is offering a number of student scholarships to support such travel.
6. Distinctive Curriculum Features.
In addition to study-abroad options, the program offers two distinct features that represent substantial strengths of the program. Extensive field study has been a vital component of the curriculum for years. Students study natural, cultural and social processes, as well as witness several notable works of design and nature in a number of venues, including Valley of Fire State Park in Nevada, Santa Barbara, San Diego, a transect through Arizona, and San Francisco. These extensive field studies are complimented by a number of day trips within the Los Angeles region. In 2001, the Department offered its first "Modules Week" which has become an annual tradition every spring (except 2009-2010). This is a week-long program which offers students the opportunity to study emerging trends in landscape architecture which may not fit well into the program's core curriculum. Module courses are vertically integrated, combining undergraduate and graduate students in all years of the program. Courses are taught by a mixture of Cal Poly Pomona faculty and invited guests. A number of notable academics and practitioners within landscape architecture and related disciplines have participated as instructors. Unfortunately this program has been suspended since 2009 due to funding issues, but it is likely to be reintroduced as a core component of the curriculum once again.
In 2001, the Department offered its first Modules Week which has become an annual tradition every spring. This is a week-long program which offers students the opportunity to study emerging trends in landscape architecture which may not fit well into the program's core curriculum. Module courses are vertically integrated, combining undergraduate and graduate students in all years of the program. Courses are taught by a mixture of Cal Poly Pomona faculty and invited guests. A number of notable academics and practitioners with landscape architecture and related disciplines have participated as instructors, including Dr. Todd Jennings, Grant Jones, Carol Mayer Reed, Professor Brett Peters, Dr. Bob Scarfo, and Dr. Joanne Westphal.
7. Relation to Professional Community and Alumni.
Relationships with professionals and their organizations are strong, including the California State Board of Landscape Architects, the local chapter and national offices of the American Society of Landscape Architects. The close proximity of many design offices and government agencies allows students to have contact with the profession, in the form of office visits, guest lectures, internships, and employment. Since 2005, the Department has offered funding to the student club to support a lecture program that has brought many noteworthy practitioners and academics to campus. In addition, the Department maintains strong relationships with alumni through a variety of means, including part-time instructor positions, guest lectures, participation in formal University programs such as Professor for a Day and College-sponsored alumni receptions, as well as through the College's Partner Circle.
8. Campus Resources.
The University has numerous resources that strengthen the program. Cal Poly has nine colleges. Course offerings are diverse and generally available to students in the landscape architecture program. In addition to courses in urban and regional planning, architecture and art, students have the opportunity to enroll in courses in geography, horticulture, irrigation science, natural sciences, business administration, the behavioral sciences, and many other disciplines. The John T. Lyle Center for Regenerative Studies is also an important resource for our program, advancing the principles of environmentally sustainable living through courses available to landscape architecture students, research, demonstration and outreach. The Center for Geographic Information Systems Research provides access to hardware, software, and GIS expertise to support education and research; the University provides an excellent information technology framework, including connectivity to all landscape architecture studio spaces, classrooms and offices. The College-owned Richard Neutra VDL House  is an internationally-recognized example of modern architecture. The biotrek Learning Center and Ethnobotanical Garden provides an opportunity for students to learn about historical use of plants by native people of the region. The Jerry Voorhis Ecological Reserve serves as a resource for examining the local ecology while the entire campus serves as a lab for plant identification courses. The College of Agriculture operates a variety of agricultural facilities, a unique situation in an urbanized region. Within the College of Environmental Design, the computer-aided instruction lab, model shop, resource collection, ENV visual resource library, and archives are important resources for the program.
9. Administrative Setting.
The program benefits from its position as a department that has independent status as a full department within the College of Environmental Design. The College and University administrations take a strong and active interest in landscape architecture. The administrative and curricular relationships with the other departments and Centers in the College of Environmental Design--Architecture, Art, Regenerative Studies and Urban and Regional Planning--are strong and mutually supportive. We also share curriculum with related disciplines such as biological and geological sciences, business, horticulture, agricultural engineering and the humanities.
BSLA Student Learning Outcomes
Number
Learning Outcome
Target
SLO1
SLO1: Demonstrate critical thinking skills and creatively apply them to resolve ecological, social and spatial problems, while advancing current disciplinary concerns within the context of environmental design.
Critical Thinking 
SLO2
SLO2: Demonstrate a strong understanding of design process, form and space creation, design theory, history, methods of representation and design communication, based in fundamental design principles.
Design Foundation
SLO3
SLO3: Identify and interpret ecological patterns and processes at multiple scales and relate them to the develop design, planning and vegetative strategies to address ecological problems, including, preservation, restoration, regenerative design and sustainable use of resources.
Ecological Processes
SLO4
SLO4: Identify and interpret cultural and historical patterns and processes at multiple scales as needed for designing for a diverse society.
Cultural Processes
SLO5
SLO5: Creatively apply theories, techniques, skills and tools necessary for landscape architecture, with explicit regards to ecological sustainability, resiliency, and the protection of public health, safety and welfare.
Application of Discipline Knowledge 
SLO6
SLO6: Apply hands-on computer skills and information technologies in planning and design process and products. 
Digital Skills
SLO7
SLO7: Show a sense of responsibility, integrity and ethical concern as related to ecological, social, and cultural issues related to the professional practice of landscape architecture.
Professional Responsibility
SLO8
SLO8: Demonstrate teamwork and leadership skills in a variety of professional roles and contexts, including individual and team 
projects, as well as interdisciplinary collaboration and participatory settings.
Professional Development
SLO9
SLO9: Effectively express and deliver design ideas, information and solutions visually, verbally, and in writing to a variety of audiences.
Communication
SLO10
SLO10: Pursue challenging educational and service opportunities to the public within the diverse and evolving multicultural regional context of southern California.
Multi-cultural Perspectives
Admission to the undergraduate program is possible either as a first-time freshman or as a transfer student from a recognized college. Undergraduate admissions are processed and managed by the University.
Recently, the University has been designated as an impacted campus, altering the admissions process by instituting required filing periods and giving priority to students based on their geographical proximity to campus. This has limited enrollment of students who would have previously been admitted to the University.
If you do decide you want to study landscape architecture, we encourage you to submit an application to the University as early as possible. Refer to the the Office of Admissions & Outreach for more information about applying either on paper or online.  
For specific information, and application instructions, please refer to the Office of Admissions & Enrollment Planning.
If you are admitted directly from high school, you will begin your study of landscape architecture with our sequence of courses in the first year design.  If you are admitted as a transfer student, we recommend that you apply for advanced standing per the gudielines in the transfer section below.
Freshman Applicants
Generally, admission of undergraduate students from high school to the university is determined by a formula that combines the high school grade point average and ACT (American College Test) or SAT (Scholastic Aptitude Test) score. In general, students in approximately the upper third of the high school graduating class are eligible for admission.
Freshman applicants must meet the minimum California State University eligibility requirements to be considered for admission. If you meet the minimum CSU requirements, Cal Poly Pomona will consider your application using supplemental criteria that may vary depending on the academic major you have chosen.
For additional information visit Cal Poly Pomona's Freshman Requirements and Deadlines page.
Transfer Applicants
Admission of transfer students from community colleges is based on college grade point averages and by a portfolio review of previous work. The Department is not involved in the selection or admission of incoming students, but does make decisions regarding requests for advanced standing. As of fall 2004 admissions, the University is only accepting upper division transfers.
Upper division transfers must complete 60 semester (90 quarter) units of transferable coursework, including 30 semester (45 quarter) units of courses equivalent to general education requirements, with a grade of "C" or better by the end of the spring semester to be considered for the next fall semester.
For additional information on Transfer Admissions, please refer to:  Office of Admissions - Transfer Application Checklist.
ADVANCED STANDING:
All transfer students may apply for advanced standing, placement into the 2nd-year of the BSLA program through a portfolio review.  Advanced standing is based upon curricular 
The portfolio review will be conducted after summer orientation and prior to the beginning of fall courses.  
Portfolio must be submitted to the department office in hard copy.
Any student that applied to Architecture at Cal Poly Pomona and chooses Landscape Architecture as a second choice may request their portfolio be sent to the LA department for review.  
Transfer portfolios should demonstrate: 
2D design with an emphasis on design fundamentals;
3D design with an emphasis on site design and/or space planning;
Hand Graphics/Drawing- plan, section, perspective, sketching fundamentals, etc.;
Digital Graphics including 3D modeling, Autocad and the Adobe Creative Suite; and
Basic understanding of fundamentals of digital photography
Short form design writing- concept statements, design narratives, etc.
For transfer students to be placed into the 2nd-year of our BSLA program, the following transfer coursework is required (actual courses [names, numbers] vary from institution to institution):
6 Semester units of Design:

2D design with an emphasis on design fundamentals;
3D design with an emphasis on site design and/or space planning;
Landscape Architecture or landscape design course with an emphasis on design fundamentals;
Or design course as approved by LA department with portfolio support
6 semester units of graphic/visual communication

Hand Graphics/Drawing- plan, section, perspective, sketching fundamentals, etc.;
Digital Graphics including 3D modeling, AutoCAD and the Adobe Creative Suite; and
Basic understanding of fundamentals of digital photography
3 semester units of Environmental Design Theory and/or History

Can be from architecture, landscape architecture, urban planning, etc.
International Applicants
Known for its outstanding academic programs, Cal Poly Pomona offers excellent education for international students who wish to pursue a degree in the United States.
Current and future International Students in Cal Poly academic programs must contact the International Center for information regarding visas, guidelines for maintaining academic progress, and procedures for internships and post graduation work.
For additional information on Incoming International Students and requirements, please refer to:
Apply as an International Student page.
Contact
For more information regarding admissions to the Bachelor of Science in Landscape Architecture, contact the Undegraduate Coordinator:

Kristopher Penrose
kapenrose@cpp.edu
(909) 869-2673
As stated in the Department's mission statement, our program prepares students to resolve the environmental and social challenges of the 21st century, by instilling an intellectual framework to make decisions based upon theoretical and technical knowledge of landscape architecture, creative and critical thinking skills, and social justice issues. The curriculum expresses this mission as a source of new and emerging influences that periodically refine and advance our profession.
The four-year design sequence fosters creative and critical thinking and develops a sense of responsibility toward environmental, social and professional issues. The sequence acquaints students with design issues at the manifold and relevant scales they will face in practice, and addresses ecological and cultural patterns and processes in different physical and social settings. Design projects challenge students to incorporate these issues within their design decision-making processes. Student projects present work that identifies individual and social needs, sustainability, and regeneration as a contemporary cultural expression. These projects typically draw upon actual sites within the region and often provide services that benefit local communities.
In addition to the design sequence, the professional curriculum integrates the body of knowledge of landscape history, professional practice, information technology and technical skills for design implementation. These critical elements expose students to various professional roles, past and present social needs, and issues of social responsibility, including the protection of the public health, safety and welfare.
The program consists of the following core curriculum sequences: design, graphics, plant identification and design, construction, history and information technology. These sequences are coordinated to the extent possible to enable mutual interaction and support while reducing conflict and duplication. Assigned faculty members coordinate each of these sequences in order to facilitate curriculum planning and project management among multiple course sections. Goals and objectives are defined for each sequence in terms of student comprehension and performance upon completion of each course.
Creative problem solving, critical thinking, communications, design, and organization occur in all four years as well, but are differently addressed in the lower and upper division. Lower division emphasizes a more fundamental/universal approach. It is a rigorous program of understanding the mechanics of design. The importance of posing questions (problem solving and critical thinking), articulating design strategies (communication) and presentation of work in multiple formats and media (design and organization) provide a strong foundation for engaging the discipline and practice of landscape architecture. The upper division, with a stronger emphasis on site, scale, system and function, is pushed to a professional level of work executed within the academic setting. Student work is expected to be at the highest level of professional execution and intellectual engagement. Juried presentations typically consist of licensed practitioners and professionals from related design and technical professions.
History of Landscape Architecture
ENV 115, LA 121, LA 322, 423, 424, 425
Students are required to take ENV 115 and LA 121, in addition to six upper-division units in the history of landscape architecture.
ENV 115 and LA 121 provide an interdisciplinary, essentially chronologically structured, introduction to the history of art, architecture, landscape architecture, and urban form. Approximately half of the material addressed in these courses is non-Eurocentric. The courses stress environmental ethics, cultural determinants of form, the evolving role(s) of the artist/designer in society, the chronology of significant events in world art and environmental history (including the "great" monuments, moments and figures as well as the vernacular continuum), and the relevance of historical issues to the present and the future (for example, the comparison of historic art and environmental issues and forms to those of Los Angeles, historically and today). The courses (through discussion groups, exams and a paper) also stress written communication skills. It must, however, be noted that ENV 115/A has been cancelled for the last two years due to budgetary constraints.
The four upper division offerings are LA 322, Regional Landscape History; LA 423, The Urban Landscape; LA 424, World Gardens; and LA 425, Asian Gardens. The Urban Landscape traces development of urban space through history with emphasis on parks and town squares. World Gardens covers the history of garden design with particular emphasis on the Italian Renaissance, 17th Century France, and the English Natural Period, and also addresses Oriental, Moorish, Hindu and Mogul gardens, Colonial and 19th Century American garden design and California garden history. Asian Gardens presents the planning and design that led to the gardens of Korea, China, and Japan with emphasis on the history, culture, and arts of these countries. Indian and Southeast Asian influences are also included.
One important feature of the advanced history courses is the inclusion of a studio component. Studios are used for development of student projects including displays, audio-visual presentations and other efforts. Faculty members teaching these courses have found that active involvement in these projects inspires a closer and more enthusiastic relationship with historical periods. Objectives include:
To present the historic and contemporary principles and purposes of landscape architecture.
To stimulate reading in professional literature.
To develop an understanding of the ways in which human activities change the landscape over a period of time.
To establish a sense of role and position in the processes of landscape evolution.
To develop an appreciation for past efforts in solving environmental problems in the framework of the times.
To understand the various natural restraints of the environment (climate, soil, geography) and the behavioral restraints (economic, political, social, religious) considered by designers through history.
The department also accepts and encourages student to take history courses in planning, geography, plant science and agriculture to meet directed elective requirements for graduation.
Theory
The department currently does not have a specific theory course for the undergraduate program. This has been identified by the current faculty as a clear need for our department and will be considered as we continue to update our curriculum. However, as it stands now, theory is continually included in the lecture components of the 300 and 400 level design lectures and studios.
Additionally, the 4th year lecture series has moved to incorporate content that examines contemporary writings and theories. These courses challenge students to investigate these writing/methods and critically analyze their potential and viability.
Criticism
The department currently does not have a specific criticism course for the undergraduate program. This has been identified by the current faculty as a clear and critical need for our department and will be considered as we continue to update our curriculum. Our context here in Los Angeles is a prime setting for a critical questioning of the discipline and practice of landscape architecture in its role and responsibilities. The student body received an ASLA Award of Excellence in Communication for SUBSURFACE, a student written and faculty advised journal. Criticism is often at the core of individual LA 499 - special topic courses, and was at the core of our MODULES Program.
Additionally, the 4th year lecture series has begun to develop a method of working that is intended to ask questions, record responses, trace observations and then frame those questions into specific personal understandings. This development (revealing) of personal infrastructures includes written, verbal and visual forms of criticism and response.
Natural and cultural systems including principles of sustainability
Natural and cultural systems are addressed and covered in the upper division design sequences, lectures and studios: LA 301/2/3 and LA 401/2/3.
The department currently explores systems thinking at all levels within the curriculum. At the lower levels, it is explored through projects of making and meaning, combining principles of formal organization, while the upper divisions address systems and sustainability in response to cultural and ecological forces.
Upper division studios are dedicated to forecasting landscape-based strategies using performative frameworks to address ecological and cultural issues challenging the future of human habitation and ultimate success. Additionally, current and future land-use systems are approached as diverse and hybrid ecologies formulated to combat climate change. These studios aim to articulate strategies that are simultaneously local in action and global in example while challenging studio participants to consider landscape in all its inferences.
The central agenda of upper division topic studios (especially the 4th year) is forecasting and speculating landscape-based strategies to address the issues confronted by the studio. The studios search for the phenomena of the 'place' in-order to understand the cultural traditions and practices of the region. The studios investigate the ecological systems of the 'place' to understand the local conditions that have given rise to the existing patterns and cultural adaptations. Studio questions/projects are driven from this position of investigation. Studio projects are poised to reveal unique and appropriate futures; resilient systems where inhabitants [human and other] can rely on local sources of food, water, shelter, transportation and energy. These studios develop performance frameworks for the complete ecological and programmatic possibilities of hybrid and distinct landscapes:
Natural ecologies - the actual natural systems that give form to a place and the disturbances associated with them, including ecological systems and ecosystematic services.
Cultural ecologies - the values of people in verbal and built form, and the systems by which those have come to exist; human and cultural needs.
Economic ecologies - human ecologies that utilize endemic conditions to support the upward mobility and success of people.
Technical knowledge to [re]build - materials, methods and practices of the place.
Public policy and regulation
Public policy and regulation are addressed and covered in the upper division courses: LA 301L/2L/3L, LA 331/2/3 and LA 464.
LA 301/2/3, our topic studios, often address public policy and regulation. These courses address regulatory aspects of landscape architecture ranging from evaluating/responding to environmental impact reports and California water policy to issues of informal settlements in border regions or historic preservation policy.
LA 331/2/3, our construction sequence, also addresses policy and regulation as associated with the construction process.
LA 464, professional practice, addresses policy as well. This course covers the practical knowledge of licensure policy and organization. This course also requires students to attend public meetings.
Design, planning and management at various scales and applications including but not limited to pedestrian and vehicular circulation, grading, drainage, and storm water management
Our entire curriculum addresses design, planning and management at multiple scales. Our curriculum builds from core design principles through levels of design and technical studios that increase in levels of complexity. Please refer to section 3.B.2 below for a detailed description.
The design process is an integral element of each succeeding design studio. During the early years the primary objective is to introduce the basic principles and elements of design, creativity, and problem identification and solution. During the second year of design there is greater emphasis on exploring the design process, addressing the complexities of a problem in relation to a site and its inherent systems. Information technology and its application becomes a part of the studio conduct and culture - folded directly into the projects. The third year stresses the application of design concepts and principles to increasingly difficult problems involving the range of natural and human environments. The intent of third year courses is to develop a broader and more complete understanding of landscape architecture and design. Students are encouraged to utilize information technology and alternative media in their design applications. Finally, in the fourth year the student must show a thorough knowledge of design process--problem comprehension, site mapping/analysis, data gathering, synthesis factoring, comprehension of design principles, knowledge of circulation and place, ability to address systems and sustainability, sense of form, material and aesthetics and the ability to present solutions both graphically and verbally. The use of electronic media is encouraged in the development and articulation of design projects. In summary, the student moves through introduction, awareness, and understanding, to application.
Circulation, grading, drainage and storm water management are all covered in multiple areas. These concepts and the methods of application are directly addressed in our construction sequence. Please see the construction section below for more detail.
Site design and implementation: materials, methods, technologies, and applications
Site design and implementation concepts and methods are addressed and covered in the design sequences: ENV 101, LA 102/3, LA 201/2/3 LA 301/2/3 and LA 401/2/3. A detailed account of these sequences is outlined in subsection 3.B.2.
The technical sequences, which include LA 341/2 and LA 331/2/3, also explicitly cover these areas.
In the construction and planting design sequences, the university's philosophy of "learn-by-doing" is directly folded into course content. These sequences are the continued adaptation of the traditional construction/planting projects and exercises formulated into sequence that addresses applied theory and technical practice. The construction and planting courses are inclusive of critical thinking about appropriate materials, methods, and technologies. It is through this progression of appropriate and critical questioning that fundamental site design questions and methods of implementation are explored.
These technical courses also focus on executing the overall design intent of a project by investigating the physical construction of space with vegetal and material adaptations. This format fosters an examination of the implications of specific technical/construction processes. These studios allow students to work through project components in elemental increments with a personal understanding of their design intent. The courses culminate in the development of a physical design and a set of documents, which express the specific [and technical] design intent of their design concepts. Specific objectives are to:
To gain an understanding of functional needs and aesthetic criteria related to landscape occupation.
Gain a fundamental knowledge of materials and appropriate methods of attachment.
Understand the underlying concepts of building methods.
Develop a working knowledge of the specific technical procedures of building as related to horizontal and vertical systems.
Students are expected to:
Exercise a deep process of investigation in order to develop well-organized and appropriate design detail.
Basically and effectively evaluate a 'built' landscape element and determine the fundamentals of its construction.
Present an understanding of the inter-relationships of various theories, materials formulae and applications related to the building process.
Construction documentation and administration:
Landscape Construction - LA 331, 332, 333
Thirteen credit units covering landscape technology are required in three sequential core curriculum courses. The first course concentrates on earthwork calculations, focusing on grading and drainage. The second semester builds on this emphasis and includes water management, including some irrigation. The third semester expands the lecture portion to three hours per week and concentrates on structures and materials. Course material is presented so that each course builds on previous material covered. At the end of the third semester, each student prepares a complete set of working drawings, as a summary of the three course sequence. Specification writing, strength and usage of materials, and other related subjects are also covered in this sequence. At the end of the sequence, students:
Understand land quantities, its form, articulation and relationships to drainage.
Understand both functional needs and aesthetic criteria relative to land shaping.
Are able to apply water to the landscape.
Are knowledgeable about construction materials and their strengths, combinations, and interdependencies.
Understand the relationship between contract documents, working drawings and specifications.
Develop skills in working drawing graphics.
Written, verbal and visual communication
Landscape Graphics, LA 251 and Computer Applications in Landscape Architecture, LA 252
LA 251 continues to emphasize the graphic skills introduced in the first year design sequence. The need for graphic skills is widely recognized and as a result this area has been emphasized during the first year. Each student is required to develop basic drafting competency at diagramming and lettering, and preparing plans, sections, axonometrics, sketches and perspectives. Course work involves the use of various media and presentation techniques. These skills are developed in conjunction with design projects. Students also have access to additional study through special project courses and supplementary graphic courses that are open to all students in the school.
Objectives include:
Developing a basic understanding of the relationship of sketching and rendering to design.
Exposing students to a variety of media and techniques in design graphics, and to assist in the implementation of these in design projects.
Broadening the students' experience in visual thinking and improving their observation skills.
LA 252 was added to extend the graphics sequence, while recognizing the role of computer applications in graphic expression in landscape architecture. The course focuses on the use of CAD and other computer visualization programs in landscape representation. Objectives of the course include:
To develop a basic understanding of CAD and other forms of digital expression in landscape architecture.
To expose students to a variety of media and techniques in design graphics, and to assist in the implementation of these in design projects.
To broaden the students' experience in visual thinking and improve their observation skills.
The majority of lecture/seminar courses within our curriculum require a written component to the course work. All design studios require written narratives and concept/position statements. Additionally, the history courses and senior projects all have written components.
Professional practice
Professional practice is covered in LA 464.
The course is comprised of three components: lecture, research and readings and written reports. The lectures and discussions are used to provide a theoretical base to enhance intrinsic and acquired knowledge about landscape architecture practice. Projects and lectures have been designed to provide opportunities for discussion and exposure to various aspects of professional practice. Course objectives include:
An awareness of the profession and practice of landscape architecture
An ability to apply ethical standards to professional conduct
Knowledge of marketing, business and professional services models and their use in practice
Knowledge of project management approaches, contract document preparation and contract administration
An awareness of legal issues and considerations in professional practice
Knowledge of the requirements of and processes related to licensure, and the professional organizations that oversee landscape architectural practice and education
Professional values and ethics
Professional values and ethics are specifically covered in LA 464. This course is outlined directly above.
Many upper division courses cover some level of critical discussion about personal and professional values and ethics. We challenge students to build upon and challenge those of the profession. Social and ecological justice, intergenerational equity and interspecies equity are often addressed. An example is a LA 303L topic studio from 2008 entitled 'an inescapable privilege'. This studio examined the issues of human rights and social justice and their intersection with landscape architecture. The studio questioned the role of landscape architecture in the lives of the disenfranchised populations who live within our society.
Ethics are one of the core standards/learning outcomes of the department. It is the position of the department that every course has some ethical question and opportunity to develop personal and professional values. Continuing to explore the expression of this idea through our curriculum is an opportunity granted by the current re-evaluation of our strategic plan and overall curricular goals and strategies.
Plants and ecosystems
Plants and Design, LA 241, 242, 243, 341, 342
The plants and design sequence includes three 3-unit courses in the second year and two 3-unit courses in the third year. Plant identification includes 450 species of plants suited to western landscapes. Identification courses are complemented with discussion and sketch problems exploring the ecological context, aesthetic character, cultural needs, and functional uses of plants. The planting design courses of this sequence concentrate on planting design theory and practice and working drawings. Issues of conceptual design, pattern-based design, plant combination, technical drawings, cost estimating and specifications are addressed. These courses often integrate community service-learning projects into the curriculum, though specific projects will vary from year to year. A summary of course objectives include:
To acquire a working vocabulary of plants.
To understand the aesthetic, functional and ecological bases of plant associations and design.
To be able to prepare conceptual plans and construction drawings, as well as review and prepare detail specifications, cost estimates, and water budgets.
Computer applications and other advanced technologies
In addition to LA 252, the department has been integrating computer applications into its design course sequence as well as other support courses. Student in the first year studio are taught basic visualization techniques on the computer. A number of studios require digital submission of final work (e.g. junior and senior design). In addition, the use of geographic information systems has become a key component of upper division topic studios. We have recently added a LA 499 course that specifically focuses on GIS and advanced applications. This course is being taught by a recent tenure-track addition to the faculty, Dr. Weimin Li.
While significant progress has been made over the past five years, the department recognizes the need to further strengthen the ability of students to make effective use of information technology. The recently implemented changes to the lower division design sequence introduce an information technology sequence spread over the first two years of the program, which will provide foundational instruction in CAD, GIS and computer graphics. This will provide students with basic skills that can be built upon and further enhanced in design studio and support courses.
The department recognizes that there are other computer applications, including advanced 3D modeling, parametric modeling programs and building integrated modeling systems that are yet to be incorporated into the curriculum.
First Year Design
ENV 101, LA 102, 103
The interdisciplinary first-year sequence brings together all first year environmental design students for studio (ENV 101) and history (ENV 115).
ENV 101 establishes a context in which to understand the activities of the landscape architecture profession with relation to its allied disciplines and the built environment. It conditions new perspectives upon urban environments, giving the students a model for critical thinking about landscape architecture and urbanism. Students see the design studio as a place for community learning and sharing of ideas. The students learn design concepts and vocabulary and demonstrate an understanding of these issues through the production of cognitive and perceptual images done of a place in Los Angeles.
LA 102 Landscape Architecture Studio - Mapping: Orders, Actions and Futures as Modes of Developing Inventive Landscapes is an introduction to the principles of discovering and understanding the relationships of elements in the landscape and their interaction as an experience. The primary modes of representation are photography and mapping as analog and digital speculations of the intersections of infrastructural systems. Creating a landscape by appropriating site elements and phenomena, this studio challenges students to develop a response to a situation<>place<>local context. The designer-landscape architect assumes the role of author-creator-visionary with the responsibility of providing modes of engagement that vary in duration and sensory stimulation.
LA 103 Landscape Architecture Studio - Topographic Speculations This course integrates principles of common design parameters dealing with massing, program, and density into one associative topographic model, allowing the student to test multiple design scenarios. The course charts formal and material shifts, requiring the use of conceptual and mechanical tools to reveal the external and internal (self-generative) abilities that exemplify landscape.
All courses utilize lectures, readings, field trips and field assignments to make clear the foundation principles for developing unique landscapes of character and imagination.
Second Year Design
LA 201, 202, 203
The second year design sequence advances investigations from first year while adding complexity related to time and space. Projects emphasize the importance of understanding natural systems and issues related to small scale site planning. The second year landscape studio sequence is concerned with issues of site and the development of an awareness of issues generated by context. The second year investigates site as situational, infrastructural, phenomenal, entropic, systematic, ecological and cultural. Studio projects focus on issues of site development through the lens of landscape and its design with an emphasis on design process.
Second year studios are built on the premise that the meaning of landscape is currently undergoing a shift from a historical and pastoral view based in concerns of conservation and preservation, to a view of landscape as generative, visionary and engaging. Instructors work empower students with this understanding: landscape is not the constructed extension of the man-made out into, and over, the wilderness of the world. Rather, landscape is the foundation that frames the way we build.
Third Year Design (Topic Studios)
LA 301, 302, 303
Intermediate landscape design Topic Studios stresses the application of design concepts and principles to increasingly difficult problems involving the range of the natural and human environments. The intent of third year courses is to develop a broader and more complete understanding of landscape architecture and design. Students explore a range of applications for landscape architectural knowledge, and address issues of professional responsibility through community service projects.
These courses are organized as a series of topic studios. This is a model that was adopted in 2007 as a means to empower faculty expertise and leverage the deep part-time faculty resources in the region. We also took this model as a way to diversify the studio experience and give students more options to investigate specific areas of personal interest.
The overarching goal of topic studios are to empower students with an expanded personal knowledge base, further develop and expand skill sets and provide an opportunity to examine personal values related to design. The studio experience is designed to provide students a design collaborative experience that includes the sharing of mutual learning experiences, and to ensure that all students share an understanding of the design process, ecological processes, diverse cultural contexts, and built systems. The courses also seek to reinforce issues of professional collegiality, mutual respect and collaboration.
Fourth Year Design
LA 401, 402, 403
The fourth year design sequence builds on the skills developed in the first three years. These courses are typified by the curious questions they ask and not by the standards they seek; a position supporting the individual as a life-long-learner. The studios are intentionally ambiguous in specific projects and deliverables allowing students to produce work that is meaningful to them, work that is their direct response to site and context. As a result the work is unpredictable, innovative and progressive—observations supported by alumni at our annual career day and the multiple ASLA National Student Awards.
LA 401/2/3 encourages students to recognize the multiplicity of landscape and to critically question every issue, from social programming of sites to simple structural systems for walls. These studios require student to ask questions in a diverse and intellectually rigorous manner. Students must also recognize the dynamic relationships of complicated systems in order to extrapolate emergent visions of landscape; visions that rise from empirical observation and creative insight. These studios require continual questioning of all characteristics of landscape (social, cultural, economic, ecological, production) as necessary to formulate truly original landscape strategies determined by place. They explore landscape as an all-inclusive idea without tight definitions or professional titles?a necessary position to engage the department's mission of "regenerating Los Angeles."
Embedded within this fourth-year pedagogy is the belief that the communication of landscape should be inclusive of all media and representational methodologies. This belief is substantiated by a definition of the contemporary landscape that assumes everything is an available reference. This inclusive definition allows students to investigate new opportunities and explore venues of expression freely.
The spring semester of fourth year is an interdisciplinary design studio with the department of architecture. This collaboration combines all 4th-year landscape students with all 4th-year architecture students (including studio faculty) to address a large urban design problem. This studio is the terminal studio for our students and is very real in project type, timeline, collaboration and scope.
Material is presented in the form of readings, class discussions, lectures, student presentations and guest presentations from faculty and guests. The studios aim to create a collaborative learning environment in which students engage in the issues critical to the design topic, and produce individual design proposals.