ENV Student Success Advising Center
The ENV Student Success and Advising Center team is committed to providing a host of advising services to students majoring and minoring in programs in the College of Environmental Design.
The Center is located in Building 7, Room 104A. We're also on Instagram! Follow @cpp_envadvising.
Academic Advising Support for Fall 2021 
The College of Environmental Design is following Cal Poly Pomona's roadmap for phased campus reopening. See the Virtual Directory to find primary contacts and modified business hours for ENV departments, services and facilities for Fall 2021. 
The Center is open for virtual/remote services by appointment. Students can schedule a personalized appointment with an advisor. View their availability and book appointments via their CPPConnect links. Learn about each advisor's area of expertise in the Advisory Directory.
Fall 2021 Group Advising
Have questions about your academic plan? The Center is hosting a series of "group advising" meetings this fall every Tuesday and Thursday at U-Hour (12-1 p.m. PST). Each session is divided according to major and in smaller groups for lower- and upper-division students.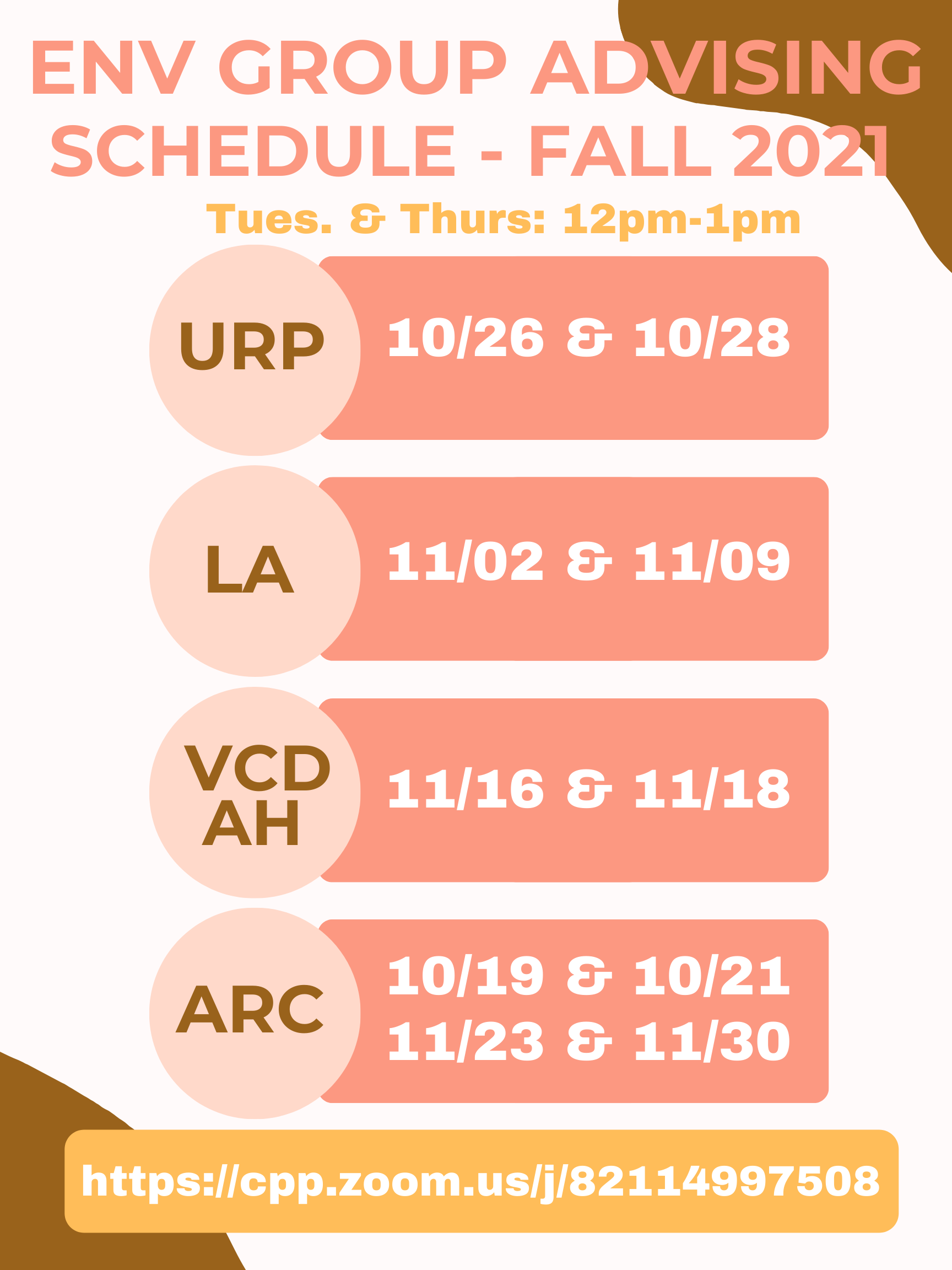 Find Your Advisor
Advisor
Expertise

ENV Student Success Center Student Ambassadors
env_success@cpp.edu
(909) 869-2050

Virtual Drop-in Hours
Monday: 2-4 p.m. (PST)
Tuesday: 1-2 p.m. (PST)
Wednesday and Friday: 10 a.m. - 12 p.m. (PST)
Zoom: https://cpp.zoom.us/s/81301143408 
Zoom ID: 813 011 3408

General advising tools
Make an advising appointment
DPR questions
Petition questions
CPP Connect Planner questions
Registration questions

Kristi Kelly, M.S.
Advising Center Coordinator
cewerner@cpp.edu
CPP Connect Link
https://cpp.campus.eab.com/pal/g9k1586PtS

General Academic Advising
GE Advising
Course selection
Petition Assistance
CA Promise/Graduation Pledge Advising
Information for Returning or Inactive Students

Elizabeth Guevara-Laxamana, M.Ed.
Retention and Graduation Specialist
emguevara@cpp.edu 
CPP Connect Link
https://cpp.campus.eab.com/pal/ZhMArttIL0

At-Risk Students
Probation
Probation with Contract
Graduation Checks

Alie Ivie, M.S.
ENV Career Specialist, CPP Career Center Liaison
akivie@cpp.edu
CPP Connect Link
https://cpp.campus.eab.com/pal/py7U8BYFK1

One-on-one career counseling
Resume writing
Interview techniques
Career exploration
Internship/job strategies
Grad school prep

Faculty Advisors
(If you don't know the name of your faculty advisor, please contact your department office.)

Major Course Selection
Major/Curriculum Questions/Exceptions
Petition assistance for Major Courses
Career Questions

ENV Department Chairs

Questions about changing to an ENV major or adding a minor: