Overview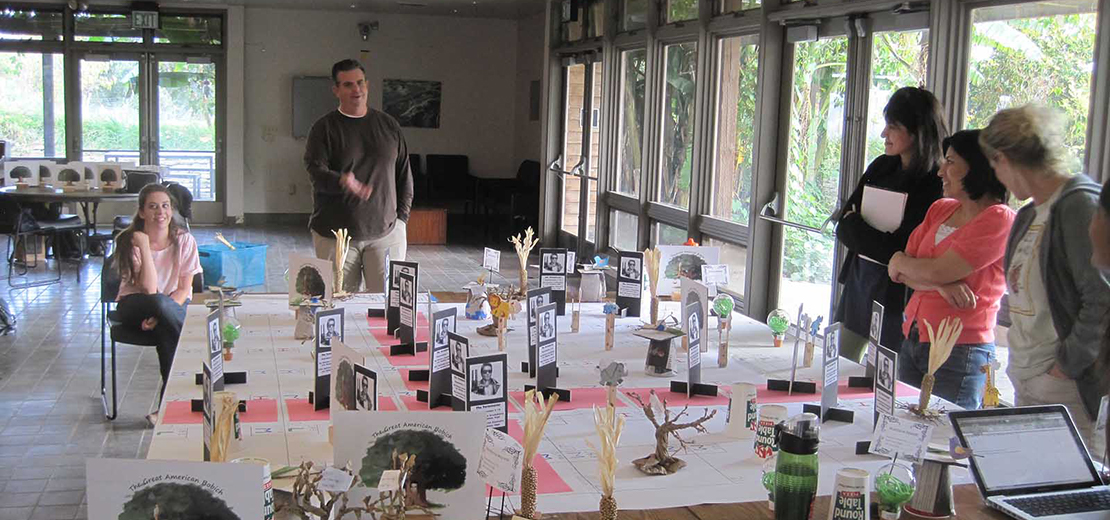 Join a community of scholars striving to make discovery accessible and community action possible
The  Master of Science in Regenerative Studies (MSRS) was established in 2004 as a unique interdisciplinary program that prepares students to find successful solutions to environmental problems in the 21st century.  The program consists of one year of full-time course work, featuring courses intended to ground students in concepts of regeneration, followed by the completion of an independent Master's thesis or project that allows for in-depth investigation of an area of expertise.
While many universities have programs focused on sustainability, our approach is unique in its emphasis on the processes of ecological and social regeneration.  You will learn how physical and social systems can be leveraged not only to sustain, but enhance the quality of life in a community over the long term.
With our deep interdisciplinary approach, faculty, staff, and students from diverse fields come together for collective action. Be a part of a team examining complex issues with the aim of effecting pro-environmental and pro-social change.
As a student you will experience real-world situations in Southern California communities, supporting regeneration through service-learning, fellowships, internships and co-curricular projects.  The confluence of diverse ecosystems and cultures provides students wtih one-of-a-kind opportunities for community action.
In our program, you will be challenged to be collaborative, to develop knowledge in a wide array of disciplines, and to think critically.  These characteristics are essential in leaders, and our graduates bring this skill set into leadership positions in a variety of public, non-profit, and private sector fields
The Center is an academically rich environment that fosters discovery and community action.  As a living laboratory, we demonstrate, study, build, create, and showcase innovative research and potential solutions to environmental challenges.  You will benefit from this physical setting and atmosphere of exchange, while pursuing your own path.
Our students come from a wide variety of academic and professional backgrounds. We have had licensed architects and engineers, accomplished chefs and authors, and students with undergraduate degrees in various environmental and physical sciences, social sciences, education, design, and the humanities, enroll in our program over the years. Because environmental issues impact all aspects of our society, and because our program does not lead to a professional degree with specific employment opportunities, our graduates find themselves in a wide variety of employment sectors. Many have chosen to build on previous professional and educational experiences, while others have decided to pursue different opportunities upon completion of our program.
While the career opportunities available to graduates are broad, and influenced by other professional and educational experiences, there are a number of common pathways which are emerging for our alumni:
Non-Profit Sector. A number of graduates have pursued opportunities to advance sustainability with various non-profit organizations working locally and abroad. Recent employment of our graduates has included:
Logistics Manager for an HIV/AIDS treatment facility in Kenya.
Program Manager for a non-profit providing sustainable solutions for rural communities in the developing world.
Employment with a number of Southern California non-profit environmental organizations, working on ecological restoration and education programs.
Public Sector. MSRS graduates have found opportunities for public service in various positions, including:
Planner of bicycle programs with a regional transit authority.
Planning staff for local communities.
Public works staff for local communtiies working on waste and recycling programs
Lecturers at public universities, private colleges, and community colleges.
Private Sector. A variety of private sector positions have been held by MSRS alumni in a variety of industries, including:
Energy Services Administrator for a private University.
Planning consultant for local municipalities.
Employment in design and building industries, involved in the design/certification of LEED buildings, installation of solar energy systems, and other regenerative building practices.
Doctoral-Level Studies. A number of graduates have also decided to pursue additional degrees, particularly at the doctoral level. Alumni have applied and been accepted to a variety of institutions for the purposes of Ph.D. studies in very diverse fields which build upon their regenerative studies education, including environmental sociology, anthropology, marine ecology, architecture, and planning.