Master of Science in Regenerative Studies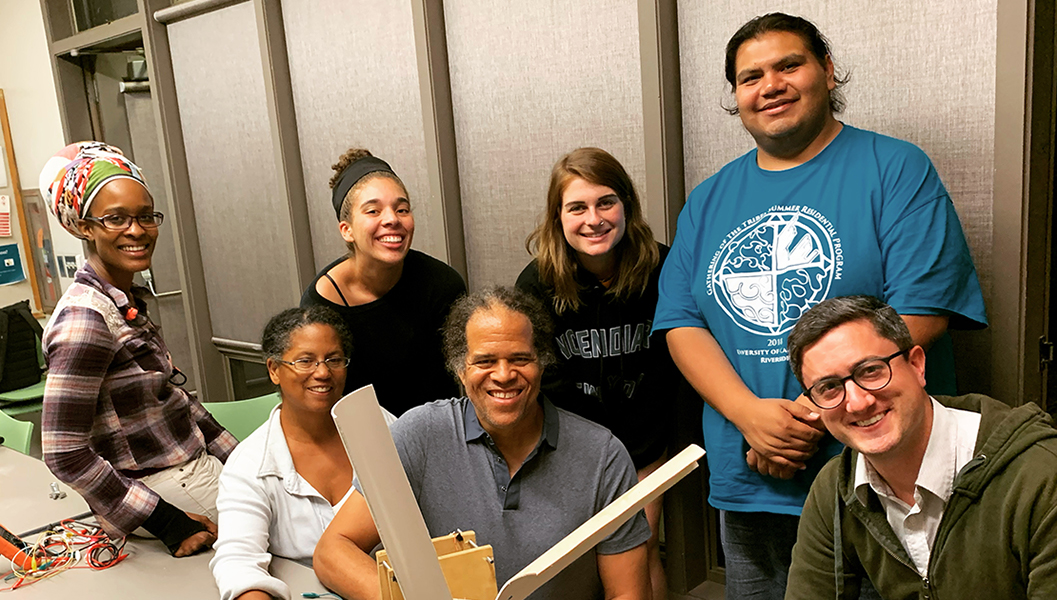 Join a community of scholars striving to make discovery accessible and community action possible
The Master of Science in Regenerative Studies (MSRS) was established in 2004 as a unique interdisciplinary program that prepares students to find successful solutions to environmental problems in the 21st century.  The program consists of one year of full-time course work, featuring courses intended to ground students in concepts of regeneration, followed by the completion of an independent Master's thesis or project that allows for in-depth investigation of an area of expertise.
Graduate Admissions for Fall 2022
Admission to the Master of Science in Regenerative Studies (MSRS) program is only in the Fall term. The application deadline is April 1, 2022. 
Regenerative studies is a complex field. The MSRS emphasizes collaborating and communicating across disciplines — from STEM and the social sciences, to humanities and the arts — to develop a vibrant depth of knowledge. The MSRS program consists of one year of full-time interdisciplinary course work, intended to ground students in concepts of regeneration, followed by the completion of an independent master's thesis or project that allows for an indepth investigation in an area of expertise. 
Admission to the Masters of Science in Regenerative Studies (MSRS) requires the applicant to have received a baccalaureate degree with an overall undergraduate grade point average (GPA) of at least 3.0 (B) or better. Applicants whose GPA falls between 2.5 and 3.0 will be considered for admission on a conditional basis if evidence of compensating qualifications is demonstrated.
Applications are accepted and reviewed once a year for admission beginning in the Fall term. After meeting prerequisites, students may begin Regenerative Studies graduate coursework only in the fall semester with the intensive core curriculum. Admission decisions and entry point competency will be determined by the Graduate Studies Committee. Applicants may also be required to meet specific prerequisite course requirements for discipline focus coursework.
Application procedures include a two-part process. Some materials are submitted to the University's Office of Admissions, while others are submitted directly to the Lyle Center.
Applications are available beginning October 1 of each year. The deadline for submitting the application and accompanying fees is April 1, for admission the following Fall term. All supporting materials (transcripts, TOEFL scores, statement of purpose, and letters of recommendation) must be received by April 30. Prospective students are encouraged to apply early in the application period to ensure that all documents are received prior to review. Incomplete applications cannot be considered.
Prerequisites
Applicants who meet entry point competency will have completed the undergraduate minor in Regenerative Studies at Cal Poly Pomona with a grade point average of 3.0 (B) or better; or will have had equivalent upper division coursework or experience in environmental studies or a combination of related work in the physical sciences, social sciences, engineering, environmental design, and/or humanities. 
Materials submitted to the University
The application form, application fees, and two copies of official transcripts from all institutions of higher education that you have attended must be sent from the originating institution directly to the Office of Admissions. The Center is not permitted to forward transcripts to the Office of Admissions.
Please expedite transcript requests as far in advance of the application deadline as possible. Maintain your records and receipts and contact the Office of Admissions directly to make sure transcripts have been received while there is still enough time to have them sent again if necessary.
TOEFL scores are required for all non-native English-speaking applicants, and must be submitted to the Office of Admissions. Official notification of your score must be received in Admissions before your file can be reviewed. 
Required scores and exams accepted are:
Test of English as a Foreign Language (TOEFL)                  80 ibt
International English Language Testing System (IELTS)      6.5 
Duolingo                                                                               105  
Materials submitted to the Center
The Lyle Center requires the following supplementary materials:
A statement of purpose which describes why you wish to enter the program, how your academic background and other experiences have prepared you, and what discipline focus or set of issues you are particularly interested in pursuing during your studies. The online application provides a space for submittal of your statement. If you wish, you may choose to not include the statement in the online application.  Regardless please do send a copy  directly to the Center by

 

April 30: email it to

 

crs@cpp.edu.
Two letters of recommendation from individuals in a position to assess the applicant's potential for success in master's level academic performance and participation in the Regenerative Studies program.
These supplementary materials must arrive on or before the document deadline (April 30). Please send directly to: crs@cpp.edu.
International Applicants
Known for its outstanding academic programs, Cal Poly Pomona offers excellent education for international students who wish to pursue a degree in the United States.
The Graduate Program accepts non-resident and foreign students. Current and future International Students in Cal Poly academic programs must contact the International Center for information regarding visas, guidelines for maintaining academic progress, and procedures for internships and post graduation work.
For additional information on Incoming International Students and requirements, please refer to Apply as an International Student page.
Contact our Graduate Coordinator
For information regarding admissions to the Master of Science in Regenerative Studies degree program, please contact:
James J.A. Blair, Ph.D.
Graduate Coordinator | jblair@cpp.edu
Students must take a total of 40 semester units of which 28 are core courses in Regenerative Studies. Students are also required to select a focus discipline in which they complete 6 units of course credit. A thesis or project for 6 units is required to complete the coursework.
Students are also required to complete 200 hours of internship which are to be completed at the Lyle Center for Regenerative Studies or in an approved external program or organization. A final presentation and defense of the thesis or project must be successfully completed.
MSRS Student Contract
Graduate students can track and stay on top of fulfilling their program requirements by referring to the checklist in the contract.  (Download the MSRS Graduate Contract)
Continuing students must have a Master's Contract (or Program of Study) on file in order to avoid having a hold on their record that could delay graduation. Students can upload the completed pdf form themselves to PolyDoc.
Core Courses
All students registered in the MSRS are expected to complete the following courses:
| Course Number | Course Title | Units |
| --- | --- | --- |
| RS 5100 | Regenerative Concepts & Applications | 3 |
| RS 5150 | Regenerative Social Practices | 3 |
| RS 5170L | Community Practice | 1 |
| RS 5200 | Nature As Model | 3 |
| RS 5250 | Scientific Foundations in Regeneration | 3 |
| RS 5300 | Regenerative Technology | 3 |
| RS 5350 | Regenerative Environments | 3 |
| RS 5400 | Coalition Building | 3 |
| RS 5500 | Seminar in Research Methods  | 3 |
| RS 6100 | Methods & Applications in Regenerative Studies | 2 |
| RS 6100L | Methods & Applications in Regenerative Studies  | 1 |
Focus Discipline Courses
Students are expected to complete 6 units of Focus Discipline Courses, to be chosen by the student in consultation with graduate advisor and faculty in focus discipine.
| Course | Units |
| --- | --- |
| Two Courses (4000, 5000 and/or 6000 Level) | 6 |
Thesis or Project
In addition, students must complete a thesis or final project in the final two terms. They must register for the following courses
| Course Number | Course Title | Units |
| --- | --- | --- |
| RS 6940 | Thesis/Project Research | 3 |
| RS 6950 or | Master's Project | 3 |
| RS 6960 | Master's Thesis | 3 |
Roadmap
FIRST YEAR
| | |
| --- | --- |
| Fall Semester | Units |
| RS 5100 | 3 |
| RS 5150 | 3 |
| RS 5170L | 1 |
| RS 5200 | 3 |
| RS 5250 | 3 |
| | 13 |
| | |
| --- | --- |
| Spring Semester | Units |
| RS 5300 | 3 |
| RS 5350 | 3 |
| RS 5500 | 3 |
| RS 5400 | 3 |
| | 12 |
SECOND YEAR
| Fall Semester | Units |
| --- | --- |
| Elective #1 | 3 |
| RS 6100 | 2 |
| RS 6100L | 1 |
| RS 6940 | 3 |
| | 9 |
| Spring Semester | Units |
| --- | --- |
| Elective #2 | 3 |
| RS 6950 OR | 3 |
| RS 6960 | |
| | 6 |