The Lyle Center Presents:
Environmental Justice in Indian Country and Moving Toward a Transformational Land Ethic
Date:
November 18, 2020
Time:
06:00pm
Location:
Virtual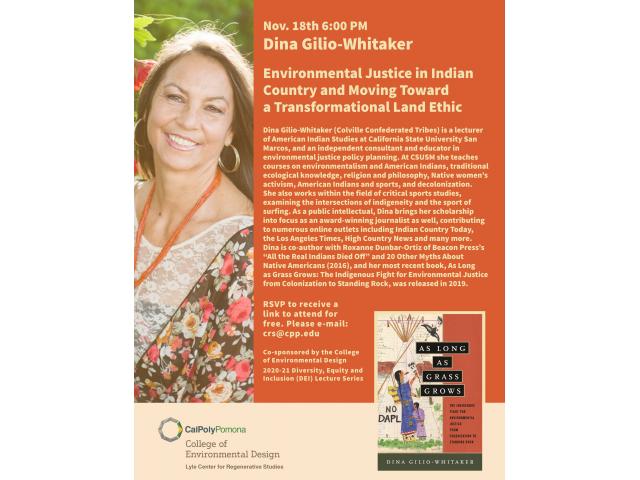 The Lyle Center for Regenerative Studies is hosting a lecture by Dina Gilio-Whitaker (Colville Confederated Tribes), a lecturer of American Indian Studies at CSU San Marcos, an awardwinning journalist, and an independent consultant/educator in environmental justice policy planning.
She is the author of "As Long as the Grass Grows: The Indigenous Fight for Environmental Justice from Colonization to Standing Rock" and co-authored "'All the Real Indians Died Off' and 20 Other Myths About Native Americans" with Roxanne Dunbar-Ortiz.
Gilio-Whitaker's lecture is part of the newly launched Diversity, Equity and Inclusion (DEI) Lecture Series sponsored by the College of Environmental Design. The 2020-21 program will feature guest speakers from the disciplines of architecture, landscape architecture, art, urban and regional planning, and regenerative studies.
RSVP to receive a Zoom link to attend for free at crs@cpp.edu.