Science Club has Global Impact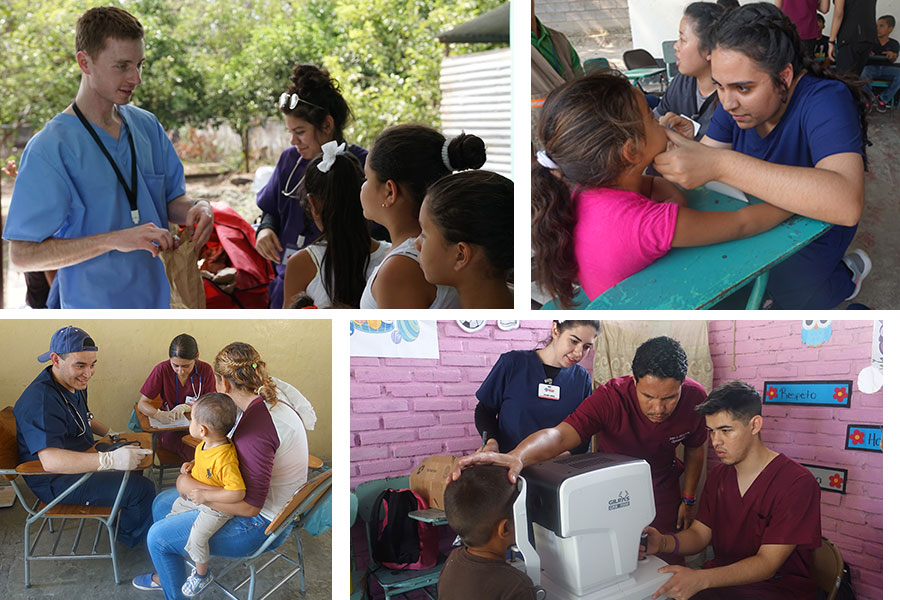 What did you do over spring break? It's a familiar question but for members of the Global Medical Brigades club at CPP the answer is not so familiar. During spring break they travel to another country and spend a week helping doctors provide medical services to people in Panama, Nicaragua, Honduras, or Ghana.
"We believe in empowering people and it's not just about a one-week visit. We want it to be sustainable. So we're doing things that can have a lasting impact such as improving children's hygiene. The organization Global Brigades has brigades that focus on public health, and engineering as well. Our club not only worked in medical clinics in Nicaragua we dug trenches and built an aqueduct to provide water to a community," said club President Kyla Qumsieh.
Since the club's first trip in 2017 they have helped 11 communities in Honduras and Nicaragua. In three years the club has helped provide 3,986 patient consultations, 1,304 dental treatments, supported construction of four water systems, and assisted in public health projects that benefitted 16 families.
In 2020 they will travel to Panama. Club members raise money to pay for their trip and there's a minimum requirement of 25 people.
Global Brigades is an international nonprofit with over 500 university chapters around the world. There are 209 Medical Brigade chapters. "I like that the organization takes a holistic approach. They also provide legal, and business services. Things we take for granted, like having a bank, are a big deal in these communities. A Business Brigade helped start a bank in Panama. One of the residents said they never thought it would be possible for them to save money. Now they can do it," said Qumsieh.
"A woman in Nicaragua was extremely grateful for the medical clinic because she said it was the only way she could get medicine. We see a lot of chronic conditions, mostly the result of diet, things like hypertension are common. One woman got diagnosed with cancer at the clinic. If it was not for our mobile clinics, she would not have known she had cancer," Qumsieh said.
While the club is open to all majors it understandably attracts a lot of aspiring physicians such as club President Kyla Qumsieh who is majoring in Biology and plans to go to medical school. "You don't have to be a pre-med student to join. The club will prepare you to do things like take blood pressure. Two to three students shadow a physician. They listen to diagnosis and can ask questions. There's a dental station where students can perform dental assistant duties. We also provide educational workshops for adults and children. We educate kids about brushing their teeth through songs," said Qumsieh.
"In addition to those things, we do public health projects. In Honduras we worked with a mason to build eco-friendly stoves. The stoves will help prevent respiratory disease," Qumsieh added.
The College of Science is engaged with the local and global community and having a positive impact. If you're interested in finding out more about Global Medical Brigades visit the Science Council's clubs page or email the club at gmbcpp@gmail.com.