SPIRES Ready to Take Students to New Heights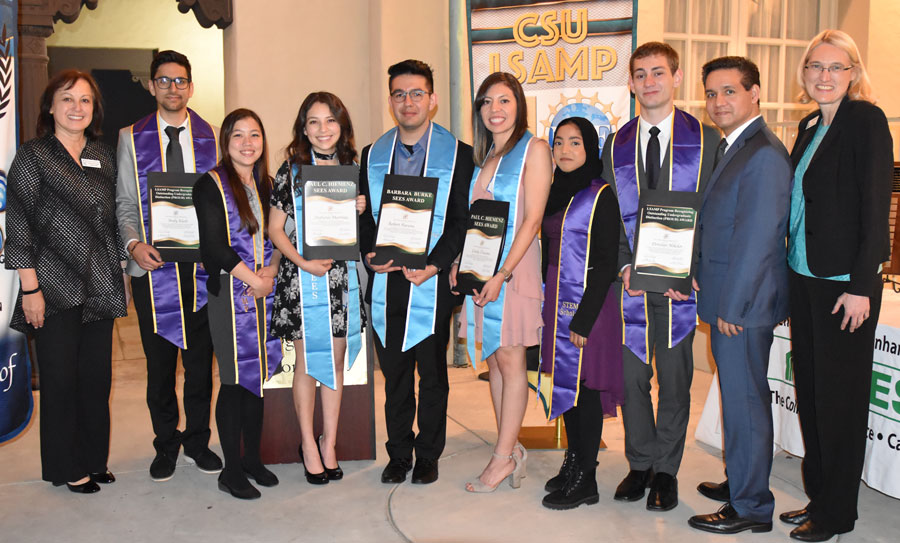 2019 SEES scholarship awardees pose with Provost Alva (left) and Steve Alas and Dean Baski (right).

The College of Science has acquired a new $1 million grant from the National Science Foundation to promote the success of low socio-economic scholars in the sciences. The project is called "SPIRES" which stands for Scholars Program in Research, Education and Science. Steve Alas who is Director of Science Educational Enhancement Services (SEES) and professor of biological sciences is the principal investigator. The co-PI's are Daisy Sang from the Department of Computer Science, Laurie Riggs from CeMAST, and Wei-Jen Lin, Department of Biological Sciences.
Geological sciences student Manuel Vejar said, "The greatest challenge for me has been access; access to financial resources, access to career planning, access to research opportunities." Vejar is a 2019 graduate and has been accepted to a Ph.D. program at Notre Dame where he'll study Environmental Actinide Chemistry.
Alas said, "SPIRES has three strategies to support student success. To engage and retain targeted students, the program will award 125 scholarships over a five year period. The program will integrate sector-specific career skills in the training of scholars so they are ready to exceed workplace expectations. In addition to that, workplace psychology workshops will teach women and underrepresented minorities how to navigate less hospitable work environments."
The program builds off the success of programs like LSAMP which Vejar participated in, and BioTiER which stands for biological training in education and research. Alas leads those programs at Cal Poly Pomona. LSAMP provides 10 scholarships per year and strives to create community among STEM students to support them in pursuing graduate degrees. "Scholarships allow students to focus on research, and they're more engaged and have a stronger connection to the university community." Alas said.
Alas added that "One of the components of BioTiER was workplace visits. It's one of the aspects that students found most valuable, and it will be an integral part of SPIRES too." The program will include three site visits to companies, government agencies, or research (R01) universities depending on the career goals of the students.
Vejar, who plans to become a college professor, said, "They provide us with opportunities to visit other universities to see what else is out there in fields that may interest us, and they provide us with the opportunity to work with faculty mentors who conduct innovative research and who can further help in our career planning and development."
The professional skills development part of SPIRES will include analyzing and writing about specific jobs to give them a better understanding of what's involved in the jobs they're considering. The program will also prepare them to apply for jobs. "SPIRES scholars shall produce five applications to either jobs, internships, or graduate programs." Alas said. "Students participating in industry skills workshops will develop a standard operating procedure (SOP) manual. It's a very common practice in the private sector, and not typically taught in academia."

SPIRES scholars will learn by doing, conducting rigorous, original research under the guidance of a faculty mentor.  There will also be monthly roundtables that will include guest speakers. Alas said that "The primary objective is to build a cohort model in which scholars develop camaraderie, peer mentors, a group identity, and support system." It's a model that has worked well in SEES.
For the workplace psychology workshops SPIRES will enlist the aid of Professor Jeanne Almaraz, College of Business Administration, who will address the leadership gap and how to navigate the workplace. Physics Professor Homeyra Sadaghiani will present on salary negotiation and balancing family and career. Sydney Torres from Womxn's Resource Center will address conflict resolution and dealing with imposter syndrome.
Student Manuel Vejar said, "Cal Poly Pomona has prepared me by showing me what great professors are like. I have met and worked with professors and staff who truly care about my success, who celebrate my accomplishments with me, and who have supported me when things get tough."
Because of his dedication and leadership in supporting student success through SEES, LSAMP, BioTiER, and now SPIRES, Steve Alas has been honored with the 2019 Provost's Award for Excellence in Service.