Welcome to the Don B. Huntley College of Agriculture at Cal Poly Pomona! We've prepared the information on this page to assist you with your journey to college. As the only college of agriculture in Southern California, we take seriously our commitment to serving students. Learn more about us and how to prepare for college by clicking the links below.
Applying to Become a Bronco
Today's Agriculture
Twenty‐first century agriculture in Southern California isn't your granddaddy's agriculture. Agricultural disciplines have evolved to include everything from traditional agriculture to topics important to an urban population‐‐sustainable agriculture, food science, business, veterinary medicine, education, apparel industries, nutrition science, and urban horticulture. Take your passion in biology, chemistry, plants, animals, food, business, education, or the environment, and turn it into a high demand, high paying career in one of California's top industries‐‐agriculture.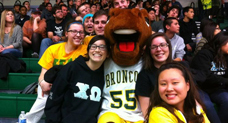 Our Majors