CPP Graduates to Make History with Library of Congress Internship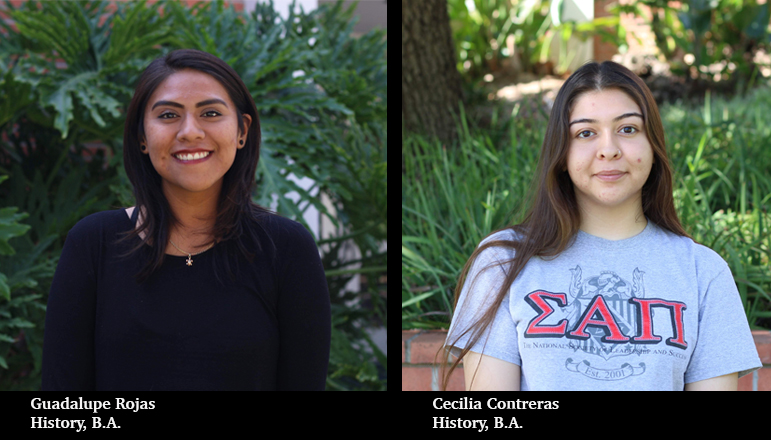 Preserving history takes patience and skill. It is a process that requires you to have an open mind and an ability to interpret, understand, and give meaning to the past.
For two Cal Poly Pomona history graduates, Guadalupe Rojas and Cecilia Contreras, their passion for understanding the past have led them to a distinguished internship with the Hispanic Association of Colleges and Universities (HACU) in Washington, D.C. The two dedicated historians will contribute to preserving historical documentation from Spain and Latin America this fall for the Library of Congress.
Dr. Pablo Arreola, a professor of history at Cal Poly Pomona, is proud of the effort and determination that Rojas and Contreras put into becoming successful.
"Guadalupe and Cecilia are remarkable success stories. They could have fallen through the cracks but had the fortune of having mentors who would listen to them and implore them to pursue their dreams. This happened because they were persistent. They constantly sought help from professors and mentors who saw something in them and could show them the way. I applaud the efforts of my colleague, Dr. Robert Lewis of the History Department, for helping them in this wonderful enterprise."
Dr. Lewis and Dr. Arreola saw potential in both students and took the time to help build their confidence in their ability to contribute in a positive way to society through their love of history.    
Stories of the past fascinated Rojas and Contreras. Rojas enjoyed listening to her grandfather's stories about his journey to California in the 50s through the Bracero program, which was part of a series of laws that allowed her grandfather to work in the United States.
Contreras excelled in history and connected early on with it. "It clicked. I loved learning about the past and being able to connect with people. Despite how old these pieces of work might be, it just shows us how human we are."  
For Rojas, teaching was the end goal. Contreras too wanted to work in the education system, as a library technician. Both students were timid and lacked confidence in their academic skills. But with the persistent encouragement of Dr. Arreola and the history department, they began to find the courage to explore their potential.   
"Throughout grade school, I was in remedial classes and all these programs that make you feel less. I never thought I would come to a university and graduate. I feel I owe this all to Cal Poly Pomona. Dr. Arreola believed in me and told me I was capable of doing so many things," said Rojas.  
After Dr. Arreola's urging, Rojas joined the Model Organization of American States (OAS) team.
"Through Model OAS we were able to go to Washington, D.C. and present our work. I was introduced to a world of diplomacy, and politics was something I had never considered. It expanded my horizons and career choices. It feels great to be at the heart of the nation," said Rojas.  
The history department was instrumental in expanding Contreras' perspectives. "Before college, I was very centered in my world. Being here [at CPP] made me realize that there's so much more."   
"Cecilia is an excellent student with tons of potential; she has an abiding interest in historical documents and wished to pursue a career as an archivist. Fortunately, she found people who would guide the way," said Dr. Arreola. 
Rojas and Contreras said they were each nervous about leaving their homes and venturing out of their comfort zone. However, they realized that the internship provides them with an opportunity to expand their horizons further while preserving history and make it accessible to the public.  
For her internship, Rojas will focus on translating old Spanish from primary sources from the 16th through the 19th century between the Mapuche and the Chilean government. Contreras will be archiving old documents from the 14th through 19th century Spain and Latin America.  
Both alumnae plan to pursue a master's degree.
"Everyone is capable of doing great things. I am my worst critic, I tell myself I can't do it, but right now, I know that I am capable," said Rojas.
Contreras' degree will set an example for her siblings.
"I'm the first to graduate in my family, but I'm not the last," she said. "It's just going to keep going that way, and we're going to continue to better ourselves."