Bachelor of Urban and Regional Planning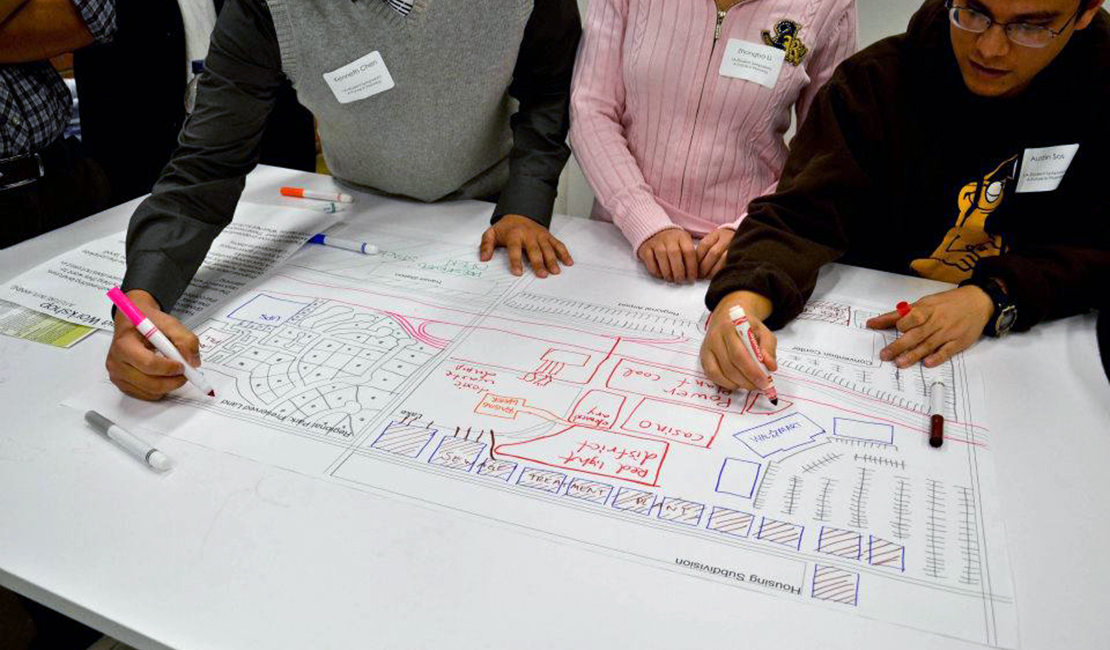 The undergraduate program in the Department of Urban and Regional Planning at Cal Poly Pomona aims to develop verstaile planners with a creative problem-solving orientation. Students learn about the environmental, social, and economic processes affecting the city and region; the means by which planners work within those processes to guide direct urban and regional growth and change; the techniques used by planners in the identification and analysis of problems; and the development of solutions to these problems. Substantial field work allows students to put lessons learned in the classroom to the test of real-life experience.
The success of this four-year program is evident in its accreditation by the Planning Accreditation Board, and in the increasingly responsible positions held by its over 1,100 alumni.
The Field of Urban Planning and Regional Planning
For as long as there have been cities, there have been urban planners: people responsible for the physical layout of streets, building plots and open spaces in urban areas. In the twentieth century, however, the profession of urban planning has grown in two ways. First, the traditional subject matter of planning of planning, physical growth and change, has widened to include environmental, social, and economic issues. Second, planning consultants and public agency planners now work at a broader range of geographic levels, including neighborhood, city and region. The result is a diverse profession involved in many issues and levels of government. Still, there is an underlying commitment shared by urban and regional planners generally -- to work for orderly change, improvement, and development responsive to the goals and needs of people and communities, while respecting the natural environment.

Professional Practice and Community Service
The Department's most significant contribution to communities throughout California comes from its training of qualified city planners. They serve as city planning directors and project directors in redevelopment. They write environmental impact reports and zoning ordinances. They are principals in large-scale design firms, and they work for planning consultants or private developers. Some are involved in work for neighborhood and non-profit groups or do urban design. Many are active in fields such as economic development, transportation planning and land development.
However, our contribution to the community is not limited to professional practice of alumni. Our faculty are involved with numerous local governments and organizations, as well playing active roles in professional organizations. In addition, students work with numerous communities, both individually in internships with local planning agencies and through classes that use nearby communities as "laboratories" for testing planning theories and techniques.

Enrichment Opportunities
Students may participate in a variety of international exchange programs offered through the College of Environmental Design. They may also take advantage of courses offered in other departments in subjects such as geographic information systems, regenerative studies, design or economics.
Measures of Student Achievement: Planning Accreditation Board (PAB) 1F/Public Information
The Department of Urban and Regional Planning seeks students whose personality and character traits are well-matched to the requirements of the profession. Intellectual curiosity and awareness of social, political, and environmental issues are important to planners. Planning requires leadership, teamwork, and other interpersonal skills, including the ability to communicate in graphic as well as written and verbal form. Since planners often are required to be generalists, the Department seeks students who are well-rounded.
Admission to the undergraduate program is possible either as a first-time freshman or as a transfer student from a recognized college. Undergraduate admissions are processed and managed by the University.
Recently, the University has been designated as an impacted campus, altering the admissions process by instituting required filing periods and giving priority to students based on their geographical proximity to campus. This has limited enrollment of students who would have previously been admitted to the University.
Admission to the Bachelor of Science in Urban and Regional Planning is subject to the standard admissions requirements of Cal Poly Pomona.
For specific information, and application instructions, please refer to the Office of Admissions & Enrollment Planning.
Freshman Applicants
Generally, admission of undergraduate students from high school to the university is determined by a formula that combines the high school grade point average and ACT (American College Test) or SAT (Scholastic Aptitude Test) score. In general, students in approximately the upper third of the high school graduating class are eligible for admission.
Freshman applicants must meet the minimum California State University eligibility requirements to be considered for admission. If you meet the minimum CSU requirements, Cal Poly Pomona will consider your application using supplemental criteria that may vary depending on the academic major you have chosen.
For additional information visit Cal Poly Pomona's Freshman Requirements and Deadlines page
Transfer Applicants
Admission of transfer students from community colleges is based on college grade point averages. As of fall 2004 admissions, the University is only accepting upper division transfers.
Upper division transfers must complete 60 semester (90 quarter) units of transferable coursework, including 30 semester (45 quarter) units of courses equivalent to general education requirements, with a grade of "C" or better by the end of the spring quarter to be considered for the next fall quarter.
For additional information on Transfer Admissions, please refer to:
Transfers Application Checklist.
International Applicants
Known for its outstanding academic programs, Cal Poly Pomona offers excellent education for international students who wish to pursue a degree in the United States.
Current and future International Students in Cal Poly academic programs must contact the International Center for information regarding visas, guidelines for maintaining academic progress, and procedures for internships and post graduation work.
For additional information on Incoming International Students and requirements, please refer to:
Apply as an International Student
Contact
For more information please contact:
Department of Urban and Regional Planning
Phone: 909-869-2688
Lydia E. Dolan
E-mail: urpdept@cpp.edu
Curriculum
The Department's learning outcomes are strategically connected to each course in the curriculum. The PDF below includes the learning outcome of the Bachelor of Science in Urban and Regional Planning degree.
The Bachelor of Science in Urban and Regional Planning degree seeks to achieve the learning outcomes outlined below.  The curriculum follows a progression in which these learning outcomes are introduced, developed, and mastered.  The undergraduate program seeks to develop these outcomes for entry level professional planning practice and provide a springboard for graduate level education. The degree provides a core curriculum and offers four options, allowing students to specialize in one of the following:
The

 

Community Development and Social Justice

 

option is designed for students who are interested in issues related to housing, community development, public space and placemaking, citizen participation, planning and social diversity, or the equitable (re) development of cities and regions.
The

 

Urban Design

 

option is designed to explore ideas, tools, and techniques that make cities beautiful, livable, and meaningful to live to their inhabitants. Courses in this option explore the interconnected issues through a teaching/critical thinking/design application process.
The

 

Environment and Sustainability

 

option develops an integration of applicable science, environmental ethics, and policy processes to address a wide variety of environmental issues. Topics range from local ecosystems to global climate change.
The

 

Infrastructure and Transportation

 

option addresses any form of infrastructure that shapes the built environment, including transportation, drinking water, and waste management. This option provides students with advanced level courses for understanding, analyzing, and planning complex systems that keep cities working every day.
Mastery of urban and regional planning knowledge

Demonstrate knowledge of the evolution of substantive and procedural planning theory, emphasizing behaviors and structures to bring about sound planning and the purpose and meaning of planning.

Demonstrate knowledge of the role of planning in public, private, and non-profit settings.

Demonstrate understanding of planning laws, constitutional rights, legal procedures, and the intergovernmental framework for planning.

Demonstrate knowledge of the historical, current, and likely future influences shaping cities and regions, including design, land use, environmental, social, economic, financial, legal, institutional, and social justice dimensions, while understanding these influences in a global context.

Demonstrate knowledge of at least one subfield of planning, such as community development, environmental policy, transportation policy, or land use and design

Demonstrated communication and dialogic skills

Make well researched, logically crafted, and adequately warranted presentation, analysis or argument in written, oral and graphic forms.

Discuss clearly planning concepts, research activity, and policy proposals.

Communicate, listen, and interpret effectively in planning and interdisciplinary groups, diverse community settings, and decision-making environments, using tools for stakeholder engagement

Foster visioning, facilitation, and negotiation in planning settings.

 Demonstrate leadership and collaborative skills for team work, community motivation, and decision-making settings.

Demonstrated skills and creativity in research, analysis, and problem solving

Demonstrate competence and creativity in data collection, including secondary sources such as library, internet, and government data sources, and primary sources such as field research, surveys, and interviews.

Uncover and mine relevant data, literature or policy, use case studies, and develop a coherent research design.

Aptly use quantitative, qualitative, mixed-method, and spatial analysis tools in carrying out research.

Apply models for ex ante and ex post policy analysis.

Demonstrated skills and creativity in design, plan, and policy making

 Assess the application of alternative design, plan and policy making processes to a problem context.

Develop physical design and non-physical economic and/or social solutions and strategies that anticipate and influence future conditions.

Develop implementation strategies to carry out physical designs, and/or economic and social policies.

Develop a logical hierarchy of ends and means in plan texts; write clear policy and regulatory language.

Evaluate designs, development plans, and associated implementing tools once implemented.

Show an ability to implement plans, policies and regulations, including project management, through in-class experiences.

Reflective capacity in ethical and normative reasoning

Reflect on, articulate and justify positions on concepts such as the public interest(s), governance processes and participation, sustainability and environmental quality, economic growth and efficiency, and diversity and social justice.

Demonstrate analytic capability and judgment in considering professional ethics as they apply to typical public, private, and non-profit planning situations.

Manifest self-knowledge, experiences, and reflective ability about learning styles, roles in interdisciplinary teams, and cultural awareness.

Demonstrate a commitment to civic engagement and ability to foster and participate in community activities.
How long does the program take?
Four years if you are a freshman; three years if you transfer in with most of your GE courses complete. The planning core is a total of 72 semester units.
When can I start?
The course sequencing is set up for Fall semester admission. Spring admission is not possible.
Do you impose special GE requirements?
No. The department makes no specifications about what GE courses you take. However, taking certain GE courses can reduce the total number of units required. Contact us for more information.
What does it mean that the program is accredited?
Accreditation means that the Planning Accreditation Board has certified that the program provides professional training that meets their standards. Employers look for students from accredited programs.
Do I need a drafting background?
No. A sequence of three first year studio courses teach you what you need to know in graphic communication and design. Beyond that, it is your option whether you want to take additional courses in urban design.
I am interested in architecture as well. How does Planning fit?
Planning is an excellent background if you decide to pursue a masters in architecture. You will understand how communities grow and change and how policies are developed and carried out. Planners work with architects on project teams.
Is an internship required?
Internships are a valuable source of experience but they are not required. The college has an internship coordinator to help you find a position.
Will I get practical job skill?
The program focuses on providing the skills you need for effective professional practice. Coursework emphasizes learning by doing, through fieldwork and projects in communities.
What are the job prospects?
Job prospects are very good. Southern California will grow rapidly in the next decade; planners are needed to manage that growth. Recently, there has been growth in the areas of GIS, environmental planning, transportation planning, economic development and telecommunications.