Mission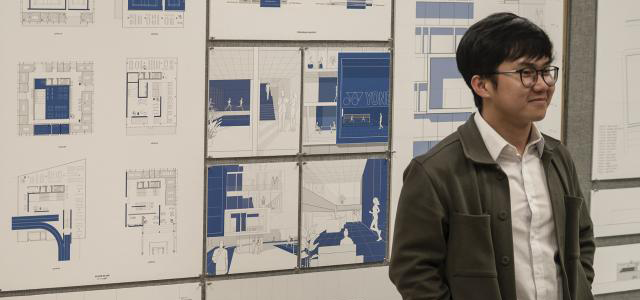 As a professional program in architecture, the mission of this department is to advocate for the broader purposes of architecture, including its public significance, its role in creating sustainable environments, and its provision of service to society through graduates who are responsible professionals, motivated by a sense of civic engagement.
The Department is a member of the Association of Collegiate Schools of Architecture and has two accredited degrees: the five-year B.Arch. program and the three-year M.Arch. program. Both degrees focus on the integration of knowledge-based areas of the curriculum into the design studios. Courses in Architecture Theory and History, Human Behavior, Programming, Sustainability, Building Technology, Structures, Codes and Digital Media are closely coordinated with Design Studio classes, and students are expected to demonstrate their knowledge of these areas in their design projects. The three year Master of Architecture (M.Arch.) degree also offers students an opportunity to concentrate in Sustainability, Healthcare Design or Historic Preservation, areas in which our faculty has specialized expertise.
The Architecture program is directed toward the realities of architectural practice and decision- making processes as they relate to the profession of architecture; faculty members are engaged in practice, education, and research. It is the intention of the department, which has a very diverse student body and faculty, to prepare individuals who will be able to make knowledgeable, thoughtful and socially and environmentally responsible contributions to professional practice.
In the United States, most state registration boards require a degree from an accredited professional degree program as a prerequisite for licensure. The National Architectural Accrediting Board (NAAB), which is the sole agency authorized to accredit U.S. professional degree programs in architecture, recognizes three types of degrees: the Bachelor of Architecture, the Master of Architecture, and the Doctor of Architecture. A program may be granted a 8-year, 3-year, or 2-year term of accreditation, depending on the extent of its conformance with established educational standards. 
Doctor of Architecture and Master of Architecture degree programs may consist of a preprofessional undergraduate degree and a professional graduate degree that, when earned sequentially, constitute an accredited professional education. However, the preprofessional degree is not, by itself, recognized as an accredited degree.
California State Polytechnic University, Pomona, College of Environmental Design, Department of Architecture offers the following NAAB-Accredited degree programs:
B. Arch (150 undergraduate semester credits)
M. Arch (90 semester credits, 60 semester credits for students holding a 4 year degree in architecture)
The Bachelor and Master of Architecture programs underwent a full accreditation visit in winter quarter 2014. Both the undergrad and graduate programs were awarded a full 8-year term of accreditation. The programs will be reviewed next in 2022. For more information visit NAAB.
The Bachelor's program is highly impacted; because of the large demand for the program, the department accepts a small number of students who are not California residents. The Masters is open to out-of-state residents including international students.