M.Arch - Master of Architecture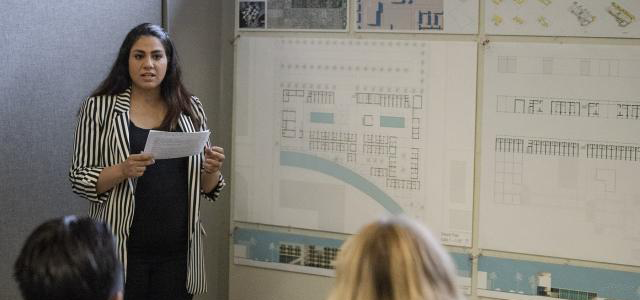 The MArch I program accepts students from varied academic backgrounds, including non-design disciplines. The complete 90 semester unit program prepares students for a career in architecture and a path to licensure. Students must have completed courses in college algebra, trigonometry, and physics prior to beginning this program since these courses are prerequisites to design studios, structures and environmental controls.
The studio sequence consists of three segments: a two-year basic core, topic studios and electives, and a two-semester Master's project. Lecture classes in Architecture Theory and History, Human Behavior, Programming, Sustainability, Professional Practice, Building Technology, Structures, Codes and Digital Media are closely coordinated with the studio sequence, and students are expected to demonstrate their knowledge of these areas in their design projects. Students may also take elective courses in the other graduate programs in the College: Landscape Architecture, Urban and Regional Planning and the John T. Lyle Center for Regenerative Studies.
The first-year graduate class usually enrolls between twelve and sixteen students. The program, as a whole, has a graduate population of about sixty students. This number keeps the student/faculty ratio small, but is large enough to provide for diversity of backgrounds, experience, and accomplishments.
Students in the MArch I program may select one of three concentrations:  Sustainability, Healthcare or Historic Preservation. In addition to offering specialized courses, faculty conduct research in which graduate students may participate. The programs are enhanced by related course offerings in The Departments of Landscape Architecture and Urban and Regional Planning and the John T. Lyle Center for Regenerative Studies, as well as by university owned facilities including the Richard and Dion Neutra VDL Research House, the Lyle Center for Regenerative Studies, the ENV Archives Special Collections and the Visual Resources Library.
MArch Open House for Fall 2021 admission
The Department will be conducting a ZOOM Open House for the Master of Architecture Program on March 23rd 2021, 10a-12n
Please RSVP to arc@cpp.edu
Provide your name, email, and phone number to receive ZOOM address and password for this event.
ALL applications can be submitted through Cal State Apply
For admission to the Master of Architecture program an applicant must have received a baccalaureate degree and have attained an overall undergraduate grade point average of at least 3.0. An applicant who does not meet these criteria may be admitted on a conditional basis if evidence of compensating qualifications can be furnished.
Upon admission to the Department of Architecture, the student will meet with the coordinator of the graduate program to prepare a reasonable sequence of course work. The curriculum thus specified may be altered only by written request submitted in accordance with university regulations.
For specific information, application instructions, and requirements please refer to the Masters Admissions page.
Deadlines
The Department accepts applications for the Fall semester only.
Applications are available beginning October 1 of each year. The deadline for submitting the application and accompanying fees has been extended to April 15, for admission to the following Fall term. All supporting materials (transcripts, IELTS scores, GRE scores, statement of purpose, portfolio, and letters of recommendation) must also be received by April 15. Prospective students are encouraged to apply early in the application period to ensure that all documents are received prior to review. Incomplete applications cannot be considered.
For additional information on Admission Requirements and Deadlines, please refer to  Masters Admissions page.
Materials submitted to the University
The Office of Admissions and Outreach requires the following material sent directly to them:
The CSU application for graduate admissions is handled online. When you apply online, be sure to save a copy of your application in*.pdf file format before you submit it as you will need provide a copy of the application to the Department of Architecture. For any other questions regarding application procedures, please contact the Office of Admissions and Outreach at (909) 869-3210.
Official copies of your transcripts from ALL schools attended should be sent directly from the schools to the Office of Admissions and Outreach.
The mailing address is:
Office of Admissions and Outreach
Cal Poly Pomona
3801 West Temple Avenue
Pomona, CA 91768
Materials submitted to the Department
In addition to the materials submitted to the University, applicants will be contacted by the Department of Architecture within two weeks of the April 15 application deadline to submit the following materials using a secure website portal: 
A copy of your application 
Official transcripts (directly from all of your undergraduate university coursework) 
IELTS scores for those whose native language is not English or who did not obtain an undergraduate degree from an accredited university within the domestic United States are required to have a minimum IELTS score of 6.5. TOEFL scores are no longer required by the Department of Architecture. 
A statement of purpose explaining your interests, motivations, and goals in pursuing a professional degree in architecture. The statement of purpose should be on a separate sheet and NOT included in the application. 
Three letters of recommendation from those in a position to assess the applicant's potential for either the profession of architecture or of a master's level academic program. (The recommendation should be written in letter format on letterhead, there is no form to complete.) 
A portfolio illustrating your most important and representative visual arts, design, research, and/or professional work. The Portfolio must be a single PDF.  
Recommended File Set-up:
Pages: 30 max (Cover pages and table of contents do not count) File Size: 40MB max
Page format: 9" x 12" or A4, two-page spreads should be combined into one page. (recommended)
Color Format: RGB (recommended)
Resolution: 150 dpi (recommended) 
The Department of Architecture does not offer sample portfolios. 
Personal interviews are not required. The Graduate Record Examination (GRE) is recommended but not required.
International Applicants
Known for its outstanding academic programs, Cal Poly Pomona offers excellent education for international students who wish to pursue a degree in the United States.
The Graduate Program accepts non-resident and foreign students. Current and future International Students in Cal Poly academic programs must contact the International Center for information regarding visas, guidelines for maintaining academic progress, and procedures for internships and post graduation work.
For additional information on Incoming International Students and requirements, please refer to:
Apply as an International Student page.
Contact
For information regarding admissions to the MArch degree program, please contact:
Graduate Coordinator
Victor Jones
vjjones@cpp.edu
(909) 869-2674
Architecture Administrative Coordinator
Sam Winfield
dswinfield@cpp.edu
(909) 869-4114
The M.Arch, or Masters of Architecture, requires 90 semester units for the degree. While the majority of the required courses are have curricular content similar to that required in the undergraduate curriculum, studio and core courses are offered separately for the graduate students. Students are admitted with an undergraduate degree in another field and have already completed their General Education requirements. Students with a four-year degree in architecture may also be admitted with advanced standing, which is determined on a case-by-case basis. Of the 90 required semester units, 12 are in professional electives. The M.Arch. students are offered three concentrations; Sustainability, Healthcare Design, and Historic Preservation. Please refer below to the curriculum sheet, which shows the distribution of required courses and units, and the flow chart, which shows the place for each course in the curriculum and the number of units required each term.
Sustainability Concentration
The Department of Architecture at Cal Poly Pomona offers an accredited three year Masters of Architecture Degree within which students may choose a Concentration in Sustainable Architecture. The Concentration builds on the regular M.Arch I curriculum, with specialized sustainable architecture classes in the advanced studio and elective course offerings. The subject matter is designed to give students the skills and tools they need as architects to create sustainable designs with a reduced environmental impact. Our program works to teach students that they have the power to positively affect our environment.
The Sustainable Architecture Concentration within the M.Arch I Program examines the principles of sustainability and their application to design in lectures, seminars and design studios. By teaching students how to regulate climate using appropriate design and materials, they learn to design environmentally sensitive architecture.
Design studios examine principles of sustainable and carbon neutral design: energy, indoor environmental quality, water and materials. Emphasis is placed on controlling the impact of the external environment with appropriate building design and selection of materials. Students build and test their ideas using digital and/or physical models as appropriate. Students apply these concepts in their projects, which are usually developed as part of design competitions with an emphasis on sustainability; our students have won multiple awards in national and international competitions in the past four years.
Lecture courses in environmental controls emphasize the design of the thermal, luminous and acoustic environments by examining the relationships between building and environmental variables. Students in these courses have won multiple awards in national and international lighting design competitions.
Faculty conduct research in a variety of topics that include passive cooling and heating systems, vegetated roofs and daylighting of buildings, much of which is directly applied to teaching, involving students as research assistants or as direct participants in advanced seminars and studios on campus or abroad in our international programs. Students can also take courses in the Lyle Center for Regenerative studies in related areas such as PV system design.
Healthcare Concentration
The first of its kind in the West Coast, the Healthcare Architecture Initiative was initiated by alumnus Sanford Smith, senior vice president of real estate, facilities and construction at Hoag Memorial Hospital Presbyterian. Its goal is to educate and train students to produce efficient and sustainable designs that meet the demands of the healthcare industry. An advisory board comprised of the region's top healthcare professionals assess curriculum, critique student projects and provide financial stewardship for instructional materials, special lectures, field trips and student attendance at industry conferences. Nearly 100 architecture students have graduated with a concentration in healthcare architecture since the program's inception in 2011.
Historic Preservation Concentration
The Department of Architecture at Cal Poly Pomona offers an accredited three year Masters of Architecture Degree within which students may choose a Concentration in Historic Preservation. The Concentration builds on the regular M.Arch I curriculum, with specialized historic preservation classes in the advanced studio and elective course offerings. In general, the subject matter is designed to address the needs and realities of the practice of preservation in the United States, with a particular focus on Western issues. The Historic Preservation Program is a member of the National Council For Preservation Education.
The emphasis of the Historic Preservation Concentration within the M.Arch I program is on architectural design; historic preservation is conceived as a dynamic discipline integrating architectural design, sustainability, urban planning, architectural history, structural design, real estate development and cultural resource management. From this perspective, preservation is envisioned as part of the natural continuum of design and planning activities leading to a more balanced and sustainable urban form.
Cal Poly Pomona is in Los Angeles County, a region undergoing rapid change caused by immigration and globalization, increased population and a persistent housing shortage. The City of Los Angeles is largely built-up and available land is scarce, placing extreme redevelopment pressures on older communities containing historical structures, many of them from the postwar era. The preservation of this group of structures, including many that are hallmarks of the modern movement, is generating controversy as well as tremendous excitement in the field, currently and in the coming decades.
The program offers courses in Cultural Resource Management, Special Topics in California Architecture and an Archives Practicum focusing on the ENV Archives-Special Collections, which houses the collected papers and drawings of well-known architects including Richard Neutra, Raphael Soriano, Craig Ellwood, Donald Wexler and landscape architect Francis Dean (principal of EDAW).
Graduating Writing Test
All persons who receive a degree from Cal Poly Pomona must pass the Graduation Writing Test (GWT). The test must be taken by the semester following completion of 60 units for undergraduates.
For test dates or to determine exemptions, visit Graduating Writing Test page.
Professional Practice Requirement: 500 Hours
Prior to graduation, all students are required to fulfill 500 hours of work. This work must be verified by National Council of Architectural Registration Boards (NCARB). See Student Policies under internship memo.
Professor Marc Schulitz is the Internship Coordinator for the program.