M.Arch - Master of Architecture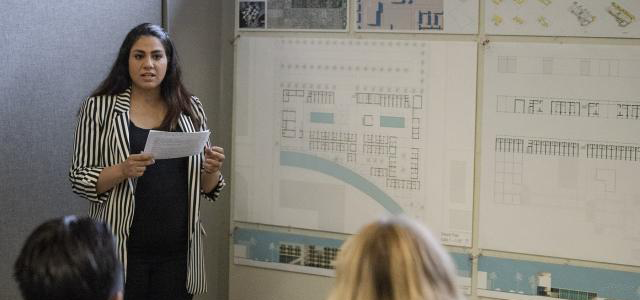 The Master of Architecture program at Cal Poly Pomona is an accredited professional degree committed to preparing graduates for licensure and active participation in the field of architecture.  The 3-year (90-unit) program is geared towards individuals who have completed a bachelor's degree in a major other than architecture or with a pre-professional undergraduate degree in architecture. Placing emphasis on the mastery of design, the program combines a rigorous series of design studios with comprehensive support lecture courses. Lecture courses in architecture theory and history, building technology, codes, digital media, human behavior, professional practice, programming, structures, and sustainability, are closely coordinated with the studio sequence.
The first-year design studio sequence provides a general introduction to architectural principles explored throughout a student's experience at Cal Poly. Students develop design and critical thinking skills as well as a proficiency to communicate spatial ideas effectively. The second-year design sequence builds upon this foundation with increasing complexity. In the final year of study, students are required to prepare a culminating Master's Degree Project that serves as a transition from graduate school to professional life.
Applicants who have successfully completed a pre-professional 4-year degree in architecture or a 5-year international professional degree may be considered for advanced standing. Admissions with advanced standing is based on the admissions committee's evaluation of the applicant's portfolio and undergraduate transcripts indicating first-year curriculum equivalencies in design, history, structures, and environmental controls. Students admitted with advanced standing will pursue a 2-year 60-semester unit trajectory through the program.
Drawing from the architecture faculty's expertise, Master of Architecture students may select from a wide range of specialized electives in sustainability, healthcare, and historic preservation. Students may also take upper-level elective courses throughout in the College of Environmental Design, which houses the Departments of Landscape Architecture, Urban and Regional Planning, and the John T. Lyle Center for Regenerative Studies, as well as the Richard and Dion Neutra VDL Research House.
Applications for fall 2023 admissions cycle will be available beginning October 1, 2022.
General recommendations for applicants are listed below to aid in application preparation.
Deadlines
December 15            Priority Deadline
January 15               Final Deadline
Application Checklist
Obtain Official Transcripts
Official transcripts must be sent directly from your undergraduate college/university to the CPP Office of Admissions and Outreach.
The mailing address is:
Office of Admissions and Outreach
Cal Poly Pomona
3801 West Temple Avenue
Pomona, CA 91768
You are required to provide transcripts from all attended colleges and universities from which you have received a degree.
Transcripts must be in English or be accompanied by a certified English translation.
Degrees must be conferred (completed) by June 15 or before
A 3.0 overall undergraduate grade point average is required to be considered for admission to the Master of Architecture program.
Request 3 Letters of Recommendation
Letters of recommendation should be requested from those in a position to assess the applicant's potential for either the profession of architecture or for a master's level academic program. It's recommended that at least two letters are from college or university instructors.
Recommendations should be written in letter format on letterhead.
Letters must be 1) uploaded to your CSU online application for graduate admissions by the recommender through a secure link and 2) emailed directly to CPP from your recommender.
Submit IELTS Scores (international students only)
For those whose native language is not English or who did not obtain an undergraduate degree from an accredited university within the domestic United States are required to have a minimum IELTS score of 6.5.
IELTS Scores must be 1) uploaded to your CSU online application for graduate admissions by the applicant through a secure link and 2) emailed directly to CPP from your recommender.
Write Statement of Purpose
The statement of purpose should explain your interests, motivations, and goals in pursuing a professional degree in architecture.
Submit the statement of purpose on a separate document. Do not include in the online CSU application or portfolio.
Design Portfolio
A portfolio illustrating your most important and representative visual arts, design, research, and/or professional work. If you don't have any previous training in architecture or related fields, include works that display creative thinking, design aptitude, and multidimensional thinking and problem solving. These works may be photography, painting/drawing, modeling, furniture/product design, graphic design, etc. NOTE: The Department of Architecture does not provide samples of portfolios.
Compile into a single, complete PDF.
Include pertinent information for each project: date, whether the project was academic, personal, or work-related, descriptions of project/scope, etc. If including collaborative work, clearly indicate the applicant's contribution.
The department does not offer sample portfolios, however, please constrain the portfolio to the following recommended conditions:

Pages: 30 (does not count cover pages and table of contents)
File size: 40 MB maximum
Page format: 9" x 12" or A4, two-page spreads should be combined into one page
Color format: RGB
Resolution: 150 dpi
Gather Prerequisite Information
Admission to the M.Arch program is contingent upon completion of college- level courses of Physics (with lab) and Trigonometry.
Included in the application materials must be official transcripts documenting the completion of these courses and a grade of at least B- achieved.
If an applicant has not yet completed their prerequisite courses at time of applying, a document indicating how the prerequisites will be completed prior to semester start date is required. Applicants still needing to complete the prerequisite courses may choose to do so through the following pre-approved options:

College-level Physics with Lab component
College-level Trigonometry
College-level Algebra

To be considered for placement in the 2nd year of the M.Arch. program, a student must hold a 4-year Degree in Architecture and must have completed the equivalent course work of the CPPARC M.Arch. first-year curriculum, inclusive of Trigonometry or higher math and College Physics. A portfolio of work verifies the student will be successful at the level where they are placed. NO placement into the third year will be considered.
Complete Online Application
The CSU application for graduate admissions is handled online.
Before submitting the application, save a copy of the application in *.pdf file format. A hard copy of this application must be included with the materials submitted directly to the department.
For any other questions regarding the online CSU application, please contact the Office of Admissions and Outreach at (909) 869-3210.
Compile Materials for the Department
In addition to the materials submitted electronically to the University through the CSU application for graduate admissions, applicants must submit the following items directly to the department for review:

Unofficial copy of transcripts (from all colleges and universities)
3 Letters of Recommendation (sent directly to the department from the recommenders)
IELTS Scores (international students only)
Statement of purpose
Portfolio
Prerequisite information
Copy of online CSU application for graduate admission
     Please note that physical materials mailed to the Department of Architecture will not be accepted
The Graduate Record Examination (GRE) is recommended but not required. To submit GRE scores 1) uploaded to your CSU online application for graduate admissions through a secure link and 2) mailed directly to CPP.
After Submission
All decisions are released within the second week of March. You will receive an email indicating the Department of Architecture's decision. We do not give out decisions over the phone. If you have not received notification by April 1, please contact the Admissions Office at m.arch_admissions@cpp.edu.
Please note that Cal Poly Pomona does not grant deferrals. If you are admitted but unable to attend, you would need to reapply.
International Students
Known for its outstanding academic programs, Cal Poly Pomona offers excellent education for international students who wish to pursue a degree in the United States.
The Graduate Program accepts non-resident and foreign students. Current and future International Students in Cal Poly academic programs must contact the International Center for information regarding visas, guidelines for maintaining academic progress, and procedures for internships and post-graduation work.
For additional information on Incoming International Students and requirements, please refer to: Apply as an International Student page.
Contact
For information regarding admissions to the Master of Architecture (M.Arch.) degree program, please contact:
Graduate Coordinator
Victor Jones
vjjones@cpp.edu
(909) 869-2674
Architecture Administrative Coordinator
Sam Winfield
dswinfield@cpp.edu
(909) 869-4114
The Master of Architecture is comprised of 90 semester units. Students will develop design and critical thinking skills as well as a proficiency to communicate spatial ideas effectively through courses of increasing complexity.
The program admits students with an undergraduate degree in another field who have already completed their General Education requirements. Students with a 4-year degree in architecture or a 5-year international professional degree may also be admitted with advanced standing, which is determined on a case-by-case basis.
Graduating Writing Test
All students of the M.Arch program are required to pass the Graduate Writing Test. This test must be taken by the semester following completion of 60 units.
For test dates or to determine exemptions, visit Graduating Writing Test page.
Professional Practice Requirement: 500 Hours
Prior to graduation, all students are required to fulfill 500 hours of work. This work must be verified by National Council of Architectural Registration Boards (NCARB). See Student Policies under Internship Requirement. internship memo.
Professor Marc Schulitz is the Internship Coordinator for the program.