Master of Interior Architecture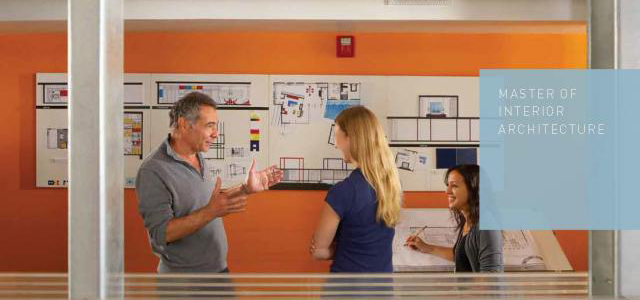 The Department of Architecture offers a program of study that leads to the degree Master of Interior Architecture. This is an ONLINE professional degree (M. INT. ARCH.) accredited by the Council for Interior Design Accreditation and is offered collaboratively between UCLA Extension and Cal Poly Pomona.
Mission
As a unique collaboration between two highly regarded public institutions, the Master of Interior Architecture Program has a focused mission to provide a diverse population of students with a world class education that frames interior design as a social art with the power to promote equity and inclusion, to foster sustainability and to enhance the esthetic dimension of human experience.
Vision
We contribute to making a positive difference in the world by inspiring students, who are often career changers, to fulfill lifelong dreams of becoming design professionals driven by a desire to provide a meaningful service to society.
Educational Philosophy
Our philosophy is embodied in the belief that students learn best from those who are actively engaged in building a better world. Our instructors are all practicing professionals who transfer the immediacy of their current practices directly into the learning experience. Moreover, Southern California's legacy of innovative design makes it an ideal environment in which to cultivate the next generation of designers as critical, flexible, intuitive, rigorous, collaborative, analytical and playful agents of change. They should be ready to challenge conventions when it provides tangible benefits to a project, and also know how to work within rules and requirements to accomplish a client's goals. They should be passionate advocates for sustainable technologies and powerful communicators of their own ideas. In a broad sense they should be committed to improving the quality of life, increasing productivity, and protecting the health, safety, and welfare of the public. Above all they need to be dedicated to an ongoing pursuit of lifelong learning and the furthering of creative excellence in the field.
Goals
The primary goal for the Master of Interior Architecture program is to provide an opportunity for individuals, with a minimum of a bachelor's degree, to pursue a rigorous program of full-time or part-time study that prepares them to enter the field of interior design, incorporating the highest standards of professional practice. The knowledge and skill sets imparted to students will enable them to stand out in the workplace and to take on leadership roles in an increasingly competitive industry. As students progress through the required sequence of classes, they will learn to:
Explore the history of ideas, methods and styles of design
Engage in critical thinking
Generate imaginative solutions that challenge conventions
Enhance experiential qualities of the physical environment
Evaluate and respond to multiple sets of user needs
Implement strategies of sustainability
Assimilate methods of professional practice
Employ cutting-edge digital technologies
Collaborate with others in the problem solving process
Communicate with clarity and passion
Contribute in a meaningful way to the community
M.Int.Arch. Degree Program
Check out the College of Professional and Global Education for Master of Interior Architecture page.
Useful Contacts
Masters of Interior Architecture Graduate Coordinator
Professor Irma Ramirez
(909) 869-5355
ieramirez@cpp.edu
Department of Architecture
Phone: (909) 869-4114
For details on admissions, curriculum, and tuition, and states in which the program operates, go to: the College of Professional and Global education - Master of Interior Architecture.
The Master of Interior Architecture degree program requires the completion of 42-semester units. Full-time students can complete the program in 4 semesters. Upon admission into the program, students are required to register for all classes through Cal Poly Pomona's BroncoDirect system. Cal Poly Pomona operates on a semester system.
Degree Curriculum
Visit the Interior Architecture Curriculum page from the College of Professional and Global Education for more information