2018 NEUTRA AWARD FOR PROFESSIONAL EXCELLENCE: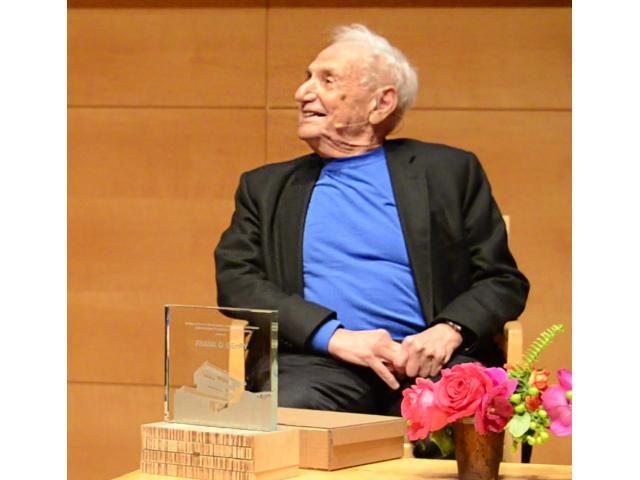 Slide2
Architecture students Maria Mercado and Kleon Tran present architect Frank Gehry with a commemorative plaque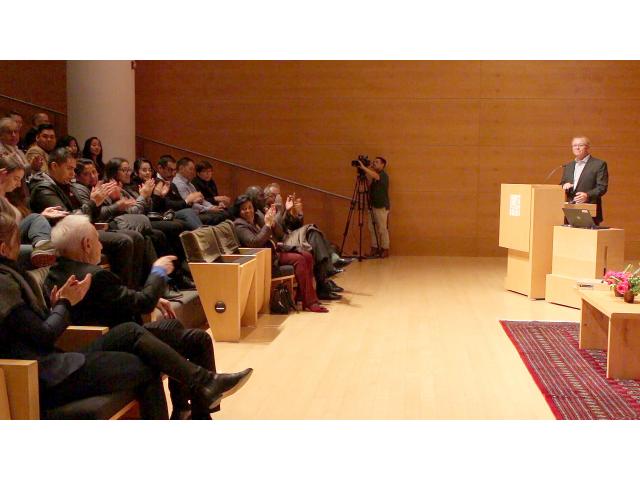 Slide3
Professor George Proctor introduces Frank Gehry
Previous
Next
Frank Gehry, Gehry Partners, LLP
Date:
February 05, 2019
Time:
02:30pm
Location:
J. Paul Getty Museum
In his six-decade career Frank Gehry revolutionized architecture's aesthetics and techniques, recasting its relationship with cities as one of the modern era's early advocates of design's inherent social responsibility.
The Department of Architecture honored Gehry on Feb. 5 with the Richard Neutra Award for Professional Excellence in an exclusive ceremony in the Museum Lecture Hall of the J. Paul Getty Center. The hour-long program featured a live discussion with architect and Archinect senior editor Orhan Ayucce, and a Q&A session with audience members.
Ayucce's interview with Gehry began with a presentation of a student-fabricated commemorative plaque by Maria Mercado and Kleon Tran, the presidents of the Tau Sigma Delta Honors Society and the Cal Poly Pomona chapter of the American Institute of Architecture Students (AIAS), respectively.
"The heart of this year's Neutra Award program was a scintillating hour of questions and answers with our architecture students and faculty getting 'up front and personal' with one of the world's greatest living architects," said Michael Woo, dean of the College of Environmental Design.
In his introduction, department chair Professor George Proctor sought to connect Gehry's early beginnings with the hopeful trajectories of the program's students: "Frank Gehry's personal story offers a fantastic inspiration to the young architects watching today. The activities and journey of his youth, his educational path to architecture, and his first steps into the profession, parallel those of many Cal Poly students of architecture. Canadian born Frank Gehry, attended LA Community College and the University of Southern California where he earned his Bachelor of Architecture."
The Neutra medal recognizes the contributions that Neutra, an acclaimed modernist architect and former Cal Poly Pomona lecturer, made to architecture in the areas of research and design as well as to honor individuals who have dedicated their careers toward researching and developing new environments in which we live, work and play. Past recipients of the Neutra Award include former U.S. Vice President Al Gore, Pritzker Architecture Prize winners Tadao Ando and Thom Mayne, and SCI-Arc founding member Michael Rotondi.
Gehry is the recipient of architecture's highest honors, among them the 1989 Pritzker Prize; the 1998 National Medal of Arts; the 1999 American Institute of Architects Gold Medal; the 2000 Royal Gold Medal from the Royal Institute of British Architects; the 2002 American Academy of Arts and Letters Gold Medal; and the 2016 U.S. Presidential Medal of Freedom.
At the Neutra ceremony, Gehry was lauded as an icon and iconoclast before an invitation-only audience of architecture and art patrons, educators, handpicked students and supporters such as Austrian Consul General Andreas Launer – a nod to Neutra's Austrian roots.
"I want to thank you," Ayucce said to Gehry before beginning his segment. "I always wanted to tell you this, for me and for my colleagues, you were responsible for liberating us, liberating architecture...As if architecture was rock 'n roll, you were the Woodstock for us."
Gehry's most famous commissions are a study of boundary-pushing techniques and tools – geometrically complex aerodynamic silhouettes modeled and constructed with use of 3D software CATIA (computer-aided three-dimensional interactive application), traditionally used for designing French fighter jets, that popularized the practice of Building Information Modeling.
The Guggenheim Museum in Bilbao, Spain, breathed second life into the ailing port district, positioning it as an economic and cultural center. The stylistic ostentatiousness of the asymmetric Dancing House, the Nationale-Netherlanden Building, in Prague sought to represent the Czech Republic's embrace of democratic beliefs after the fall of communism. In downtown Los Angeles, Walt Disney Concert Hall "says something about the role that architecture can play as a civic symbol in a city like Los Angeles that is very hungry for symbols," Woo said.
Gehry spoke about his projects and philanthropy, architecture and design education, and at his most revelatory the "healthy insecurity" that continues drives him. At 89, he is still active in Gehry Partners, a practice he established in 1962.
"You've got to stay hungry, stay searching," Gehry said. "I mean it's nice to have accolade, it's nice for people to say nice things, and I certainly am not immune to it. I love it too. But when I'm working it's not sure if I am going to get there on each project. I sort of feel comfortable in that space and as soon I feel like I know what I am doing, I change the game."
Gehry has connections to Cal Poly Pomona. His sister, Professor Emeritus Doreen Gehry Nelson, founded the Design Based Learning (DBL) Program in the College of Education and Integrative Studies. While still a student at USC, Gehry crossed paths with Raphael Soriano, one of the pioneering figures in mid-century modern architecture and former lecturer at the College of Environmental Design.
To see the full list of past Neutra medalists, visit Neutra Award page.