Mission
The Center for Community Engagement (CCE) strives to enhance learning, encourage career exploration, inspire civic engagement and empower students with meaningful community-engaged learning experiences that have a positive impact on our local community, region, and world.
Vision
The Center for Community Engagement (CCE) connects students with opportunities to learn by doing good: explore career pathways, enrich educational experiences through experiential learning, and engage the community through civic engagement and volunteer service.
We support the following Signature Polytechnic Experiences (PolyX):
Service Learning and Community Engaged-Learning Courses
Bronco Stampede of Service (Civic Engagement & Volunteer Service)
Cooperative Education (Co-Op)
Academic Internships
The CCE is working hybrid.
Address: Building 1, Room 108, 3801 West Temple Avenue, Pomona, CA 91768
Email: cce@cpp.edu
Phone: (909) 869-4269
Fax: (909) 869-4515
Office Hours: Monday to Friday, 8:00 am - 5:00 pm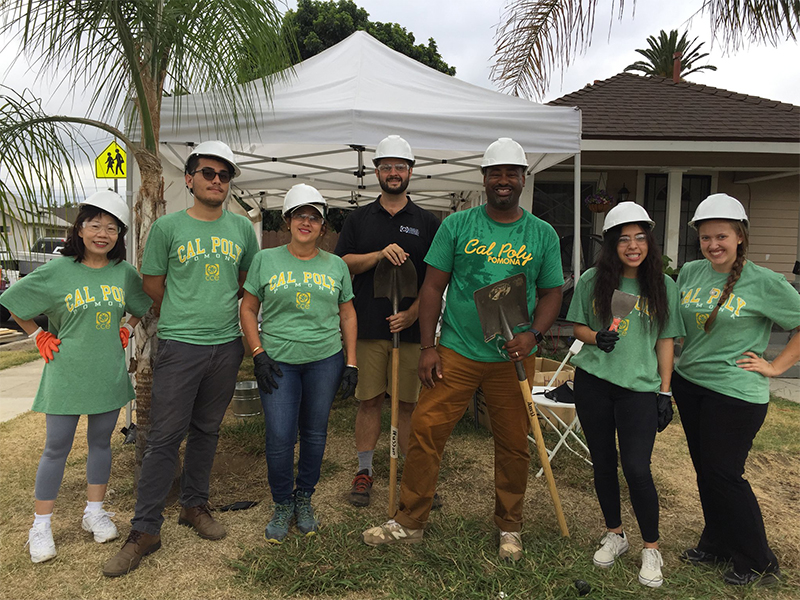 Faculty Advisory Board Committee
The purpose of the Center for Community Engagement Faculty Advisory Board is to provide input on Center for Community Engagement strategic planning and advocate for community engagement stakeholders: community partners, students, and faculty. Board members function as allies of the Center and our work within their respective roles across campus and within the community. The Board consists of representatives from both the campus and community within our stakeholder groups: community partners, faculty, and students, as well as key leaders from relevant university departments.
21-22 Board Members:
Bryant Fairley, Director, CCE
Lydia Chen Shah, Faculty Associate, CCE
Dina Abdul Karim, Faculty, College of Environmental Design
Brady Collins, Assistant Professor, College of Letters, Arts, and Social Sciences
Teresa Lloro-Bidart, Associate Professor, College of Education and Integrative Studies
Matthew Povich, Assistant Professor, College of Science
Anas Salah Eddin, Assistant Professor, College of Engineering
Preeti Wadhwa, Associate Professor, College of Business Administration
Center for Community Engagement Staff