Bronco Stampede of Service
Call to action!
Bronco Stampede of Service projects are coordinated by the CPP Center for Community Engagement, in coordination with National Days of Service. Bronco Stampede of Service projects include meaningful hands-on volunteer opportunities that address specific United Nations  Sustainable Development Goals (SDG's) and invests in community impact to benefit the common good.
9/11 DAY OF REMEMBRANCE
The September 11 National Day of Service and Remembrance (9/11 Day), is a chance to help others in tribute to those killed and injured on September 11, 2001, first responders, and the countless others who serve to defend the nation's freedom at home and around the globe.
Join Us in Service!

This year, the Center for Community Engagement will be hosting a Bronco Stampede of Service in honor of 9/11. Join us in service on Sunday, September 11th from 6:30 am to 4:00 pm by helping pack food for the hungry in commemoration of 9/11, a National Day of Service and Remembrance. 
*Breakfast, lunch, and transportation from campus to the service site and back will be provided. 
Be an important part of local efforts helping to pack an estimated 300,000 meals for LA residents struggling with food insecurity. 
VOLUNTEER PERKS
---
Breakfast & lunch for volunteer leaders 
A Day of Service t-shirt
The thanks and appreciation of the organizers and those who receive the 300,000 meals!
VOLUNTEER ROLES & RESPONSIBILITIES
---
Serving as a table captain
Stocking boxes and ingredients in meal-packing stations
Sealing boxes of finished meals and moving to designated pallet areas 
Ability to lift 30-50 lbs. and lots of stamina required
Limited number of alternative volunteer opportunities are available for volunteers in need of an accommodation.
🔗 For more information and to sign up, please visit the following link below
Do a Good Deed for 9/11 Day
---
Resources to participate with acts of service and kindness for the 9/11 National Day of Service.
National Days of Service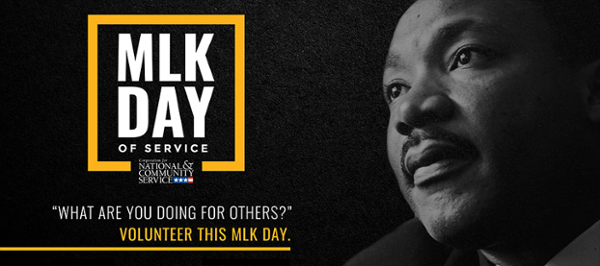 MLK Day of Service is almost here – and Americans across the country are getting ready to honor the legacy of Dr. King. Are you ready to serve?
January 17, 2022, marks the 27th anniversary of the day of service. MLK Day is intended to empower individuals, strengthen communities, bridge barriers, create solutions to social problems, and move us closer to Dr. King's vision of a "Beloved Community."
Honor Dr. King's legacy all year. Pledge to serve in his honor throughout the year! No matter how you give back - big or small you are making a difference!
 Be sure to share your thoughts and photos from your volunteer service that day:
Tag @cppcee
 hashtag #MLKDay26
Cesar Chavez Day is a U.S. federal commemorative holiday, proclaimed by President Barack Obama in 2014. The holiday celebrates the birth and legacy of the civil rights and labor movement activist Cesar Chavez on March 31 every year.

It is commemorated to promote service to the community in honor of Cesar Chavez's life and work. Some state government offices, community colleges, libraries, and public schools are closed. Texas also recognizes the day, and it is an optional holiday in Arizona (official holiday in the city of Phoenix, Arizona) and Colorado. Americans are urged to "observe this day with appropriate service, community, and educational programs to honor Cesar Chavez's enduring legacy."

The Center for Community Engagement is promoting a digital celebration of Cesar Chavez Day, see above for options on how to celebrate virtually.
Are you looking to connect with your community? Here's an opportunity to learn about local organizations, build your network, and find local volunteer opportunities near you!
The CPP Virtual Volunteer Fair provided an opportunity for Cal Poly Pomona students, staff, and faculty to connect with volunteer organizations virtually to promote meaningful opportunities for volunteer service and sustain civic engagement in a virtual environment. 
During National Volunteer Week on April 18 - April 24, 2021, we celebrated service in partnership with the CSU system! This virtual event showcased local and regional nonprofits and community-based organizations representing diverse social impact areas—from housing, education, arts, food insecurity, forestry and children's services.
Visit, CSU Virtual Volunteer Fair for a list of participating CSU campuses and view the agencies within their region.
#LearnByDoingGood
Bronco Stampede of Service - 9/11 Day of Service & Remembrance
Bronco Stampede of Service is a multi-day First-Year Experience (FYE) service project that will be held from Tuesday, September 7th - Friday, September 10th to coincide with the 20th Anniversary of 9/11.
REGISTRATION: TBD
START TIME: Check-in at Building 98: CLA (Classroom/Laboratory/Administration). Please note, your volunteer time slot will depend on your FYE course or based on the preference of your professor.
ORGANIZATION INFORMATION: L.A. Works, a nonprofit that implements community service projects in the greater LA area, and draws more than 1,000 local volunteers. L.A. Works creates and leads programming to address critical issues and needs in Los Angeles by mobilizing targeted volunteer communities - family volunteers; corporate volunteers; general community volunteers; and older adult volunteers.
PROJECT DESCRIPTION: This event brings together CPP students, staff, and faculty to serve local community partners: The Youth & Family Club of Pomona Valley; House of Ruth; Hope for Housing; UrbanMission/South Pomona Farm (SOPO) in coordination with LA Works.
The event is made possible by funding from Instructionally Related Activities and is sponsored by the Center for Community Engagement.
CPP does not discriminate in the educational programs or activities it conducts on the basis of race, ethnicity, color, nationality, gender, gender identity, gender expression, age, marital status, religion, mental or physical disability, genetic information, sex, sexual orientation, pregnancy, medical condition, or special disabled veteran status, Vietnam-era veteran status or other covered veteran status. 
The university encourages persons with disabilities to participate in its programs and activities. If you anticipate needing any type of accommodation, or have questions about the physical access provided, please contact Disability Resource Center at 909-869-3333 or drc@cpp.edu as soon as possible, but no later than 7 business days prior to the event.