Model National Organization of American States
Each spring, a delegation from Cal Poly Pomona participates in the national simulation at the historic Fairmont Hotel in Washington DC, participating at the Model OAS General Assembly. Each year approximately 1,500 students and 100 teachers from throughout the Hemisphere participate in the MOAS. The MOAS is part of Cal Poly Pomona and the Department of Political Science's committment to "learn by doing", allowing students to preview diplomatic work in a way no other experience allows. 
Each year, universities from member nations gather for the national simulation in Washington, D.C. The universities play the part of different member nations, introducing resolutions addressing different political, economic and social issues in the Western Hemisphere — much like the Model UN does with global issues. Each year's team will play the role of an assigned country. The students participating also take a specialized class with Dr. Nyenhuis in spring semester in preparation for the Model OAS event, researching which positions their country would take on issues before the general assembly.
2023-2024 Applications
Applications for the 2023-2024 team members will be due in November 2023. Download a previous copy of the Model Organization of American States Program application form to see an example of what is required. Team members must be committed to attending the national conference in Washington DC from April 8-12 2024. For further information, please email faculty advisor Dr. Robert Nyenhuis (nyenhuis@cpp.edu). 
Former Head Delegates
2022-2023: Martha Juarez
2021-2022: Evan Park
2018-2019: Gabriela Castaneda and Ana Cortes Lopez 
Cal Poly Pomona MOAS Delegation History 
2021-2022: Bahamas
2020-2021: Costa Rica
2019-2020: Argentina
2018-2019: Haiti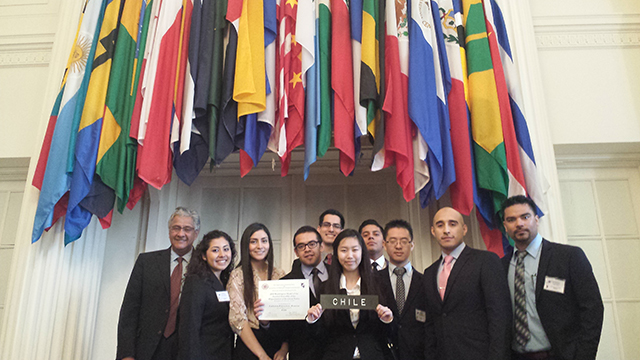 Dr. Robert Nyenhuis

Model OAS Advisor
Office: Building 94, Room 376
Email: renyenhuis@cpp.edu