Ink & Clay 42
Press the tab key to view the content. Use the down arrow key to move to the next tab and up arrow key to move to the previous.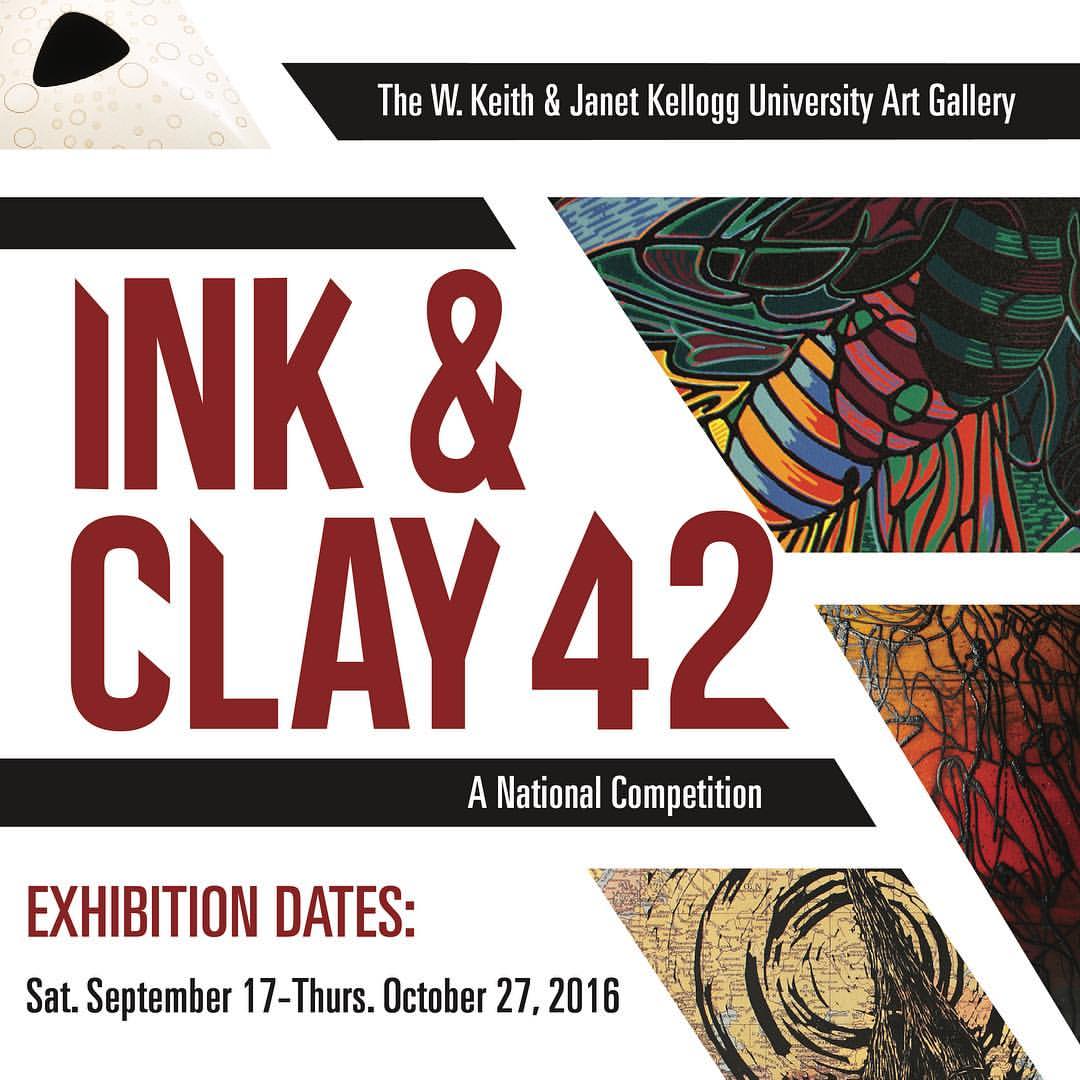 On Display September 17 - October 27, 2016
Established in 1971, Ink & Clay is an annual competition of printmaking, drawing, ceramic ware, clay sculpture, installation and mixed media utilizing any variety of "ink" or "clay" media. The competition is open to all 50 states, including Alaska and Hawaii.
This site displays the individual works and statements of the artists, as well as photos of the gallery installations. You will also find information about the jurors. Artworks chosen for special awards will be added to the site by the end of September, as well as an online brochure.

Established in 1971, the exhibition is sponsored by the W. Keith and Janet Kellogg University Art Galleryof California State Polytechnic University, Pomona and is underwritten by the generosity of the late Col. James "Jim" H. Jones with additional support from the Office of the University President.
Ink & Clay is an annual competition of printmaking, drawing, ceramic ware, clay sculpture, installation and mixed media utilizing any variety of "ink" or "clay" media.
Steven Allen, Grandpa's Tool Box, 2016, black stoneware, slab-built under-glazes, 
metal pin, cone 6 15" h x 14" w x 8" d Courtesy of Kellogg Gallery
Anthony Lazorko & Edgar Ivan Rincon, 

Crossroads, 2013,  color wood blocks print 13" h x 22" w, Courtesy of the artist
Terms of Submission
Media/ Eligibility
Any artist working in the United States may enter this competition. The Jurors make the final decision on which works are accepted among the entries received by the posted deadline. Artwork Submissions must have been completed within the last 3 years (2014-2016). Entries cannot have been submitted in a prior year. Generally, any artwork utilizing any type of ink or clay, in whole, or in part, is acceptable. Artworks must be original - no giclée prints, reproductions or solely digitally-based prints. We seek entries that have been created by the artist's hand in some way, shape or form. There are no size restrictions. Past exhibitions have included non-tradional media including installations (both site-specific and not), freestanding and hanging sculptures, and mixed media, as well as the more traditional artforms. All artforms are encouraged for submission.
---
Fees
A $40 entry and handling fee will be charged. This entitles the artist to three digital image entries. Works that are 3-dimensional may have only one (1) additional detail slide each, to supplement their 3-D entry. Please note that checks are deposited collectively after all entries have been processed. Please make check or money order payable to: Cal Poly Pomona Foundation, with "Ink & Clay 42 Entry Fee" written onto the "Memo" line of your check.
---
Sales 
All artwork will be considered for sale unless otherwise indicated as NFS (not for sale) on the entry form. A 25% commission on all sales will be retained by the Kellogg University Art Gallery to support programming of future exhibitions. Please price artwork entry accordingly.
---
Awards
The Kellogg Art Gallery is pleased to offer $6,500 in cash awards this year. These include: the James H. Jones Memorial Purchase Award(s), generously sponsored by Mr. Bruce M. Jewett; the Universit y President's Purchase Award(s), sponsored by the Office of the University President, Soraya Coley; as well as Jurors' Choice and Director's Choice Purchase Awards. Additional monetary awards include $500 Juror Awards and $100 Honorable Mentions.
---
Accepted Works
Judging will be completed by July 31, 2016. Acceptance and Non-Acceptance no­tification letters will be mailed the week of August 8, 2016. Applicants may contact Kellogg Gallery after August 16, 2016 if a notification letter is not received. Acceptance letters will include instructions for the art shipping/delivery and return/pickup.
---
Purchase Prize Eligibility
To be eligible for purchase prize, artwork CANNOT be marked "Not For Sale"(NFS). This year, monetary purchase awards may range from $1000-$500 (with no less than $500 for any purchase) and will be given in exchange of artwork being added to University's Permanent Collection. If an artwork is priced at more than the possible purchase prize amount ($10001, the artist may wish to select 'NO' on the "Eligible for purchase prize" section of submission form.
---
Insurance, Liability, and Shipping Requirements
All accepted works, once received, will be insured for the duration of the exhibition. Although due care will be taken in handling of all entries, neither the Kellogg Gallery nor Cal Poly Pomona accepts responsibility for the damage of work submitted to the exhibition which is improperly framed or packaged, or without secure hanging devices or displaying instructions when needed. Out-of-area artists will be responsible for costs of shipment of art to and from the exhibition venue.

Catherine Burce, Nothing But Flowers, 2014, porcelain floor installation, dimensions variable, Courtesy of Kellogg Gallery
Meriel Stern,

Domestic Flow 3

, 2016,site-specific installation: cone 5-fired porcelain, mason stain and acrylic paint, dimensions variable, Courtesy of Kellogg Gallery
Submission Requirements
Please submit a MAC compatible CD labeled with your full name, email and telephone number. Print clearly and legibly. All CDs become property of Kellogg Gallery and will not be returned. On the disc please include each of the following required items:

1. An Artist Statement describing, in general terms, what your submitted artwork is about 200 words maximum, in paragraph form, and saved as a Microsoft Word document (.doc or .docx). This must be provided on the submission disc. Hard copies are NOT accepted. Please ensure correct editing, proofing and spelling prior to submission. Statements of selected artists will be printed and included for reference in a binder during the exhibition and provided for the on-line catalog. Due to the need of properly manipulating the artist statements for online use, a Word document is required. If individual artworks require separate statements, please submit each statement as a separate word doc and name each to match the submitted image on disc.
2. A Curriculum Vitae (CV) or Resume in PDF form. Resumes/CVs of selected artists will be printed and included for reference in a binder along with the Artist Statement. Due to potential formatting concerns, this must be provided as a PDF doc.

3. (1) One Hi-res JPEG image PER ARTWORK ENTRY (required)/(3) three artwork entries maximum:
In general, characteristics for hi-resolution images to provide include: Maximum File Size: 2 MB; Resolution: 300 dpi with a minimum 5 x 7" image format.
Images must be professional in quality - no informal shots please. If artwork is selected for exhibition, these photos will be used "as is" for the website and promotional materials. Please do NOT provide any image file other than JPEG.
Label each JPEG image as follows:
Artist_Name_Ol, Artist_Name _02, Artist_Name _03.
Detail shots, if necessary, may be included for 3-dimensional works only.
Label 3-D detail images as follows:
Artist_Name_Ol a; Artist_Name_02a; Artist_Name_03a.
No more than one additional detail per 3-dimensional entry.
Please do not provide detail shot for 2-D entries: they will not be considered.

Artwork Submissions must have been completed within the last 3 years (2014-2016). Same entries cannot have been submitted in a prior year.

Barbara Foster, Telltale Signs from the Endless Poplars series, 2016 two-block woodcut, walnut ink, hand-printed on Okawara Paper, 29" h x 52".
Important Dates
Postmark Deadline for Entries: Sat. June 25, 2016
Notification Letters Mailed: Week of August 8, 2016
Postmark Deadline for Shipped Artwork (for out-of-area entries only): Mon. August 22, 2016
Local Hand-Delivery of Works to Gallery: Sat. and Sun. August 27 and 28, 2016, 12-4pm
Exhibition Dates: Sat. September 17 - Thurs. October 27, 2016
Opening Reception: Sat. September 24, 2016, 2-5pm
Awards Announced: 3:30pm
Pick-Up of Hand Delivered Works: Sat. and Sun. October 29 and November 30, 2016, 12-4pm
Return Shipments of Work (for out-of-area only): Week of Nov. 1, 2016

Juror Biographies
---
Curator Juror: Peter Mays

Peter Mays is the Executive Director of the Los Angeles Art Association (LAAA) and its premiere La Cienega exhibition space Gallery 825. Mays believes LAAA is now poised to launch the next phase of the 91-year-old organization's expansion and commitment to Los Angeles' emerging artists. Since joining LAAA in June 2005, Peter has implemented cultural exchanges with Switzerland (Basel), Korea, Germany and China, initiated collaborative programming with institutions like Harvard, MoCA and Otis, as well as with artists Tim Hawkinson and Lita Albuquerque, secured the very best curators to jury LAAA exhibitions, increased LAAA's career development programs and direct services by 30% and created LAAA's public art program which was selected as one of the top public art works completed in 2010 by Americans for the Arts.
Beyond his commitments at LAAA, Mays has curated exhibitions throughout Southern California for various arts, educational and civic agencies. Mays was the recent recipient of the West Hollywood Chamber of Commerce's Creative Economics: Art and Business Partnership award and a past recipient of the Art to Life award sponsored by Art & Living Magazine, Sotheby's International Realty and A&I for his work on behalf of emerging artists and emerging artists communities. As chairperson of the West Hollywood Arts and Culture Commission's Art on the Outside public art effort from 2009 - 2015, Peter led the city's nationally regarded outdoor public art programming which has been praised in ArtForum and the New York Times. Peter helped to launch the region-wide LA Arts Month effort from 2009-2011 where he served on Planning Committee and the Program Committee. He also serves on LAUSD's National Study Group which is charged with informing the nation's second largest district as it plans the next 10 years of K-12 Arts Education. Peter has co-chaired the Education Committee for the Board of Directors for the MOCA Contemporaries and he remains an active member of many other arts leadership groups including the Fellows of Contemporary Art and the Executive Arts Leaders Forum.
---
Ink Juror: Denise Kraemer




Denise Kraemer is a native of the Inland Empire. Even before she discovered printmaking. Kraemer found herself drawn to artists like, Henri de Toulouse-Lautrec, Kathe Kollwitz, and Alphonse Mucha. This fascination with their style of work lured her to take her first printmaking class. Like these artists her work tends to be organic in style. Kraemer will tell you that printmaking perfectly unites her analytical left brain and her creative right brain allowing her to process, alter, and develop ideals satisfying her inquisitive nature. Each print lends itself to a finite progression of discovery, which is the driving force of her work. She has served as the Education Curator at the Riverside Art Museum in Riverside, California for 3 years, where she organizes the adult education programs, monthly lecture series and member critiques. As a founding member of RIP (Riverside Independent Printmakers), Kraemer curated the printmaking exhibition Pressed at the Riverside Art Museum and has worked with the museum's "Monothon" workshop and exhibition for the last 4 years. Kraemer received her BA in Art from California Baptist University and her MA in Art/Printmaking at California State University San Bernardino. Recently, she has had a solo exhibition at Riverside Art Musuem, she works with the Arts Connection and Mil Tree in Joshua Tree, teaches a printmaking workshop at Division 9 gallery, and printmaking at Riverside Community College and CSU San Bernardino.
---
Clay Juror: Patrick Crabb

Patrick Crabb is a contemporary archaeologist in clay. His work contains an element of mystery, which is meant to evoke different things to different people. While never blatant in his attempts to entice, Crabb weaves his magic subtly. His works are derived from the "deconstruction approach" of creating. His methods are meant to draw the viewer quietly into the work itself, rather than into its construction. An artist in the clay medium, Crabb finds his sources of inspiration evolving from a historical context, specifically artifacts from pre‑technology or primitive cultures. Crabb possesses a Bachelor of Fine Arts degree from the University of Massachusetts at Amherst and a Master of Fine Arts degree from the University of California at Santa Barbara. In 1992, through the auspices of the Fulbright Scholarship Award program, he received a travel grant from the Queen Elizabeth II Fine Arts Council in New Zealand.  For nearly 40 years, Crabb served as Professor of Ceramics at Santa Ana College in the Rancho Santiago Community College District, Orange County, California. In addition, he had been an adjunct professor at California State University, Fullerton, and Utah State University in Logan, Utah.
Crabb's ceramic art has traveled a great distance in miles, in technique, and in time. His works are held in more than 60 corporate and public collections across the United States, including: American Museum of Ceramic Arts, CA; Montclair Museum of Art, NJ; Mobile Museum of Art, AL; Smithsonian's Renwick Gallery, Washington D.C.; and the Mint Museum of Craft & Design, NC.  On the international scene, Mr. Crabb's work is part of the permanent collections of: the Auckland Museum, New Zealand; the Kyushu Ceramics Museum, Japan; the International Ceramics Museum, Faenza, Italy; the Museum of Modern Ceramics, Castelli, Italy; the Taipei Museum of Fine Arts, Taiwan; Yigge International Ceramic Museum, Taiwan; and the Czech Republic's Ceramic Design Institute. The tradition that is Ink & Clay is not foreign to Patrick Crabb. He has participated many times as an artist (1976, 1979, 1980, 1981, 1986, 1992 and 2007) and once prior as a juror, over 30 years ago.
Images: Top to Bottom, Photo of Peter Mays, Photo of Denise Kraemer, Photo of Patrick Crabb.