Gilson Collection of Midcentury Industrial Design

Gilson Collection of Midcentury Industrial Design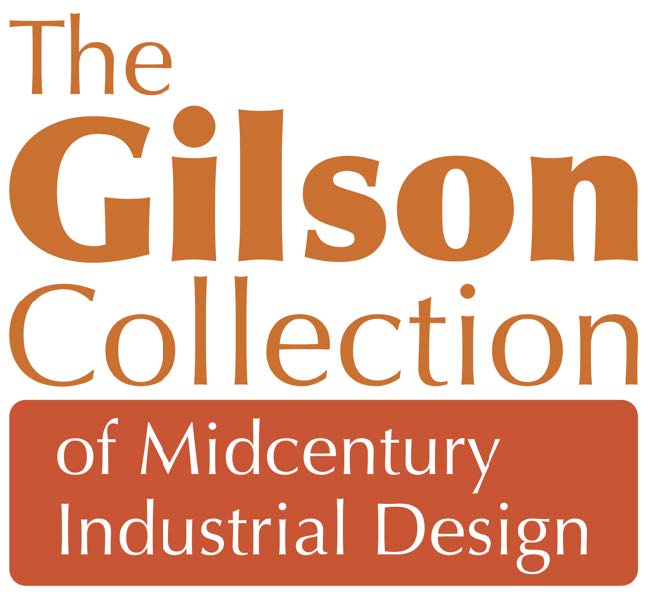 Interest in mid-20th century product design has increased dramatically since 1987 when Channing Wallace Gilson began donating his design collection to Cal Poly Pomona. Gilson, a noteworthy designer in his own right, collected significant examples of industrial design throughout his professional life and began donating his unique collection to the College of Environmental Design, at Cal Poly Pomona in 1987 and 1992, with the balance of item upon his passing in 2007.
The collection, which contains over 200 twentieth-century objects dating from the 1930s to the 1990s, and countless archives, prototype designs, preliminary and final drawings, also includes representative pieces by major industrial designers as well as works by lesser-known designers who made important contributions to the field. Over one-third of the objects in the collection were designed by Gilson himself, who also donated his numerous drawings, sketches, papers, prototypes, plaster models and slides that document his design projects from 1951 to 1992. The collection further contains rare documentation of the career of Jean Otis Reinecke, an industrial designer, once his business partner, who was an important force in mid-20th century industrial design in Chicago. Included are several thousand slides of Reinecke's designs, a folio of drawings, over twenty of his design objects or prototypes, and product photographs. Included are Reineckedesigned household items we still use today, like 3M plastic tape dispensers and Dazor drafting table clamped lamps.
As a professional industrial designer, Gilson recognized the significance of the historical design record. A chance encounter in 1948 sparked his interest in collecting: while visiting a chainsaw manufacturing company he found that companies were routinely discarding prototypes, models, and products once they were put into production. That same year, he also noticed that Hoover vacuum company did not keep historical records of its products either. As a result, he resolved to start collecting obsolete mass-produced everyday items. He began collecting vacuum cleaners and other industrial products, gradually amassing a large collection, acquired over a lifetime of design and study. Over a period of 40 years he sought out well designed objects, especially those with radically new styling made possible by the application of emerging technologies and materials to consumer products in the post-World War II era.
Far from being a gathering of thrift store fodder, the Gilson collection is a valuable exercise in memory. Therese Mahoney, former visual art resource librarian, recalls when the Gilson-designed water fountain common in older high schools was exhibited, that people kept walking up to it expecting it to work. That sort of personal encounter helps people connect these items to the context of their cultural heritage, recognizing them not just as form but as part of their personal experience. During the 1950s, Gilson designed a wide variety of household items for clients such as Xerox, Motorola and Hughes Aircraft Company, and cafeteria beverage dispensing machines for Sunkist Orange Juice and Carnation Whipped Cocoa.
Gilson's general collection (his collected items, not his by design) includes domestic products that have become modern design classics— space-age Hoover vacuums Henry Dreyfuss, the famous "Grasshopper" Lounge Chair by Eero Saarinen, Harry Bertoia's "Bird" High-back Chair, and Charles and Ray Eames furniture, Richard Whipple and Sevarin Jonassen's Predicta "Holiday" Television manufactured by Philco, as well as triangular tapering-tip Sucaryl bottles by Raymond Loewy and "postmodernist" tableware by Russel Wright. As for office equipment, the collection includes noteworthy "sculpturesque" typewriters by Eliot Noyes in contrast to slick, geometric designs by Mario Bellini for Olivetti. Most of these items were designed in the three decades after World War II. Among the most important items in the collection are the Henry Dreyfuss-designed telephone (1950) and his Honeywell thermostats (1953), which were ergonomically advanced for their time. The Simon De Vaulcheir Airlux Electric Alarm Clock, made of acrylic Lucite, is another gem of the collection. The mass-produced everyday items he collected, were objects that he thought were historically significant: everything from toys and dinnerware to furniture and office equipment. Thanks to his foresight, many significant examples of midcentury industrial design are preserved in this collection.
The collection, as a whole, provides a unique window into the industrial design process in the mid-20th century. It presents a sample of midcentury U.S. design, which was shaped by new technologies, new materials (such as plastics and fiberglass), new manufacturing processes and refinements, new aesthetics, new merchandising techniques, and the rising middle-class demand for mass-produced consumer goods. Cal Poly Pomona's Midcentury Industrial Design Collection is a valuable resource that helps document the historical record and preserve America's design heritage.
In 2014, Cal Poly Pomona exhibited the Gilson Collection showcasing some of the most important works from this rare, industrial design collection at this Huntley Gallery exhibition titled, The Gilson Collection: Midcentury Industrial Design at Cal Poly Pomona. This show, and its accompanying catalog, highlighted mid-century industrial design through the objects that Channing Gilson collected for inspiration. It also included objects from the Jean Reinecke Collection, as well as Gilson's own industrial designs and manufactured prototypes by Channing Gilson Design Inc. The book is co-authored by Maren Henderson, former Art Department Chair and Professor, and Therese Mahoney, former Visual Art Resource Librarian for the College of Environmental Design, and designed by Babette Mayor, a professor in the Art Department.
Therm-O-Bowl Salad Bowl Set, designed by Jean O. Reinecke for Proven Products Company, Skokie and Evanston, IL. c.1950s, polystyrene in various colors., large bowl: 3.75 x 9" dia., small bowls: 2.5 x 5.5" dia. Source: The Gilson Collection: Midcentury Industrial Design at Cal Poly Pomona (2013).
Dustpan, "Cocktail-Hour" Design , designed by Channing Gilson, manufactured by Blisscraft of Hollywood, CA, patent no. D184, 504. Produced in 1959 (originally conceived 1957). Flexible injection-molded polyethylene, various colors, approx. 3 x 12 x 10". Source: The Gilson Collection: Midcentury Industrial Design at Cal Poly Pomona (2013).
"Bird" High-back Lounge Chair, designed by Harry Bertoia for Knoll Furniture, NY. Introduced in 1952. Open latticework, upholstered in orange tweed, glides, 40.25 x 38.5 x 33". Channing Gilson Mid-century Industrial Design Art Collection. Source: The Gilson Collection: Midcentury Industrial Design at Cal Poly Pomona (2013).
Airlux Electric Alarm Clock, Model 7H141, designed by Simon De Vaulchier for Telechron Inc., Ashland, MA. Produced 1946-57. Acrylic Lucite, brass with embossed numbers, brass feet, approx. 5 x 6.5 x 1.75". Source: The Gilson Collection: Midcentury Industrial Design at Cal Poly Pomona (2013).
More about the Donor
Channing Wallace Gilson

, c. 1960s, donor of the Gilson Midcentury Industrial Design Collection. Source: Partner's Page.
Channing W. Gilson was born in Caldwell, Morris County, New Jersey, on October 23, 1920, the son of Channing Wallace Gilson and Anne Floyd. He received his BS degree in engineering from the U.S. Military Academy. He served in the U.S. Air Force after graduating from West Point in 1944. Following an 11-year military career a pilot with the U.S. Air Force, Gilson switched vocations and attended two post-graduate years at Pratt Institute in New York City and then moved to California to attend the Art Center College of Design in Pasadena, where he graduated with honors and a bachelor of professional arts degree.
In 1950-51, he was an apprentice product designer at Henry Dreyfuss Associates and went on to become an independent product design consultant in Los Angeles, with offices for periods of time in Chicago and San Francisco. In later years, he moved his office to Pasadena, California.
As versatile West Coast designer and inventor, during the 1950s, Gilson designed a wide variety of objects. Among them were Viewmaster stereoscopic viewers, door locksets and knobs, faucets, blenders, the Shopsmith home workshop, and thermostats. He also made several prototypes, including a stylish lawnmower inspired by luxury vehicles popular at the time.
Gilson continued designing well into the 1980s, working on computer joysticks, packaging and dispensing products, and medical implements. Throughout his long career his clients were drawn from both large and small industries that flourished in Southern California from the 1950s to the 1980s, including Xerox, Motorola, Hughes Aircraft Company, McCulloch Motors, Bell and Howell, and others. He held over 20 patents. Many of his drawings and drafted designs were included as part of his donated collection.
Channing Gilson's achievements in the field of industrial design were monumental. He received the Alcoa award "in recognition of notable achievements in design incorporating aluminum" for his work on a closed-circuit television camera. In addition, he received the WESCON and two other WESCON awards from Hughes, both of which involved television cameras.
Channing Gilson passed away in San Diego, California, on July 11, 2007.