AMM Lecturer Honored for "Fearless Classroom"
June 1, 2022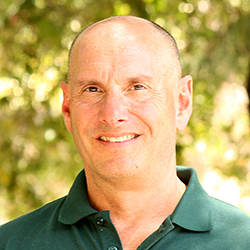 An apparel merchandising and management lecturer was selected by Cal Poly Pomona to receive an award for his work in creating an innovative program to improve the classroom learning environment for students across campus.
Ron Heimler will receive the 2022 Assessment Revolutionary Award from the university's Office of Assessment and Program Review. The office will recognize Heimler at its Annual Cal Poly Pomona Summer Assessment Institute.
The award celebrates the exceptional efforts of Cal Poly Pomona faculty who improve student learning and the learning environment by developing and implementing "closing-the-loop" strategies and changes in teaching, curriculum or instructional design in response to assessment data.
Heimler developed the Fearless Classroom program. The program aims to improve student academic performance, engagement in the classroom, and commitment to their education by creating classrooms where there is mutual trust and respect between students and their instructors.
The roots of the program date back to 2007, when Heimler was teaching a class that prepared apparel merchandising and management students for working in internships, developing their interview skills, résumés, and cover letters.
He realized that students lacked many of the professional skills that employers wanted.
"He decided to set up a program to teach those skills outside the regular curriculum," said Interim Associate Dean Peter Kilduff, who was chair of the Department of Apparel Merchandising and Management then.
The program, called Focus on the Future, trained students in the so-called "soft skills" of teamwork, professional communication, business etiquette, punctuality, oral and written communication, and leadership.
What started as a program for apparel students in 2011 soon expanded throughout the college with the help of USDA and California State University Agricultural Research Institute funding.
The program was also adopted by International Polytechnic High School, and – when Cal Poly Pomona converted to the semester system in 2018 – became available to students campus wide as a general education course.
While the program was expanding, Heimler came across a book, "The Fearless Organization," by Harvard Business School Professor Amy C. Edmondson.
In the book, Edmondson writes about creating "psychological safety" – the ability to speak up, express ideas, ask questions and admit mistakes in the workplace – as essential for work performance and innovation in the knowledge economy.
Heimler also discovered research from Google, which found that multi-disciplinary teams that created similar work environments performed much better than teams stacked with technical skill.
He realized that the safe environment that Edmondson and Google were describing was something that the Focus on the Future program also created.
"You create a fearless environment, where everyone feels listened to, like they have something to contribute," Kilduff said.
In industry, the failure to create fearless work environments and encouraging employees to speak up can lead organizations to ignore problems that result in catastrophes, such as the Challenger space shuttle disaster, he said.
From this, the idea for the "Fearless Classroom" crystallized for Heimler and Kilduff, and it became a program in 2019.
Where Focus on the Future prepared students for jobs, this program targets improving students' educational experience in the classroom by creating a psychologically safe environment where everyone uses "nonviolent communication skills."
"It's empathy for the people you work with, being a good listener," Kilduff said. "You communicate in a nonviolent way, without microaggressions, so people feel at ease."
Since 2019, Cal Poly Pomona has expanded the program into the "Fearless Campus" and has held 13 workshops across campus to train more than 200 faculty how to turn their courses into fearless classrooms, Heimler said.
The faculty have created more than 300 "Fearless Classrooms" across 32 departments on campus, and 9,342 students have enrolled in one since 2020, he said.
More than 90 percent of the students said that the workshops helped supported their abilities to succeed in their courses, Heimler said.
"They enjoy their courses more, they feel included, they feel like they belong," he said. "It's better and their performance is better."
In the future, the university may make similar workshops available to faculty, staff and student leaders, Heimler said.
Heimler first started teaching for Cal Poly Pomona in 2006. Among the courses he taught were Apparel Professional Development, Dynamics of the Global Apparel Complex, and the Apparel Research Project.
At the time he started teaching for the Department of Apparel Merchandising and Management (AMM), Heimler was living in in New York and later moved to Colorado. He was teaching online long before it became fashionable during the COVID-19 pandemic.
"It's really not that hard when you have the support of your chair and deans, Studio 6 - now CAFÉ (Center for Advancement of Faculty Excellence) - and Mediavision," he said. "I used all the available online technology during that time: chat with discussion boards in Blackboard, Skype at Mediavision and now Zoom."
For his teaching efforts, Heimler was named the department's professor of the year in 2021.
He also was recognized on the university's Wall of COOL (Celebrating Outstanding Opportunities for Learning) in 2012 for his use of technology in course design and development to facilitate student success.
Heimler is retiring this June as a lecturer but plans to continue as co-principal investigator for the Fearless Classroom program along with Kilduff, who describes himself as Heimler's "secretary and coach."
"He's the brains and energy behind it," Kilduff said of Heimler.