Student Employment
Keep up-to-date and informed about employment opportunities in a variety of areas, including on campus. Many of our learn-by-doing majors hire students to assist technicians in laboratories, faculty members with teaching and/or research activities, and department staff with department office business. Students can inquire in their major's departmental office to see if their program hires student assistants and what types they hire.
Students looking for job opportunities can check this page for listings. The Cal Poly Pomona Career Center also has numerous resources, including:
Alumni can access Handshake for one year after their graduation. They can register for Career Center support through the Alumni Services Program.
Employers also can register to post job and internship opportunities on Handshakehttps://joinhandshake.com/employers/, the Cal Poly Pomona Career Center's jobs board.
If you are an employer that is offering part or full-time employment and would like to post an opening on this page, please email Dan Lee with the job description, required qualifications and experience, application information and deadline, and a contact email and phone number. 
Job Listings
Q&B Foods Inc., Irwindale, Calif. (Posted 9/28/2023)
Are you a food science and technology student? Q & B Foods in Irwindale is looking to hire:
Click the links for more information. 
USDA Natural Resources Conservation Service/Farm Production and Conservation
Interested in soil conservation, soil science, agronomy, hydrology or agricultural engineering? The USDA is looking for graduating students and recent grads who want to work with farmers, ranchers, non-governmental organizations, local and state governments, federal agencies and other lander uses to help preserve land. Nationwide entry-level positions with promotion potential and career pathway opportunities are available. If you're interested, send your unofficial transcript and resume for a review to roberto.gonzalez@usda.gov. 
Discovery Farm is hiring a number of students to assist with various jobs and schedules for activities related to Spring Fun on the Farm Events, Field Trips, On-Campus Farmers Market, and the LA County Fair. 
The farm depends on students to support its events and activities. It is looking for a variety of students from all majors to help us represent Cal Poly Pomona and the college to the public. 
Check back for listings when opportunities become available.  
Other Employment Sites
Many administrative offices on campus also hire students in a variety of capacities. Students have succeeded in balancing work on campus with their classes and found academic success. All these positions are advertised through the Career Center but can only be seen by current students.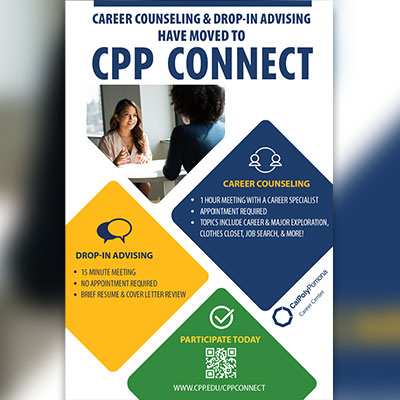 Career Counseling

Students can sign up for an appointment for career counseling at CPP Connect.