Preview Night Brings Food and Fun
Slide1
A man and a woman stroll through a patch filled with orange and green pumpkins at twilight
Slide2
A man has his arm around a woman as they look into each other's eyes and hold wine glasses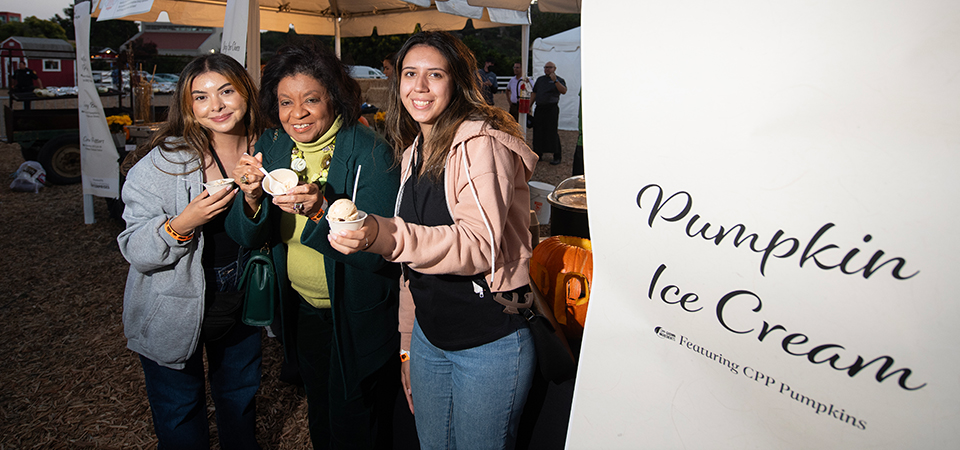 Slide3
Cal Poly President Soraya Coley poses with two young women, all of three of them holding cups of pumpkin ice cream and spoons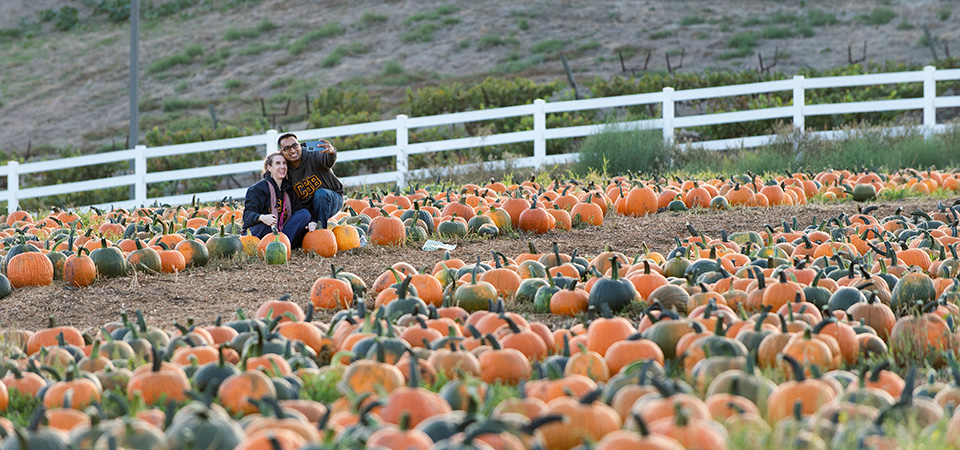 Slide4
A man and woman kneel down to take a selfie in the pumpkin patch
Slide5
A couple stroll through the sunflower patch holding hands and wineglasses
Slide6
A man and a woman smile and hold up wineglasses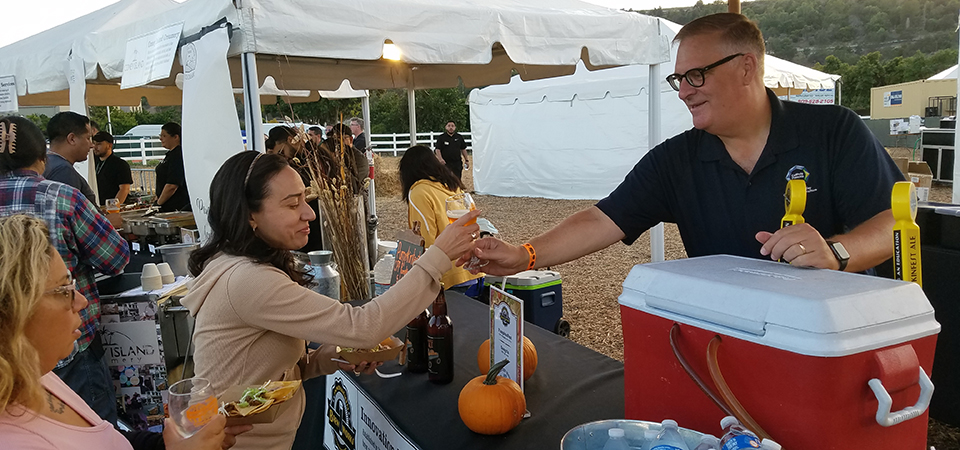 Slide7
Associate Professor David Edens, serving as a bartender, hands a female guest a glass of beer
Slide8
The Cal Poly Pomona Farm Store staff pose for a photo at their booth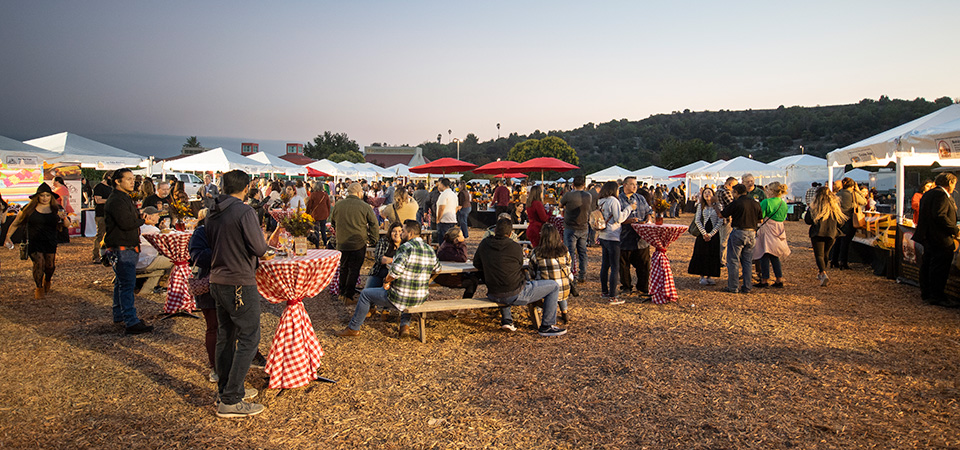 Slide9
A panoramic shot of preview night, with guests standing at cocktail tables or sitting at picnic tables, with food vendor booths in the background.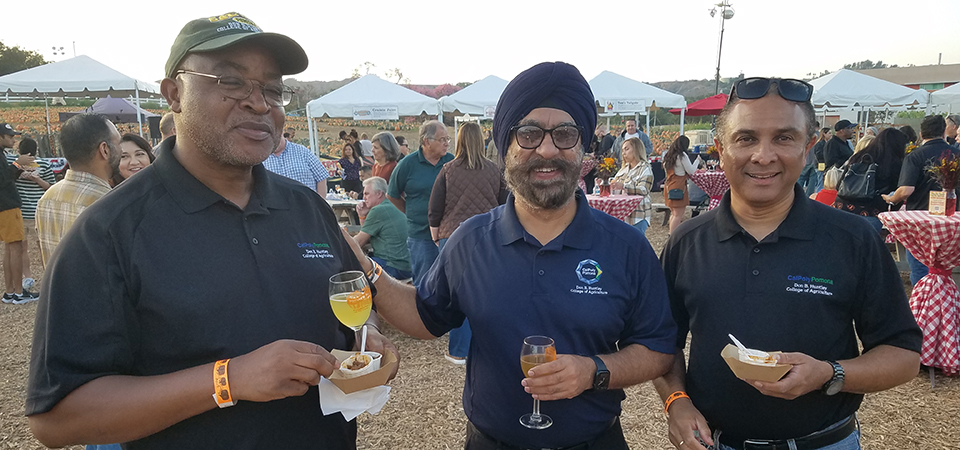 Slide10
Professors Murinda, Singh, and Senanayake pose for a picture.
Slide11
A female guest surveys the display at the Rosemallow booth, while another woman leans forward to see if she has any questions.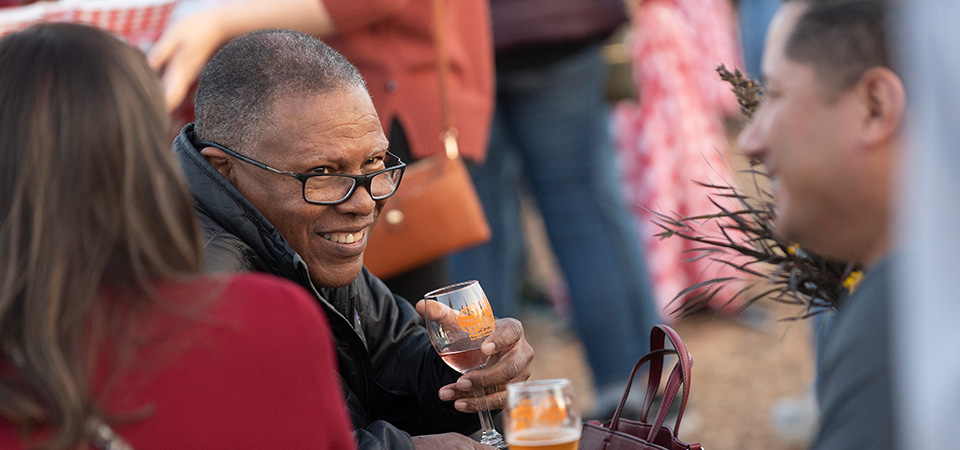 Slide12
A guest smiles as he holds a wineglass
Slide13
The Storytellers bluegrass band performs on stage at Preview Night
Previous
Next
October 9, 2023
More than 300 people enjoyed food, beer, and wine tasting among the pumpkins at the 2nd Annual Cal Poly Pomona Pumpkin Fest Preview Night.
The event was held on Friday, Sept. 29. It featured food from local restaurants and vendors, plus beer and wine from Homage Brewing in Pomona, and Cal Poly Pomona's own Innovation Brew Works and Horsehill Vineyards.
Participating restaurants and food vendors included: 
Crust & Crumble Bakery in Glendora
Native Fields restaurant in Walnut
Lov Ch Ch
La Vila Kitchen in San Dimas
Coney Island Creamery in San Dimas
Rosemallow
Deliz Pupusas
Tom's Tailgate in La MIrada
Cruisin Juice in La Habra
Cal Poly Pomona Foundation Dining Services
Basil & Co. in Diamond Bar
Borreguitas in Pomona
DragonFire BBQ
Robins BBQ
SR Thai BBQ.
In addition, the Cal Poly Pomona Farm Store and Nursery had booths at the event.