Instructional Services Bureau + ENV Print Lab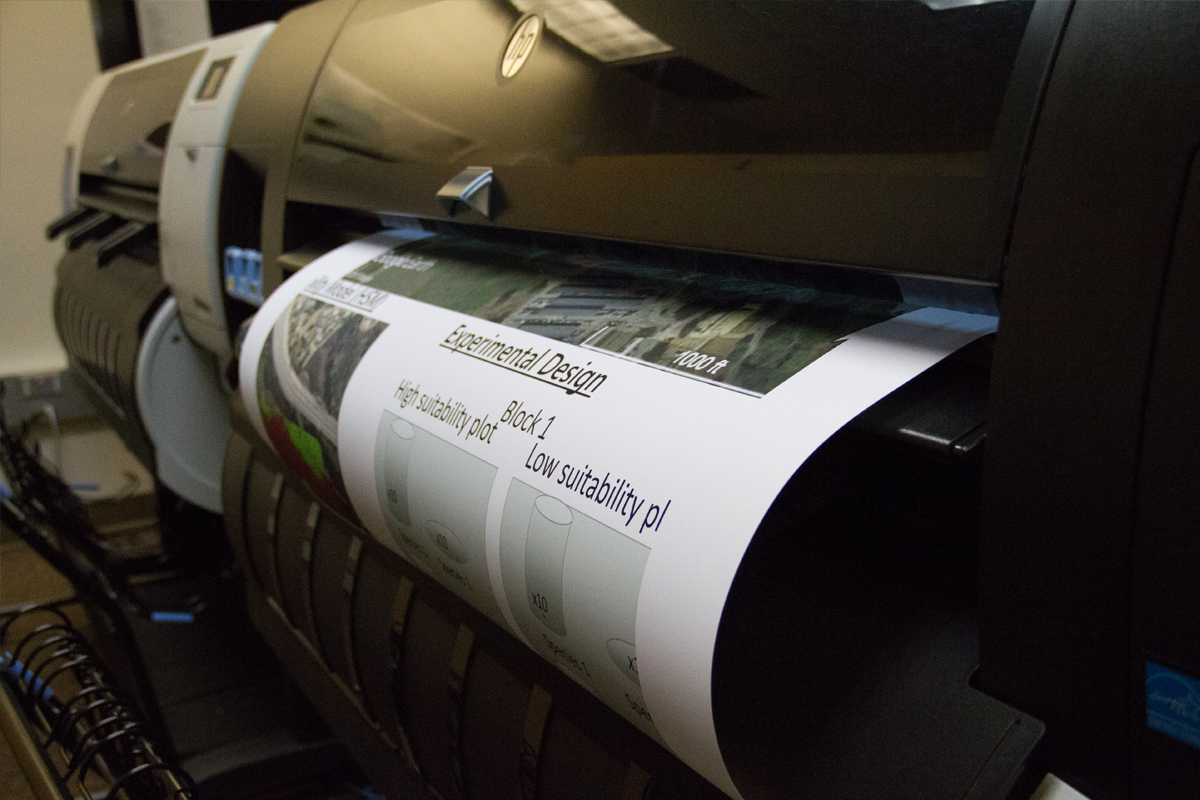 The College of Environmental Design has an Instructional Services Bureau and Print Lab that are self-supporting and provide services available to students, faculty and staff.
ENV Instructional Services provides reproduction services, audio-visual and multimedia equipment, and lab materials and supplies. The facility provides reproduction services, audio-visual and multimedia equipment loans, and lab materials and supplies for students, faculty, and staff.
Location and Hours of Operation
Instructional Services is in Room 7-215A.
Hours are typically from 8 a.m. to 4 p.m. Monday to Friday.
Fees for services and materials are subject to change. Contact Instructional Services for current prices.
Contact Information
Phone: (909) 869-2669 | Fax: (909) 869-4828
Equipment Loans
Equipment is available for checkout to ENV students for 24-hour use. Equipment loans are on a first come basis, no advance reservations will be taken. Check out of digital equipment is Monday through Thursday 9:00 AM-3:30 PM; Friday 9:00 AM-3:30 PM (approval required by ENV Instructional Services' staff member only).
Before equipment is released to students, they must know the procedures for its proper use and care and must sign an agreement assuming responsibility for the equipment while in their possession. Hourly fines are assessed for late return of equipment and actual cost fines are assessed for repair of damages or replacement. Grades are held at the end of each semester for students with unreturned equipment or unpaid fines.
Pickup and return of equipment is done in room 7-215A. Students needing equipment for evening use must make advance arrangements with the Instructional Services in person.
Available equipment includes Canon camera and tripod; slide projectors, slide trays, and tape recorder; palmcorder video camera; digital cameras; Digital video camera; digital projector; student laptop; calculators and polar planimeters, T squares, flip chart holder, easels, ultrasonic pen cleaner, Pierce presenter, and Lyman radius curves. Proxima projector w/ PC or MAC computers. (computers to be checked out for students by faculty). Also available for check out are transit levels with tripod, Philadelphia rods, plumbob and hand level. All these items require a faculty signature to reserve and loan out.
Also available are laser remote/laser pointers for Digital projectors.
Locker Use
The lockers in buildings 2 and 7 are available for Environmental Design student use by registering the locker number with the Instructional Services. Requirements include, verification of current schedule of classes and I.D., and students must provide their own combination locks. Failure to register the locker results in removal of the lock and disposal of locker contents. Students who remove their locks during semester break automatically forfeit their lockers. ENV students are free; other disciplines are $20 for the year use of locker.
Pay Services
The following services are available at nominal cost to students, faculty, and staff of the University. Arrangements can be made for departmental chargebacks.
Binding
Velo, spiral and wire binding services, with or without covers, are available. A variety of styles and colors are available for covers.
Laminating
Lamination is available in pocket size, I.D. Tags, 8 1/2" x 11" and 11" x 17". Prices vary depending on requests of supplies.
Laser Printing
The laser printer is located in the Building 3-1644 at the ENV Service Bureau. Visa and Mastercard are only accepted.
CD Burning/Duplicating
Of the following materials: lecture notes. projects, assignments.
Photocopying
The card operated Xerox copier located in the hallway outside of Instructional Services and the other is located on the first floor by the women's restroom (this copier makes 11x17 copies) and is for student use. The two copiers located behind the counter is for department use only. The University does not permit us to make student copies on these machines. There is an additional Mita copier located at the Interim Design Center for student use. Cards for both student copiers may be purchased at Instructional Services.
Monochrome Poster Printer
The Varitronics Poster Printer produces large, quality posters in seconds from letter and legal size documents. These posters can be printed in a variety of colors and three types of paper: thermal, fluorescent and permanent. Prices vary according to the size and type of paper requested.
Sizes:
8.5 x 11"
23.38 x 33
23.38 x 16.5
8.5 x 14"
23.38 x 16.5
Transparencies
Transparencies can be made for use on overhead projectors, color copy transparencies are available.
Supplies Available
Fome-core, chipboard, museum board, task board, acrylic sheets, basswood, illustration board, stratocore. Prismacolor markers, Prismacolor pencils, mechanical pencils, pigment liner pens, CD's, various adhesives for various adhesives for various mediums, oversize bond paper, drafting supplies, correction supplies.
The ENV Print Lab Service Bureau in Building 3-1644 provides fast, high quality printing from the latest plotters and printers with comparative prices; laser cutting; large scans; 3D printing
Location and Hours of Operation
Bldg. 3, Room 1644
CLOSED FOR SPRING 2021
Contact
Kumara Ketagodage Don, ENV Service Lab/ENV Print Lab Coordinator
(909) 979-6602 | envprintlab@gmail.com
(Updated 01/03/21)
ENV Print Lab (official Facebook and price list)