Voorhis Ecological Reserve
The Voorhis Ecological Reserve in the northwest part of campus contains 31 ha of coastal sage scrub and oak woodland. It was established informally in the 1970s, and formally dedicated on June 29, 1983. It is named for Jerry Voorhis, a former congressman with a long connection to Cal Poly Pomona.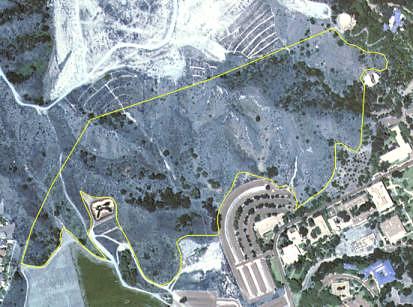 The original Reserve consisted of "Box Canyon", the large canyon behind Building 1 and beneath Kellogg House Pomona (the old Kellogg mansion), in the upper right of the aerial photo. The canyons to the southwest were included unofficially in the early 1990s, but the process to officially add them evidently stalled in 1992 *dead link*. The yellow line delineates the Reserve as it is currently accepted.
The heads of the canyons, although functionally part of the Reserve, belong to the Forest Lawn Cemetery in the east and a City of Walnut greenbelt in the west. In 1995, Forest Lawn cut, filled, and stabilized the upper part of Box Canyon.
The Reserve consists of Coastal Sage Scrub and a small amount of Coast Live Oak Woodland. These communities are shaped by fire, and the Reserve has burned several times. The two most significant events were on August 21, 1981, when Box Canyon burned, and July 28, 1989, when virtually the entire Reserve burned. Baseline data were gathered after the 1981 fire, and studies continued after the 1989 fire.
The Reserve contains four amphibian species, 12 reptiles, 100 birds, 38 mammals, 167 vascular plants, and unnumbered insects. A vegetation survey conducted before the 1989 fire was published in 1990.
Cal Poly is situated in the middle of the San José Hills and is part of a wildlife corridor that connects the San Gabriel and Santa Ana mountains. Much of the San José Hills is now developed, and the natural areas of Cal Poly and the adjacent Buzzard Peak natural area constitute one of the largest remaining undeveloped regions. This area has been designated a Significant Ecological Area by Los Angeles County, and portions are regarded as significant by the California Department of Fish and Game.
For more information, see The Wildlands of Cal Poly Pomona.