CPP Preprofessional Internship, Scholarship and Research Opportunities
Bio 4410 Internship for Pre-professional Track Students (1 or 2 units)
Pre-dental Internship program with Dr. Wade Banner at In Motion Dentists (In Home Dental Care).

Students are expected to engage in both clinical shadowing, training and hands-on experience, with minimum of 8 hours per week (2 units) or 8 hours per two weeks (1 unit) working on different assignments. For detailed description please read Inmotiondentists.pdf.

Interested students should:
1) download and fill out an application form in Inmotiondentists.pdf and email to InMotionDentists@gmail.com; 

2) Upon your acceptance by In Montion Dentists,  fill out the "BIO 4410 Internship In Biology - Learning Plan" form in BIO4410internship.pdf, have it signed by the office manager at In Montion Dentists, and bring it to the Preprofessional advisor for signature;

3) Send the signed "Learning Plan" to roxannem@cpp.edu, and you will then be provided with a permission number to enroll in a section of BIO 4410 listed under the Preprofessional advisor.
Dr. Steele Pre-professional Student Scholarship
The David F.  Steel Preprofessional Health Careers Undergraduate Scholarship was established by Dr. Lawrence L. Michel and his wife in honor of Dr. David F. Steele, an esteemed professor of biological sciences who inspired and guided numerous students in pursuing studies in preprofessional health programs during his tenure at CPP.
In an interview commensurate with the 59th CPP Alumni Awards Gala, Dr. Michel ('76, Zoology) revealed that he chose CPP over USC for his undergraduate degree. He subsequently completed his dental progam at USC, and by 2019 had enjoyed a successful 25-year career as an orthodontist. He now teaches and mentors students at USC. While at CPP, Dr. Michel was a member of the Pre-Dental club and Dr. David Steele was the advisor to the Pre-Med and pre-Dental clubs. Michel recalled, "He really took an interest in students. He was a big part in helping me get into my profession. He was my advisor and helped lead the way." In 2008, Dr. Michel announced that he and his wife had set up the David F. Steele Pre-Professional Health Careers Endowed Undergraduate Student Scholarship, which provides $1000 annually to an undergraduate student who plans to pursue a degree in professional health field such as medicine, dentistry, veterinary medicine or public health after graduation.
Interested students please visit https://www.cpp.edu/~sci/biological-sciences/students/student-scholarships.shtml for additional information on the application process.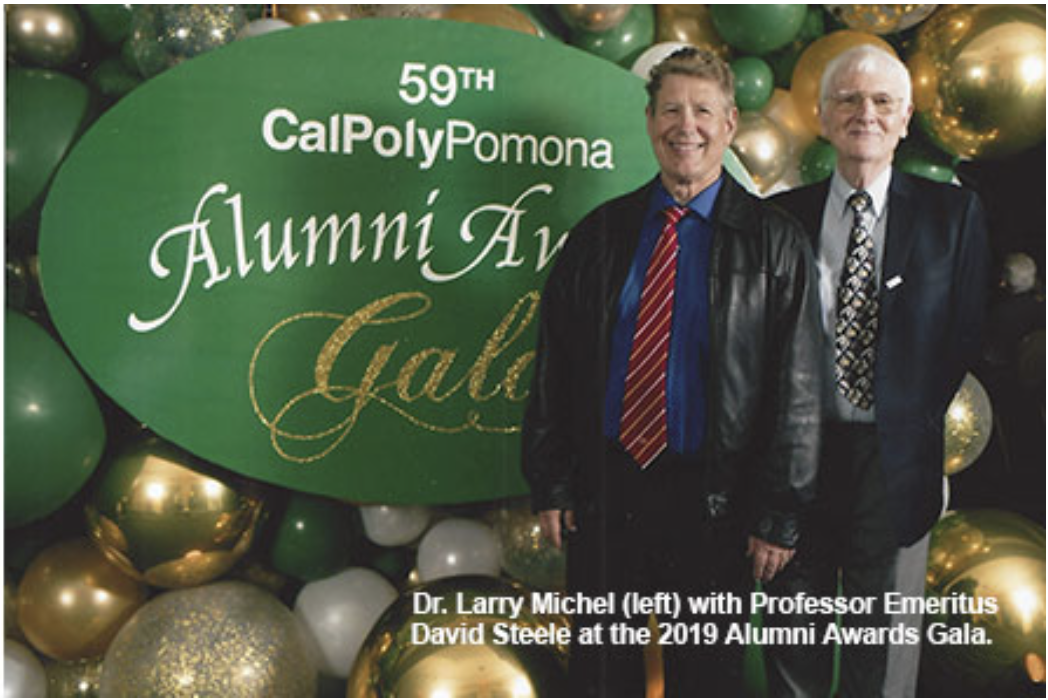 Research Opportunities at Cal Poly Pomona
Research experience could be beneficial to a student's education and career development in many different ways and is integrated into many CPP program curriculums. To join any campus-wide research programs, please check out CPP Office of Undergraduate Research website. To find out biotechnology major internship opportunities or individual faculty member's research interest in different departments, please check out the links provided below.
Research Opportunities at Neaby Local Campuses
(Please contact directly faculty members or program coordinators on these campuses for research opportunitites)
Additional Information on Undergraduate Student Research
Additional information on undergraduate student research opportunities can be found at here.