Faculty & Staff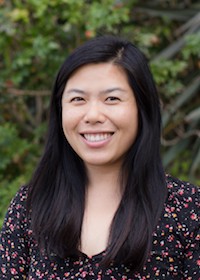 Dr. Laureen Hom
Assistant Professor of Political Science
Office Phone

: 909-869-3881


Email

: ldhom@cpp.edu


Office Location

: 94-312


Office Hours

: Tu/Thu: 1:00-3:00pm
Full CV
Academic Area
Public Policy, Urban Studies, Ethnic Studies
Areas of Expertise
Urban and social policies, race, ethnic communities and spaces, civic engagement, collaborative governance
Research Statement
Laureen Hom received her PhD in Planning, Policy, and Design with an emphasis in Asian American Studies at the University of California, Irvine and an MPH in Sociomedical Sciences, Urbanism and the Built Environment concentration at the Mailman School of Public Health at Columbia University. Her research and teaching interests are at the intersection of public policy, urban studies, and ethnic studies. She has professional experience in program management, evaluation, and community-engaged collaborative research in health services and non-profits serving immigrant communities. Her current research projects focus on the spatial politics of ethnic community formation and political representation in Southern California. The first examines the community politics of redevelopment and gentrification in Los Angeles Chinatown. The second is a co-authored book project about Asian American community leaders changing the cultural, political, and economic landscape of Orange County that builds upon a policy report done in collaboration with UC Irvine and Asian Americans Advancing Justice.
Academic Degrees
PhD, University of California, Irvine, 2018

MPH, Columbia University, 2008

BA, University of California, Los Angeles, 2004
Courses Taught
FALL 2020
Focus on structures, functions, principles, and processes of administration in American public sector. Attention to the core functions of public administration, and basic skills required in managing and leading public organizations.
The politics of the policy process; the examination of public policy in relation to democratic institutions; the making of public policy responsive to democratic control; and issues of diversity and impact of changing demographics on the policy agenda.
Publications
Rendón, M.G., Aldana, A., & Hom, L.D. (2018). Children of Latino immigrants framing race: Making sense of criminalisation in a colour-blind era.
Journal of Ethnic and Migration Studies
. (
Link
) 
Vo, L.T., & Hom, LD. (2018).
Transforming Orange County: Assets and needs of Asian Americans & Native Hawaiians and Pacific Islanders.
Los Angeles: Asian Americans Advancing Justice – Orange County. (
Link
) 
Hom, L.D. (2016). Review of
The politics of belonging: Race, public opinion, and immigration
by N. Masuoka & J. Junn.
Journal of Asian American Studies
, (19)1. (
Link
)
Hom, L.D. (2012). The Chinese Hospital of San Francisco: How the early San Francisco Chinese mobilized to build the Chinatown community. In G.J. Yoo & M.N. Le (eds.),
Handbook of Asian American Health
. New York: Springer Publishing Co. (
Link
) 
Sim, S.C., Zhou, X.D., Hom, L.D., Chen, C., & Sze, R. (2011). Effectiveness of pre-counseling genetic education workshops at a large urban community health center serving low-income Chinese American women.
Journal of Genetic Counseling
, 20(6), 593-608. (
Link
)