Semester in Sacramento & Washington DC

Semester in Sacramento
Hosted by Sacramento State, students from all CSU campuses have the opportunity to live and work in our state capitol, Sacramento. The program offers the chance to get immersed in California government and politics, doing an internship and taking seminars for a total of 12 semester units. Students are eligible for one of 10 state-funded scholarships of $4,000 to help cover costs of relocating to Sacramento for the program. The award is made based on the excellence of your qualifications and demonstrated financial need. 
Students from all majors are encouraged to apply. State government has need of and opportunity for students with training in the natural sciences, social sciences, and humanities. Students must be in their junior or senior year. Graduate students may also apply. Among selection criteria are grade point average, strong writing skills, employment history, and extra-curricular activities. 
Completed applications are due in November.  
Click here to visit the CSU Semester in Sacramento Program. Interested students are required to email Dr. Guerrero (mag@cpp.edu) before applying. 
Students selected to represent Cal Poly Pomona in Sacramento:
2021-2022: Nicole Hernandez and Nia Horn
2019-2020: Juan Espinoza
2018-2019: Marisol Ibarra
2016-2017: Clarissa Lemus
2012-2013: Victor Muñoz
CSU Washington DC Scholars
Hosted by Cal State Fullerton, students have the opportunity to enroll in full-time academic units while interning in Washington. Internships can be with congressional offices, executive agencies, museums, security firms, business groups, political parties, advocacy groups, non-profits, and a variety of other offices in and around Washington DC. Juniors and seniors are encouraged to apply. 
Program costs can vary based upon personal preferences. The primary costs include tuition, room and board, and transportation to and from DC. Housing for a full semester is approximately $4,000 and for the summer is approximately $3,000. Tuition is the exact same as if you were taking the classes on campus. Airfare runs approximately $450 for a round trip ticket. Department scholarships up to $5,000 are available for intrested students. 
Spring semester applications are due in September. Summer semester applications are due in November. Interested students are required to email Dr. Guerrero (mag@cpp.edu) before applying.
Click here to visit the Cal State DC Scholars Program
Panetta Internship
The Panetta Institute is a nonpartisan center for the study of public policy, located in Monterey, CA. Co-founded by Leon and Sylvia Panetta it is committed to inspired leadership and to creating opportunities for education and debate. Each fall, the Panetta Institute hosts students for its Congressional Internship Program, beginning with a 2-week intensive in Monterey, CA and continuing in a congressional internship Washington DC through fall semester. To become a Panetta intern, a student must be nominated by the president of Cal Poly Pomona. Cal Poly Pomona typically selects one or two students from the entire campus to attend Panetta each year. The university covers expenses to live and work in Washington DC in fall semester. 
Applications are typically due in February/March. Students must be juniors and have a 3.0 GPA or higher. Download a copy of last year's application to learn more about what is expected.
Political Science students selected to represent Cal Poly Pomona at Panetta:
2021-2022: Raisa Majid
2019-2020: Sophia Aguirre and Natalie Kassar
2018-2019: Jordan Dayer
2015-2016: Naomi Alexander and Joshua Ebiner
2014-2015: Nafisa Ahmed and Mary Ashley Cherney
2012-2013: Bryce Brady and Kaitlin Ward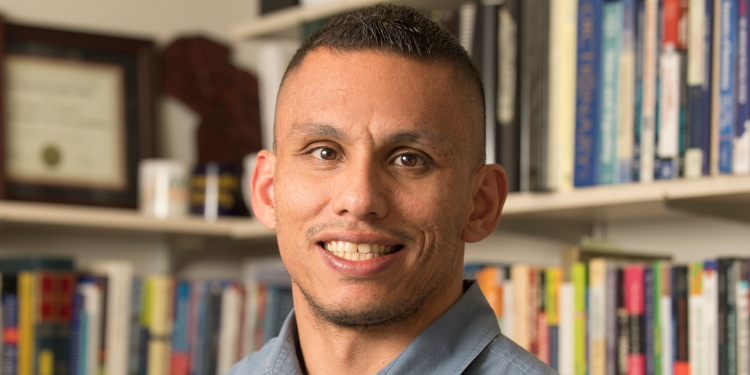 Dr. Mario Guerrero

Semester in Sacramento & Washington DC Advisor
Office: Building 94, Room 303
Email: mag@cpp.edu