Commencement & Graduation
Cal Poly Pomona only holds commencement ceremonies during the month of May. Political Science undergraduates and Master's in Public Administration students are seated together during the commencement ceremonies, along with a select few other departments in the College of Letters, Arts, and Social Sciences. For more information about the ceremonies, visit the Commencement website. The Office of Student Success also has an excellent tutorial on the Steps to Senior Success.
Commencement Ceremony Eligibility
This video explains the difference between commencement (the ceremony) and graduation (obtaining your degree): 
Students are eligible to participate in the commencement ceremony if they have either:
completed their degree requirements, or
applied for graduation on BroncoDirect
However, either of the above actions must be taken during the following timeframe in relation to the May commencement ceremony: 
the fall semester prior to commencement,
the current spring semester during commencement, or
the following summer semester after commencement. 
Participation in the commencement ceremony does NOT guarantee the awarding of degrees. Commencement ceremonies are only meant to celebrate and commemorate the awarding of degrees. Even if a student has completed their degree requirements prior to commencement, actual degrees are not given out at the ceremony. 
Completing Degree Requirements (Graduation)
The Registrar uses the Degree Progress Report to assess whether students have completed degree requirements and award students their diploma. To start this process, you have to fill out the application for graduation on BroncoDirect. 
Applying for graduation on BroncoDirect
This PDF has screenshots that demonstrate how to apply for graduation on BroncoDirect. Login to BroncoDirect, navigate to the Student Center. Under Academics on the left-hand menu, click the drop down, and you will find a link that says "Apply for Graduation". If the link is not visible, you may not be eligible for graduation at this time.  
This application also determines your eligibility to walk in the commencement ceremony. The application asks you to indicate your "Expected Graduation Term". To walk in the May commencement ceremony, you must indicate a term that is either the previous fall, current spring, or following summer semester. 
Students are charged $59.00 after applying for graduation. This charge will appear on Finances in BroncoDirect after submitting the application. 
Typically, at the latest, applications must be submitted by the eighth of ninth week of the semester for which you intend to apply for graduation. For an updated set of deadlines, click here.
This video explains applying for graduation:
What happens after I submit my application for graduation?
After submitting, the university will begin to include you in communications about participating in the commencement ceremony. Separately, the Registrar will review your Degree Progress Report after final grades have been submitted to determine whether or not you will be awarded your degree. Participating in the commencement ceremony does NOT guarantee the awarding of your degree. There are a number of different things to have to pay attention to:
After submitting the application, double-check your Degree Progress Report to confirm that you have completed all your degree requirements prior to your expected graduation term. If unclear, meet with your faculty or academic advisor to confirm that you have completed your degree requirements. 
After final grades are submitted, the Registrar manually checks your Degree Progress Report. Within 4-6 weeks after the end of the semester in which you have applied for graduation, you will receive an email from the Registrar's Office (to your CPP email address) either congratulating you on your degree OR notifying you that you still have graduation deficiencies on your Degree Progress Report. Especially during the pandemic, this process has taken as long as 8-12 weeks. Any remaining deficiencies are then discussed with a faculty or academic advisor. 
After confirming your degree, it takes 14-21 business days for your diploma to arrive at the mailing address on file with the university. Your diploma will have your "Primary Name," which is on your official documents.  If you would like to add accents, special characters, abbreviate your middle name or correct errors in spacing or case lettering you may fill out a Diploma Name Request form and submit it to the Registrar's Office via email to diplomas@cpp.edu.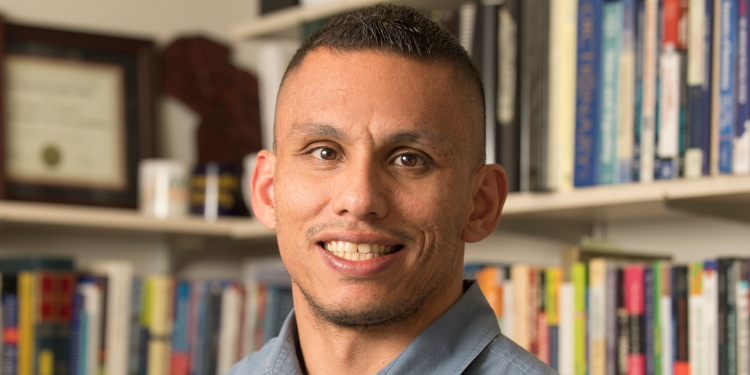 Questions about Commencement?

Mario Guerrero
As department chair, Dr. Guerrero can answer questions about any political science student wishing to participate in commencement. 
Office: 94-303
Email: mag@cpp.edu
Phone: 909-869-3885
Dr. Guerrero's Office Hours