Faculty & Staff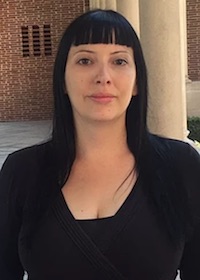 Dr. Elli Menounou
Assistant Professor of Political Science
Office Phone

: 909-869-3776


Email

: emenounou@cpp.edu


Office Location

: 94-315


Office Hours

: M/W: 10:00-11:00am and 1:00-2:00pm Or by appointment
Full CV
Academic Area
Public Law, Judicial Politics
Areas of Expertise
Judicial behavior, Inter-branch relations, Constitutional law, Judicial globalization, International law and human rights, public opinion and court legitimacy
Research Statement
Elli Menounou received her Ph.D. in Political Science and International Relations with a focus on Public Law at the University of Southern California, and an MA in Political Science with a concentration in Political Theory at California State University, Los Angeles. Her research interests lie at the intersection of judicial politics, judicial globalization, and public opinion as it relates to courts. Specifically, her research examines judges as distinct actors in the international system, assesses the effect of judicial decision-making on public opinion, and explores factors that affect judicial behavior and the judiciary as a whole. Some of the courses Elli has taught include constitutional law, judicial behavior, American politics, and interest groups.
Academic Degrees
PhD, University of Southern California, 2017

MA, California State University, Los Angeles, 2009

BA, Panteion University of Social and Political Sciences; Athens, Greece, 2007
Courses Taught
FALL 2020
Provides a basic understanding of public law's theoretical and historical foundation, and its functioning within legislative, judicial and administrative institutions of government.
Constitutional questions concerning the distribution of powers and responsibilities among the institu­tions of the federal government and between the federal and state governments. Special attentions to interbranch conflicts, constitutional crises such as the Civil War and Water­gate. The course is designed for junior or senior level student majoring in political science with a concentration in public law, although it is appropriate for other students in political science, social science, or pre-law who would find the subject matter to be of interest to them. Students who are particularly inquisitive and motivated, and who are interested in developing their skills in critical analysis and writing, would derive maximum benefit from the course.
Constitutional questions concerning the operation of the criminal justice process in the United States. Special attention will be given to the Federal system's impact on state criminal justice systems.
Publications
Menounou, Elli, Adam Feldman, Thora Giallouri, and Jordan Carr Peterson. 2019. "Packing the Courts: Ideological Proximity and Expansions to the Federal Judiciary from 1937 to 2012,"
Journal of Law and Courts
7(1):81-106. (
Link
)