Faculty & Staff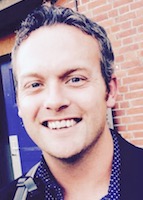 Dr. Robert Nyenhuis

Assistant Professor of Political Science
Office Phone: 909-867-2713
Email: renyenhuis@cpp.edu
Office Location: 94-376
Office Hours: M 12:00-2:00pm; W 2:00-4:00pm
Full CV
Twitter
Academic Area
Comparative Politics, International Relations
Areas of Expertise
Populism, campaigns, elections and voting behavior in Latin America
Research Statement
Dr. Nyenhuis is a faculty member in the Department of Political Science at Cal Poly Pomona. Dr. Nyenhuis teaches courses on Comparative Politics and International Relations including Latin American Politics and US Foreign Policy. His research is forthcoming in the Bolivian Research Review and a volume on Electoral Courts in Latin America. He is currently working on a book manuscript on why Latin American voters vote for populist presidential candidates.
Academic Degrees
PhD, University of California, Irvine, 2016

MA, University of California, Irvine, 2013

BA, University of Missouri, 2006
Courses Taught
SPRING 2022
Group study at an advanced level of a selected well-defined topic or area not covered by a regularly offered course.
Selection and completion of a thesis under faculty supervision. Thesis is to be of substantial quality on a significant problem in the student's major area of interest within political science.
Publications
Nyenhuis, R. 2016. "The Electoral Advantages of Presidential Incumbency: Evo Morales' 2014 Triumph."
Bolivian Research Review
, 11(1): 1-19. 
Nyenhuis, R., Kapiszewski, D, and J.S. Alexander. 2016. "Judging Elections: Electoral Courts and Democracy in Latin America's Federal Systems" eds. D. Kapiszewski and M.C. Ingram,
Beyond High Courts: The Justice Complex in Contemporary Latin America
. Norte Dame, IN: University of Norte Dame Press, Kellogg Institute Series. (
Link
)
Nyenhuis, R. 2014. Book review of "Latin American Populism in the 21st Century" by C. De La Torre and C.J. Arnson.
Revista Latinoamericana de Política Comparada
, 8: 195-197. (
Link
)