Faculty & Staff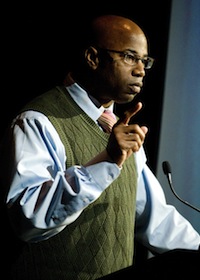 Dr. Renford Reese

Professor of Political Science
Office Phone: 909-869-4665
Email: rrreese@cpp.edu
Office Location: 94-311
Office Hours: Tu 1:00-3:00pm or by appointment
Full CV | Personal Website
Academic Area
Public Administration, Public Policy
Areas of Expertise
Public Policy Development
Research Statement
Dr. Renford Reese's current teaching and research focus is on NGOs and Social Service Outreach, Prison Reform, Juvenile Justice, Restorative Justice, and the Politics of Crime.
Academic Degrees
PhD, University of Southern California, 1996

MA, Vanderbilt University, 1990

BA, Vanderbilt University, 1989
Courses Taught
SUMMER 2022
Criminal justice administration concepts, institutions; relationship to legislative functions and issues; interagency and intergovernmental collaboration; politics of crime, Constitutional issues, ethics, white collar crime, prison reform, rehabilitation, and re-entry issues.
Popular culture concepts; mass media, race, gender, class, sexuality; legislative actions, regulating youth and young adult behavior; regulating obscenity, the courts and popular culture, consumerism, television, movies, social media. Course fulfills GE synthesis D4.

Publications
Reese, R. (2007). American Bravado. Portland, OR: Inkwater Press. (Link)
Reese, R. (2006). Prison Race. Durham, NC: Carolina Academic Press. (Link)
Reese, R. (2004). Leadership in the LAPD: Walking the tightrope. Durham, NC: Carolina Academic Press. (Link)
Reese, R. (2003). American paradox: Young black men. Durham, NC: Carolina Academic Press. (Link)
For more publications, visit Dr. Reese's website