Alumni and Friends
The College of Engineering is the 17th largest engineering school in the nation, and has had over fifty years of success in producing engineers and engineering technologists (30,000 so far). Our graduates are working throughout California and the nation to meet increasingly complex technical and socio-economic challenges posed by the ever-growing global economy. Our alumni's contributions help exemplify what is exceptional about our Bronco Engineers - people working together to assure future prosperity through technological advancement
Providing the Highest Quality Education Possible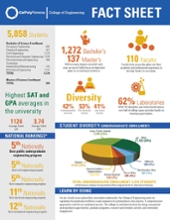 College of Engineering Fact Sheet (PDF)
This fact sheet provides demographic information about the College of Engineering as well as highlighting some college distinctions. We have an outstanding reputation for Learn by Doing and excellent teaching, reflected in our consistent national rankings for undergraduate programs.
College Information
Stay Connected with the College of Engineering
Alumni Connections

New and returning members update your information so that we can stay connected to you.
Network Dinner Program

Host a dinner for up to 6 students at home or in a restaurant and share information about engineering, career paths, and more.
Become a guest speaker and help guide student leaders as they prepare to enter the workforce.
Hall of Fame

The college's Hall of Fame recognizes distinguished engineers and their achievements to inspire future generations of engineers.