Resilient and Adaptive During Pandemic
Engineering faculty and students at Cal Poly Pomona transition quickly to the new normal of remote or virtual instruction.
Published March 31, 2020

For the foreseeable future, the College of Engineering at Cal Poly Pomona has transitioned to remote or virtual teaching and learning environments caused by the novel coronavirus pandemic.

With no choice but to take the necessary precautions to ensure the health, safety and well-being of the college community and society at large, faculty and students have worked in tandem to quickly adapt to the shift.
Making the Virtual Jump
Mariappan Jawaharlal (Jawa), mechanical engineering professor, is well-versed in online instruction, but expected a challenging transition.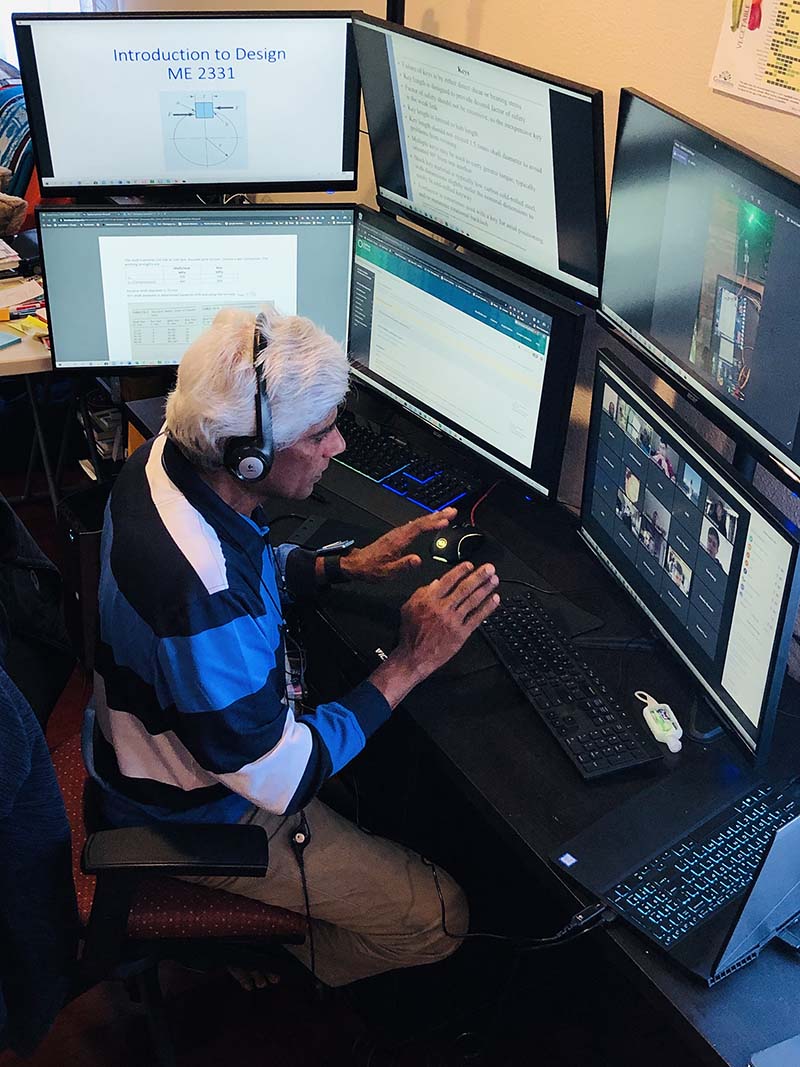 "I didn't like the idea of conducting a three-hour lab online, and went with low expectations," says Jawa. "It turned out to be better than my wildest imagination. And it is not because of me. It is because of our students, despite all odds, were there on time, doing their work, and more importantly, willing to help each other."
When Jawa logged on to teach his lab course, all of his 35 students were there waiting for him to begin.
"Even in my normal class, there are always a few stragglers. Now I had everyone here before the start of class," says Jawa. "I love classroom interactions and I still prefer face-to-face meetings over online, but our students are resilient and willing to go the extra mile."
Left Image: Mariappan Jawaharlal, mechanical engineering professor, teaching virtually with his six-monitor setup.
Responding to Real-World Need
Farbod Khoshnoud, electromechanical engineering technology assistant professor, has adjusted his controls laboratory course to respond to the potential shortage of ventilators for COVID-19 patients. Originally, the course's final project was a general lab project that was standard with Khoshnoud's curriculum in previous years. Now, it has been refocused by putting students to task with researching ventilators.
As students are without lab access, they are researching how to produce viable ventilators that could be used in a hospital setting. Students are studying the components, costs, standards, regulations, suppliers, and more. The students' efforts are part of a larger initiative led by Alan Fuchs, associate dean for research and faculty advancement, to create ventilators for medical use. As both faculty and students develop the requisite knowledge, the faculty will make use of the on-campus labs to test and produce ventilators.
"The students are really excited and they are happy to be working on this," says Khoshnoud. "They're motivated by the potential positive impacts they're making."
Telling the Unfolding Story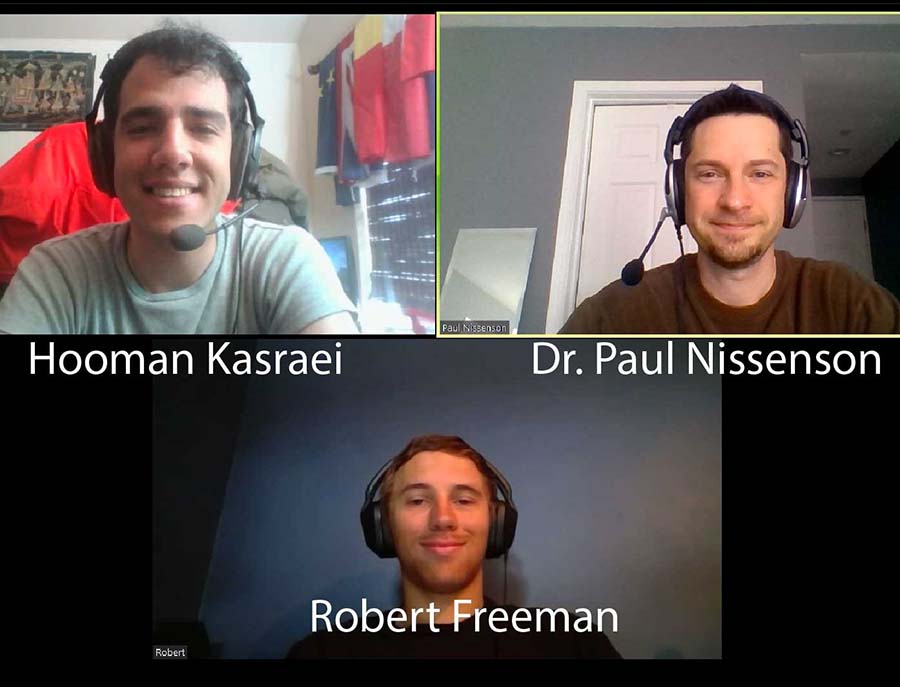 Paul Nissenson, mechanical engineering associate professor, has been hosting a monthly podcast since 2019, covering various engineering education and career topics. He has since put this regular production on hold in favor of a series where he interviews engineering students and faculty as the crisis unfolds. He launched the first in the series in March.
"This pandemic has resulted in the single greatest shock to the American higher education system in living memory," says Nissenson. "I felt compelled to capture the reactions of both students and faculty as we muddle through this crisis together."
Left Image: Paul Nissenson (right), interviews College of Engineering students after the campus moved to teaching all its classes remotely or virtually for the remainder of the spring semester. You can listen to the episode here.
A Spirit of Collaboration
With some faculty who have only taught in-person classes for decades, suddenly being required to teach entirely in a remote or virtual setting is akin to a sea change. Confronting the challenge is an on-going collaboration between students and faculty. Kamran Abedini, professor and chair for the industrial and manufacturing engineering department, uses Zoom for his now-virtual lectures. For Abedini, this is new software, and he is learning from his students on how to best use it more professionally as they go forward. He has also noticed an information stream that is going both ways between junior and senior faculty as they help each other get accustomed to the new teaching environment.
"This shows that mentoring is a two-way relationship and always needed," says Abedini.
Joseph Rencis, dean of the College of Engineering, adds that "in this time of uncertainty, we have seen acts from the college community reaffirming a constant truth—we are all in this together and are fully committed to student learning outcomes. Creative problem-solving and wonderfully positive acts of collaboration have allowed the college to transition to a remote or virtual setting for everyone in the college."