College of Engineering Volunteers Step Up
As the novel coronavirus continues to prove to be a once-in-a-century pathogen, students and faculty from the College of Engineering have taken up voluntary efforts to do what they can to protect and prepare healthcare workers and services.
A Community Effort
Among the regional efforts in Southern California is the SoCal Makers COVID-19 Response Team a network of donor-supported volunteers within the SoCal area racing to meet the demand for personal protective equipment (PPE).
Among this patchwork group of over 130 volunteers includes College of Engineering faculty and students. They have been working hard to produce and deliver PPEs to more than 100 healthcare providers throughout California and beyond, which includes Africa.
Pauline Tasci ('19, manufacturing engineering) and manufacturing engineering student Alberto Smith, two of many students and faculty volunteers from Cal Poly Pomona, immediately joined after learning about the effort.
"I'm always the type of person that tries to help when seeing a problem," says Tasci. "I'm not a scientist who can make a vaccine, but I can help frontline workers get the materials they need."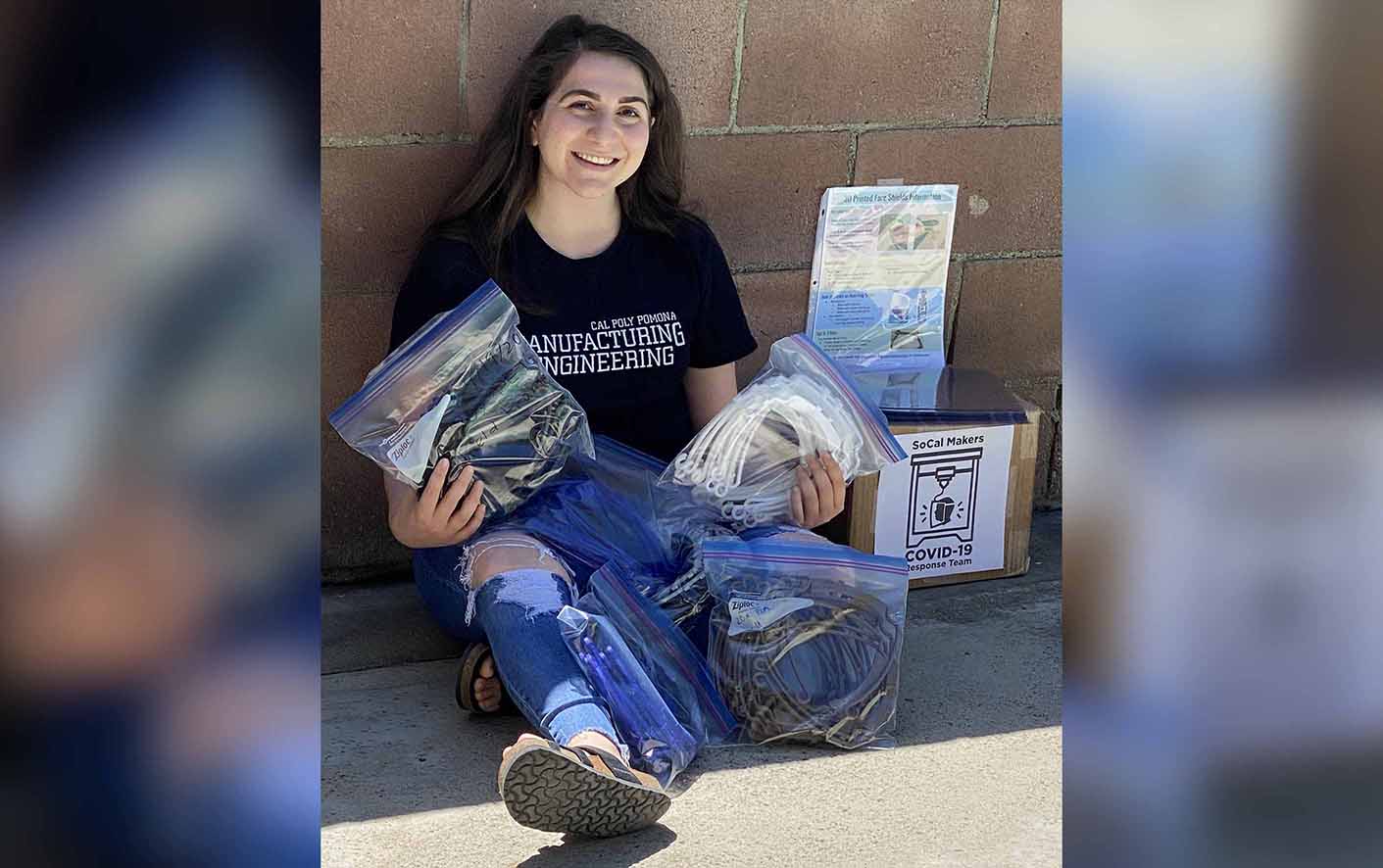 Smith, whose girlfriend and mother both work as nurses, put his 3D printer to work to manufacture transparencies, the plastic face covers. After the raw product is produced, an extensive amount of work is done to ensure its usability. Smith rounds out the sharp corners and Tasci gives them an extensive quality check—she makes sure nothing pokes out; no filaments go astray and she sterilizes them with rubbing alcohol. In total, it takes about three hours to make sure they are ready. Finally, Tasci delivers them to the head of SoCal Makers to get them ready and delivered to where they need to go.
Throughout the process, both Smith and Tasci apply some of what they have learned in class, like lean processes to be more efficient with both production and costs. "Lowering cost per component and buying in bulk are theories we learned as manufacturing engineers," says Tasci.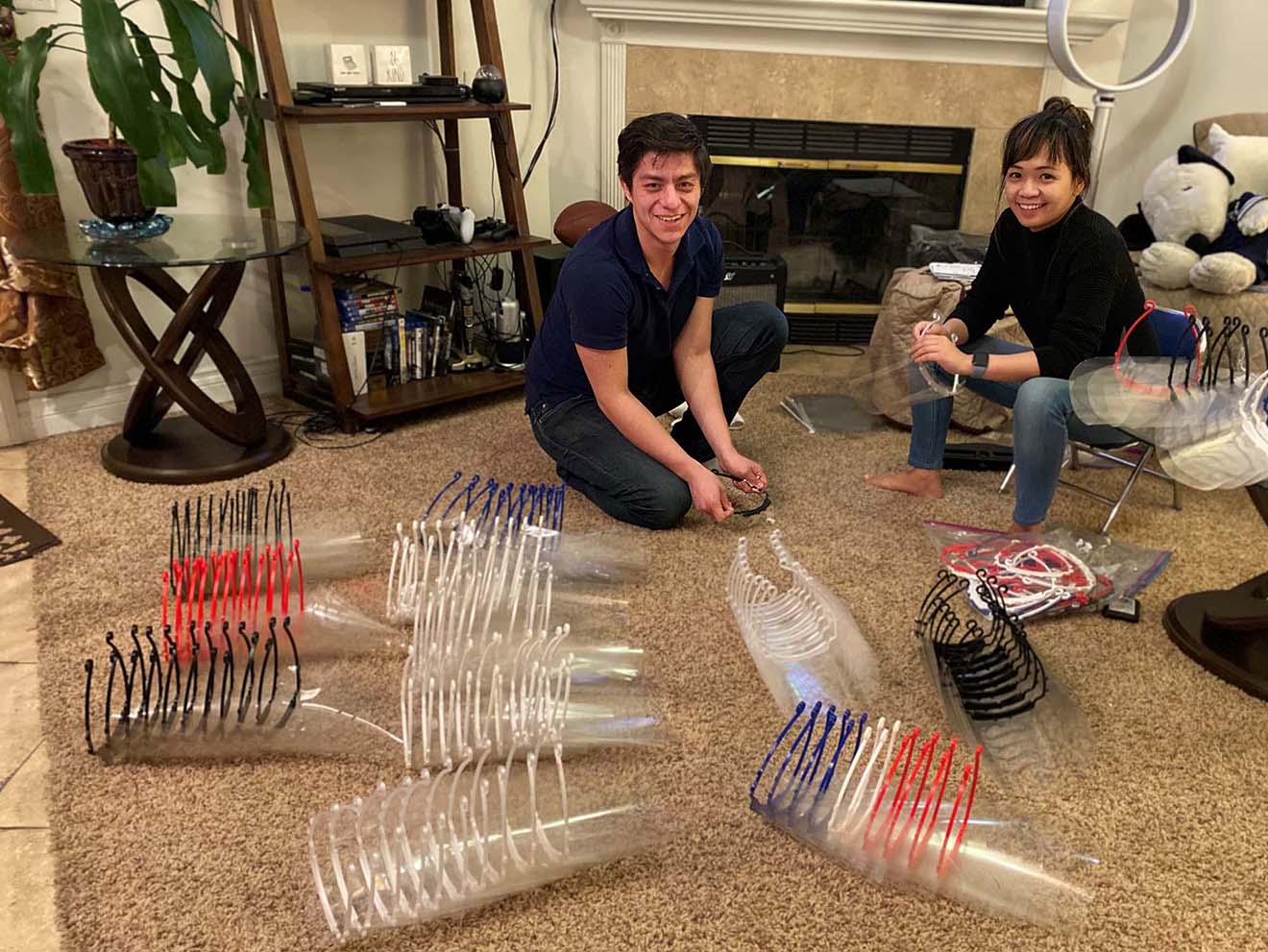 For delivery, Dr. Dika Handayani, assistant professor for the industrial and manufacturing department, helps with the overall effort. Handayani has been delivering PPEs through the several health facilities and hospitals in the LA County. "We're a big group of people who want to help the community," she says.
"I think it's been awesome seeing people come together. It always pushes us harder to make things that benefit people," says Tasci. "I'm amazed how quickly Cal Poly Pomona students stepped up to the plate. When CPP sees a problem, it gets together to solve it."
Smith adds: "I'm amazed how many people are involved in this and by the amount of support we have. I'm happy that it's happening—to see my professors and their good hearts and seeing how hard Pauline [Tasci] works."

Helping His Home City
In a separate effort, industrial engineering student and Santa Barbara resident John Bathel heads up his own effort to produce PPEs for frontline healthcare workers in his home city.
Since early April, Bathel has been working with the non-profit Santa Barbara Bucket Brigade and UC Santa Barbara to produce plastic face shields with his 3D printer.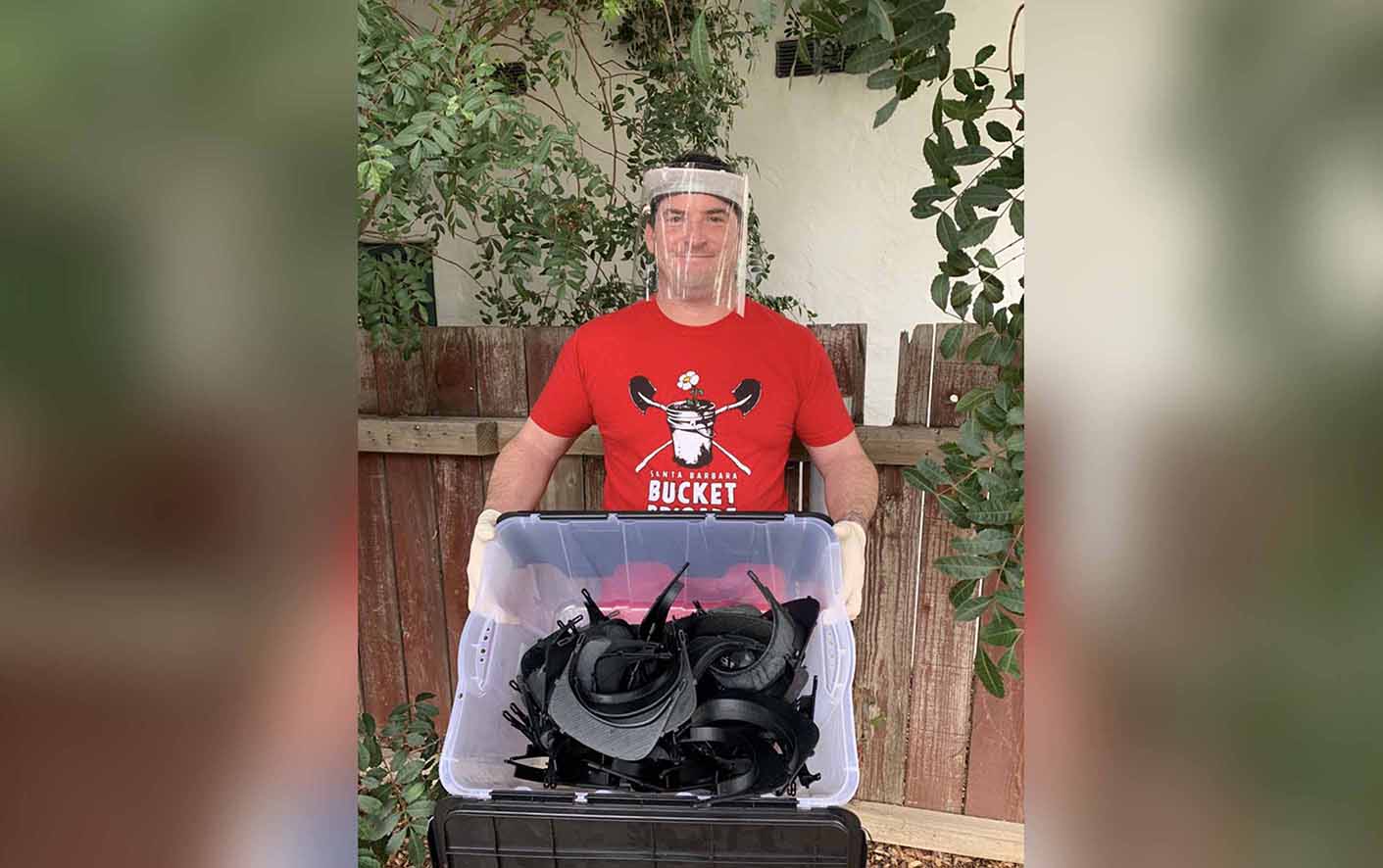 Supported by donations , Bathel raised approximately $3,000 in seven days, allowing him to secure the resources to augment his production to produce over a thousand face shields. Bathel's output goes to where they are most needed in his area, like dentist offices conducting emergency procedures for their patients, and first-responders such as CHP, police and fire departments, and other essential workers who need PPEs.
"I'm just thankful for all the support from the community," says Bathel. "Dr. Kamran Abedini [chair for the industrial and manufacturing engineering department] has been very supportive, and I've had some faculty donate as well. I'm grateful for everyone that's helped with my project."