Engineering Staff Serves Students, Overcomes Challenges
The pandemic challenged the college's staff. Together, they overcame them.
Hundreds of Emails Overnight: Engineering Advising Center
Published July 1, 2020
On a typical workday, the Engineering Advising Center (EAC) saw an average of 30 emails a day from students needing guidance on moving forward in their engineering program.
Then overnight, 30 became hundreds.
"I think a good word for it is overwhelming," says Monica Kays, engineering advising coordinator.
Once the novel coronavirus forced the university to function remotely and virtually, what would have been a tidy 10-minute, in-person advising session became a cycle of email replies between advisor and student. An email chain could persist throughout the day, or even the entire week.
Compounding the challenge is the new work environment. Home offices may vary.
Alex Retana, engineering advisor, negotiates her apartment space with her boyfriend every day.
"We make it work and check in with each other and see if he's still good with where he's at," Retana says. "You got to work it out. If I'm struggling, I can't imagine what some of my students are going through."
The Kays' household is full with her husband, who now teaches his classes at home via Zoom; her 10-year-old daughter and her dog, who defaults to yapping whenever an Amazon delivery arrives at their doorstep.
"Bless her [Kays' daughter] heart, but it's not easy when she's asking, "Mom, are you on a Zoom call? I need help with fractions," says Kays.
The EAC pushed on, knowing that at the heart of these unprecedented challenges, they could rely on each other to stay focused on getting students through the semester.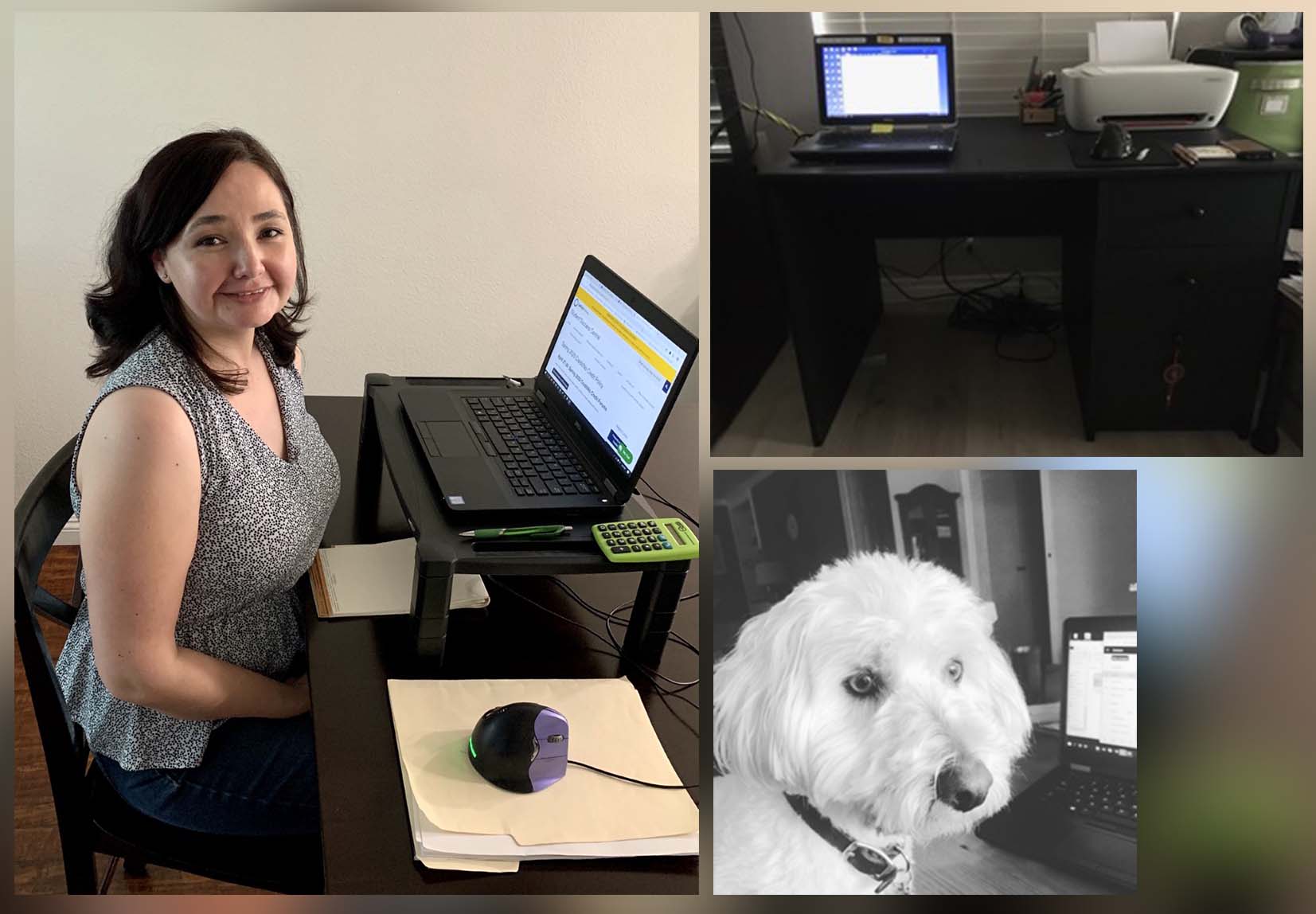 The team of four advisors hit the ground running immediately after the remote and virtual transition. They kept tabs with each other via Skype and text messages. Scheduled in-office meetings became Zoom calls. Hundreds of emails were delegated amongst the four and emails were triaged to prioritize responses. Adding to the emails was reviewing student applications for the Engineering Emergency Assistance Program (EEAP), a short-term program made to financially support students in need and entirely funded by donors. Over 300 students applied.
"It's very saddening to see students struggling the way they are," says Kays.
With remote work being the norm for the foreseeable future, the EAC's settled into a rhythm that works for them and their students.
"I feel lucky to be on the team that I'm in. We lean on each other for pretty much anything," says Retana. "As a unit we're continuing to be really successful with the students. We really shine working as a unit while apart as communication between us is still open."
A Similar Story: Department Offices
Lita Patel, administrative support coordinator for the Department of Mechanical Engineering, had similar challenges.
"It was endless contact from students," says Patel. "Hundreds of emails with students panicking."
The most common student request was a need for permission numbers that allowed students to enroll for required classes at capacity. With the transition to remote and virtual learning occurring around the fall 2020 class registration period and Patel being the sole tracker and distributer of permission numbers for the department, hectic was the status quo.
No matter for her however, who has 21 years of experience in this position. She attended to each email one by one and developed a system to track the distribution of permission numbers. She worked around her one-monitor limitation by turning her iPad into a second screen.
"Thank you so much for your help Lita. You've always been a lifesaver," said one of the hundreds of students in need of her direction.
The spring semester now complete, Patel hopes the new normal is temporary. She misses how things were.
"I miss the collaboration with people on campus. Just miss the campus life, all the kids running around all the time," she says. "You can get to know these kids as regulars who come in, pop in and say hi. I miss all that."