Innovation Partnership Opportunities
Research and innovation at Cal Poly Pomona would not be possible without partnership and support from industry, government, and our alumni. There are many opportunities for collaboration with Cal Poly Pomona, and access to research facilities and laboratories in the College of Engineering.
To find out more contact:
Dr. Ben Bahr, Associate Dean for Research & Graduate Studies,
College of Engineering at Cal Poly Pomona
bbahr@cpp.edu 
909.869.2600
There are Many Ways to Partner with Us
Southern California Edison Sponsors Tehachapi Wind Energy Storage Project at Cal Poly Pomona
The team will design, build, install, and test a battery energy storage system that utilizes utility-scale lithium-ion battery and smart inverter technology for improving grid performance and integrating wind generation. This project accelerate the advancement of reliable, technology for wind integration and other smart grid applications across California and the United States.


JPL Supports Research Projects
JPL has chosen the following projects to support:
1) Delta-sigma analog-to-digital converters implementation for a radiation tolerant environment;
2) low-cost solution to picosatellite attitude control;
3) designing a deployable radiators, radiator turn-down devices, and duty-cycled cryocoolers;
4) miniaturization of gas-sensing instrumentation for autonomous air platforms.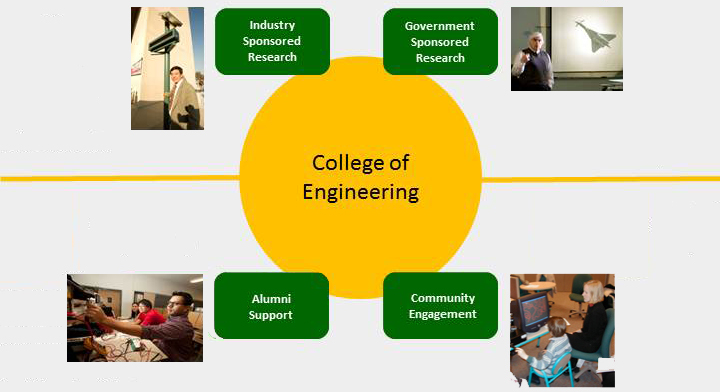 The Colombatto Family Sponsored Laboratory Development
The Colombatto Family Laboratory features 70 pieces of equipment used by the Department of Electrical & Computer Engineering and Department of Engineering Technology. The digital multimeter, oscilloscope, function generator, power supply and Dell OptiPlex computer allow for building, testing and troubleshooting electrical circuits. The new versions are more advanced, more precise and provide a wider range of functions.


Community Partnership with Casa Colina Center for Rehabilitation at Pomona
The Casa Colina Center is interested in the results of Dr. Norali Permalete NSF sponsored research using haptic robotics system to improve the motor skills in children who have trouble processing  visual information to guide their motor skills such as a simple task of using spoon to eat.