Inquisitive Minds, Rewarding Research
Wastewater treatment, renewable energy, the future of UAVs, and innovative metals—all in a day's work for four College of Engineering student teams who competed in the annual 2020 CSU Research Competition.
Exploring Innovative Wastewater Treatment
Student Team: Lorena Bennett
Faculty Advisor: Dr. Monica Palomo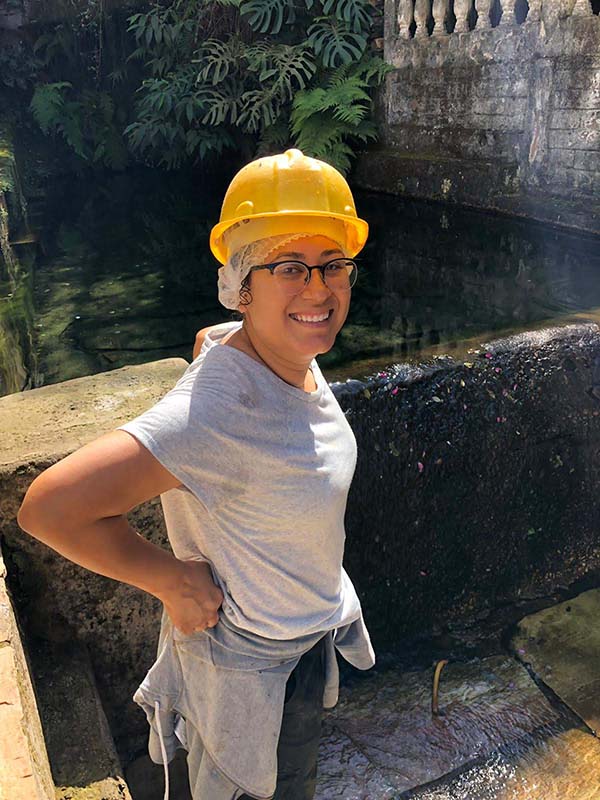 Presenting her research on solids analysis as an indicator of the wastewater treatment system performance, civil engineering student Lorena Bennett (pictured) earned second place in the engineering and computer science session for undergraduates.
"Lorena was highly inquisitive and very motivated," says Dr. Monica Palomo, civil engineering professor and one of the faculty advisors. "That was a crucial part of her success."
Bennett had the opportunity to travel to Brazil, where she collaborated with researchers working with an innovative up-flow anaerobic sludge blanket (UASB ) system. The system not only treats wastewater but provides valuable byproducts in the process. These benefits, combined with the fact they need little or no energy to run themselves, would make such UASBs ideal for providing poor communities with improved sanitary conditions.
"Along with gaining a better understanding of the performance characteristics of UASB systems, I also had the amazing opportunity to interact with different cultures." Bennett says.
---
Extending UAV Flight Endurance
Student Team: Geoffrey Oetting, Ryan Valdezotto, Serena Castillo, Jaehyun Kim, Korbin Weatherman, Dawit Assefa, Aramazd Melikian, Justin Wells, Joel Lee, Marc Repollo, Timothy Kidd, Andrew Frazier, Martin Villasaldo, Justin Ilagan, Eduardo Garcia Ricardo Paz, Jian Caparros, Matthew Bradley, Bimaya Jayaratne, Khanh Le, JayDee Desilva, Cheyenne Gonzalez, John Kim, Jamie Castro, Martin O' Connell, Pedro Esquivel, David Magluyan, Francisco Contreras, Muzaffer Arda Buyuksan, Eduardo Romero, Cameron Wu, Axel Rivas, Breann Garcia, Patrick Larlar, Devin Kawamoto-Kindred, Ryan Uyehara, Zijing Kuang, Victor Martinez, David Bui, Hanqing Zhao, Emaunel Urbina, Eric Pyun, Nanyang Cao, Shu Wu, Lindsey Sayer, Rishab Pandit, Kenneth Tarroza, Dhanush Karthikeyan, Sahaj Bhakta, Cesar Silva Kim, Timothy Kidd, Jamie Castro
Faculty Advisors: Dr. Jenny Zhen Yu, Steve Dobbs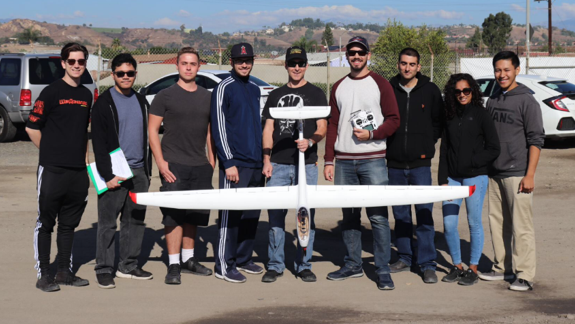 Electric-powered unmanned aerial vehicles (UAVs) are seeing widespread use in a variety of applications, but they have severe limitations in flight endurance time. This team's BANSHE (short for Battery As an iNtegrated Structure High Endurance) Flying Battery UAV project hopes to change that.
---
"This industry-based team approach is foundational for helping prepare industry-ready students." — Steven Dobbs, Aerospace Engineering Professor
---
A multi-disciplinary effort comprising aerospace, electrical, computer, mechanical, chemical and chemistry undergraduate students, the BANSHE project aims to increase UAV flight time by substituting aircraft structural components with power storage devices and solar cells that also have structural properties. This will reduce the craft's weight and also extract energy during flight. Theoretically, a BANSHE UAV could be in flight for extended periods at a time without needing to land for a recharge.
"This industry-based team approach is foundational for helping prepare industry-ready students," says Steven Dobbs, aerospace engineering professor and one of the faculty advisors.
Pictured: Team BANSHE
---
Making Solar Energy More Cost-Effective
Student Team: Andrew Wilson, Aaron Narag, Nicole Garcia, Ronell Lim, Benjamin Kong, Ega Herlim, Joseph Kiriakos, Christopher Salerno
Faculty Advisor: Dr. Reza Lakeh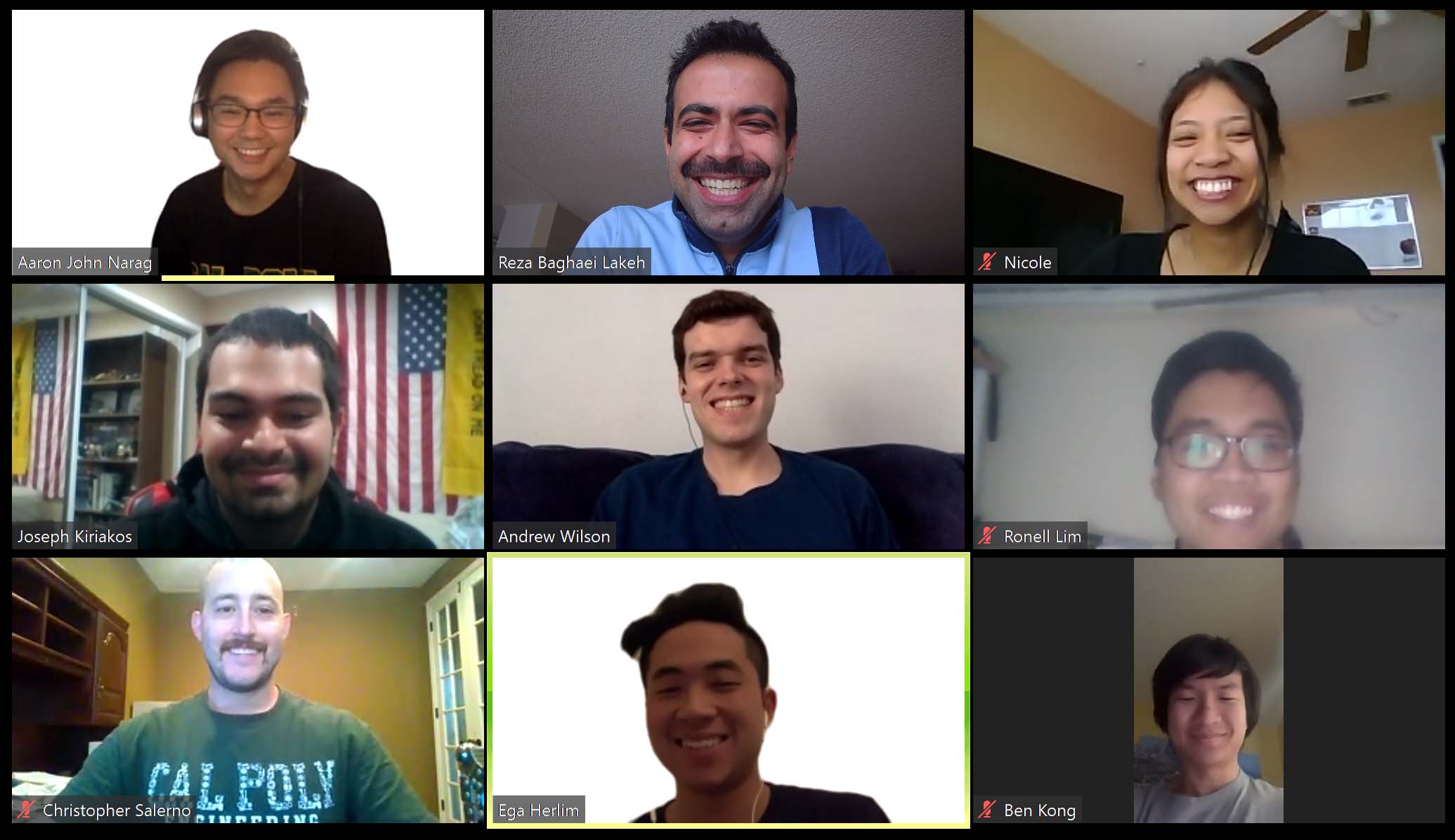 In its quest to promote sustainability, the U.S. Department of Energy wants to reduce the cost of running concentrating solar power plants (CSP) to $0.03 per kWh by 2030. This team's research could very well help facilitate that.
This student presented their research into a charging/discharging system for reverse osmosis concentrate (ROC) salts as a CSP thermal energy storage medium. This system would make it cheaper to run renewable energy power plants, like solar plants, which operate in the early morning and evening when electricity demands are greatest.
"The students developed new technical and presentation skills even after campus closure due to COVID-19," says Dr. Reza Lakeh, mechanical engineering assistant professor.
---
Pursuing Innovations In Metal Matrix Composites
Student Team: Harrison Brooks-Porter, Chase Hargrove, David Calderon, Lisbeth Pelayo
Faculty Advisor: Dr. Vilupanur Ravi
Metal matrix composites (MMCs) with ceramic reinforcements offer tailorable wear and corrosion properties essential for many industrial applications, notably pumps and automotive brake rotors. But manufacturing MMCs with different properties can be difficult, adding significantly to the cost of the final product. This student team sought to identify better, innovative ways to produce them while still ensuring critical performance.
"This project gave these students invaluable experience in going beyond textbook learning, tackling tough open-ended questions, and presenting their findings with scientific rigor," says faculty advisor Dr. Vilupanur Ravi, professor and chair for the Department of Chemical and Materials Engineering.
Combining an aluminum alloy with ceramics using an innovative melt infiltration technique, the students studied the behavior of MMCs in corrosive solution. Along the way they found that this technique is indeed a cost-effective alternative for fabricating lightweight MMCs that are both durable and corrosion-resistant.
"This experience taught us to understand both the scientific and economic sides of chemical and materials engineering," student team member Chase Hargrove says.
Photo; left to right: Student team members David Calderon, Harrison Porter, Chase Hargrove and Lisbeth Pelayo