Mel Negussie Bets on Himself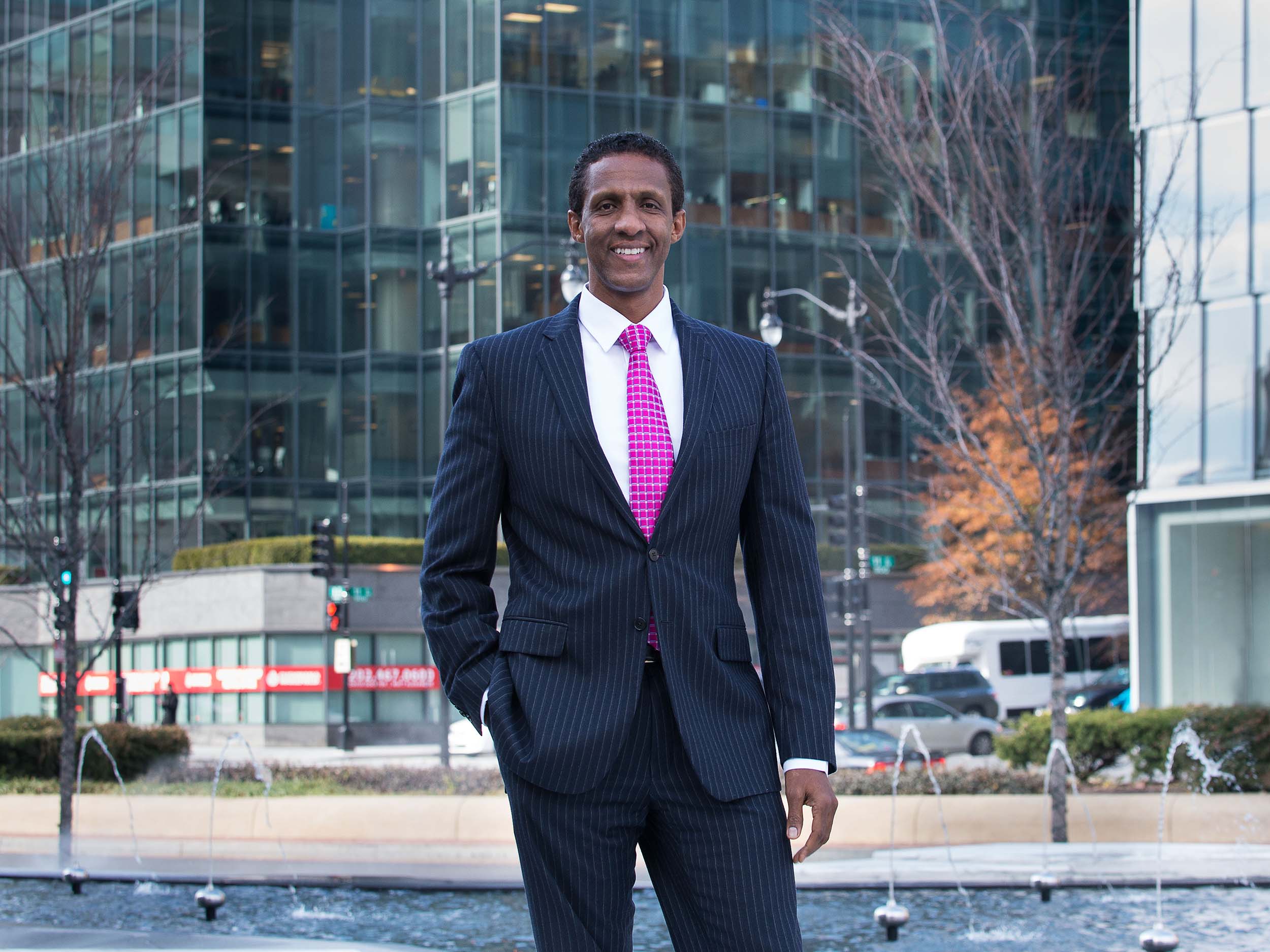 How a chemical engineering alumnus took risks to create a rewarding career.
By Marisa Demers
Mel Melaku Negussie's ('87, chemical engineering) career defies definition. Since he earned his first paycheck at 15-years-old, Negussie's work has spanned industries and professional titles. The self-made executive attributes his success to embracing risk, not running away from it.
"Risk is not doing something wild. It is finding something that you want to do and knowing when to cut your losses," says Negussie, who was inducted into the CPP Engineering Hall of Fame in 2015. "I've never been afraid to take a risk and fail because I know I can pick myself up, work hard, and do anything I have to do to succeed."
Engage him in conversation and Negussie will freely share risks that led to failures. He will mention the time he walked away from a law firm job to join Africa.com. In early 2000, the startup was heralded as Yahoo for Africa but six months later Negussie was unemployed. The company became another casualty of the dot com bust.
"There was an entrepreneurial spirit [at Africa.com] that I really enjoyed," he says. "After the company went belly up, I had the choice to go back to the law firm, but I thought to myself, 'I want to give this another try.'"
The company's failure, it turned out, gave him clarity. He craved an entrepreneurial career, not a corporate one. In the years that followed, he joined fledgling companies and eventually launched his own. Today, he lives in Washington, D.C., and is the chief executive officer of NT Group LLC, a firm he founded that provides real estate development, information technology, and business consulting services. He is also a venture capitalist who has invested in a renewable energy startup and a data center in Africa.
Negussie is also helping a group of Ethiopian healthcare workers build a new hospital in Addis Ababa. As the chief operating officer and general counsel for Ethio-American Doctors Group, he oversees legal issues related to financing and serves as project manager for the building's construction. When the hospital opens in 2024, it will be the first facility in Ethiopia to follow international standards of care, Negussie says.
Fleeing communist rule
Born in Ethiopia, Negussie enjoyed a comfortable middle-class life in Addis Ababa, a hub of politics, commerce, and education. His father, a pilot, and mother, a secretary, provided Negussie, his two brothers and sister with a Catholic school education and vacations to the Red Sea and Lake Awasa, a lush region known for the hippopotamuses and crocodiles that live in it.
Yet, Cold War tensions were rising in Ethiopia. A coup d'état in 1974 turned Ethiopia into a communist country, and Negussie's parents began to fear for their family's future. They witnessed the military junta conscript children into military service and push conformity over free thoughts. Although the entire Negussie family could not escape their homeland, the father secured an exit for his two oldest children through his military connections. Negussie and Yohannes ('87, mechanical engineering) were sent to live with family friends in Madison, Wis. At the time, Negussie was only 13 years old.
"Our life was a dichotomy," Negussie says. "We were having this new and exciting experience in America. But, at the same time, we missed our family. It was a difficult time, frankly."
Negussie and Yohannes moved to Southern California less than two years later to live with their aunt and three cousins. As soon as Negussie completed high school, the brothers were on their own. They rented an apartment, bought a car, and supported themselves by working at a fast food chain and a grocery store. They remained close to their parents and siblings during this time, but the brothers never asked for money. They knew the communist government would never allow it.
Cal Poly Pomona showed me that I wasn't limited to the normal career trajectory of an engineer. I'm grateful that I learned that lesson early in life. – Mel Negussie ('87, chemical engineering)
By the time college applications were due, Negussie only considered Cal Poly Pomona. Tuition was affordable and his STEM-focused family had a deep connection with the university: Yohannes was already studying mechanical engineering and cousins Nebabie ('82, electrical engineering) and Proton ('86, electrical engineering) Kebebew and uncle Berhanu Kebede (84, mechanical engineering) were all graduates from the college.
Dreaming bigger
Negussie's college years were an endless loop of working, studying and making ends meet. Some days being able to get his old car onto the freeway to Pomona required a leap of faith. Still, he never gave up. Faculty would help by directing him to scholarships and hiring him for on-campus jobs.
Looking back, he credits Cal Poly Pomona for encouraging him to look beyond his day-to-day life to dream bigger.  
Professor Emerita Cordelia Ontiveros, Ph.D. ('78, chemical engineering), for example, represented possibilities that Negussie had not yet imagined.
"She was open, very encouraging, and not much older than the students she was teaching," Negussie says. "It was very inspiring to see her in the classroom."
Success and time have not tempered Negussie's risk tolerance. In a post-COVID-19 world, he plans to invest in more African companies. He also predicts a resurgence in modular, prefabricated homes and plans to pivot his real estate development business in that direction.
Negussie continues to stay in touch with Ontiveros and Cal Poly Pomona. At her invitation, Negussie serves on the board for Women in Science and Engineering (WiSE), a program that seeks to recruit and retain female engineers at the university. He is also a member of CPP Engineering's Dean's Leadership Board, which helps the college define its strategies and goals. He is proud that the university continues to educate first- and second-generation immigrants and offers advice to them and other engineering majors when he can.
"I only considered one school and it was an incredible experience," Negussie says. "Cal Poly Pomona showed me that I wasn't limited to the normal career trajectory of an engineer. I'm grateful that I learned that lesson early in life."