The Bronco Grit
A pandemic delivered one uppercut after another. These engineering students took it on the jaw, and persisted.
By Christopher Park
Building Unmanned Vehicles in Their Garages
At a certain point, an engineering project at scale is as much of a problem to solve as the actual project itself.
Wrangling hundreds of engineers across several disciplines to move toward a common goal is a game of continuous communication and adaptation. Teams become dependent on each other, and complexity grows exponentially. Any alumni who have been a part of huge projects and have reached the end of this paragraph are nodding in emphatic agreement.
This is the kind of complexity more than 100 Cal Poly Pomona students across engineering, computer science and other majors took on in the last year-and-a-half to get their project to the finish line. A pandemic did little to stop them.
Challenge accepted
The Northrop Grumman Collaboration Project (NGCP) is a student-led program for the research and development of unmanned systems. Each year since 2011, Northrop Grumman Corporation commissions a project, and roughly 200 students across Cal Poly Pomona and Cal Poly San Luis Obispo work together to serve the needs of their client. For years, the focus has been on developing autonomous unmanned vehicles for complex search and rescue missions and the 2020-21 project was no different.
This year, however, Northrop Grumman asked for more than ever before: design and manufacture a fixed flying wing unmanned aerial vehicle (UAV)—imagine a plane shaped like a boomerang—which had to carry a smaller unmanned ground vehicle (UGV) for autonomous rescue operations. The practical application: Picture a lost hiker in the dead of night. With no human input, the UAV carrying a UGV flies over pitch-black wilds in search of the hiker's radio signal. Once the hiker is found, the UGV is deployed, the hiker boards the vehicle and is transported to an autonomous helicopter that ferries him to safety.
"The experience I gained from this project is priceless." — Yahia Haggag ('21, aerospace engineering), chief engineer for the NGCP UAV team
In the past, students were provided with the vehicles to program and augment to meet the project's goals. This year, they were required to create one at scale—the lost hiker is scaled down to six inches in height—but a tall order, nonetheless.
One heck of a year to do that
Despite the pandemic shutting down in-person work and access to a necessary collection of hardware and tools on campus, the project's goals stayed the same.
"Simple problems that would take hours to solve took days," says Jeffrey Hymas ('21, computer engineering), project manager. Normally, a drive train issue in a vehicle could be solved in a matter of hours by a mechanical engineering colleague sharing the same lab space. Social distancing meant that Hymas had to take the vehicle to the colleague's home, drop it off to be worked on, and then arrange a time to pick it up.
Yahia Haggag ('21, aerospace engineering), chief engineer for the UAV team, had to use fiberglass, a durable composite material, to manufacture the UAV. This is a simple task with a team of three to mix, layer, and shape the composite material, but becomes a headache as a one-person job. So, he called forth his roommates to get the job done.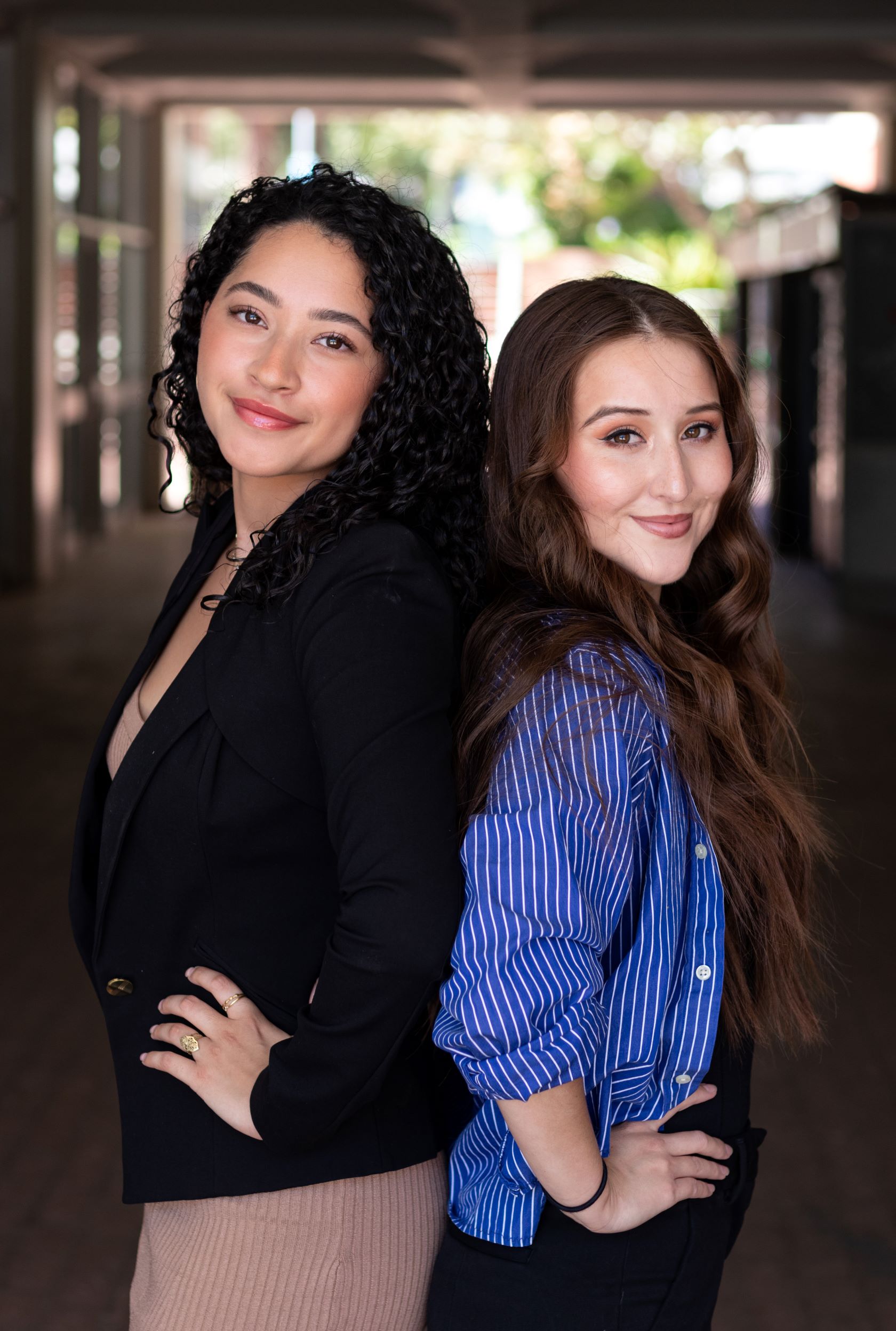 And then there is Lizette Chavez and Maria Toro, the chief systems engineers for the project. Every vehicle has its own systems, or logic, and their systems must understand all the other systems in other vehicles. In short, Chavez and Toro had to make sure the vehicles understood and talked to one another, and they had to do it while learning new systems engineering software.
"A few moments in the beginning, we had the new software but couldn't present with it," says Toro. "We figured out how to use it as a team and from working with it for hours."
In the end, the team had functional vehicles with some kinks left in the design. The systems Chavez and Toro helped assemble were validated in simulation. Everything worked in theory but was inconsistent in practice. Considering the circumstances, it was a win for the team.
Advised by a quartet of faculty advisors—Scott Boskovich, Ph.D., Zekeriya Aliyazicioglu, Ph.D., and Subodh Bhandari, Ph.D. from CPP Engineering, and Daisy Tang, Ph.D. from the College of Science—students broke off into integrated product teams (IPTs), an industry-standard approach where multidisciplinary groups work on delivering what they are responsible for in the larger project. IPTs were led by the program management teams. From the top of the organization chart to the bottom, the teams consisted of all undergraduate students.
"The learning you get from working on a real project is invaluable," says Boskovich, faculty advisor and electromechanical engineering technology associate professor. "It gives students a taste of what it looks like to work with an engineering client."
Photo above: Maria Toro (left), aerospace engineering student, and Lizette Chavez (right), mechanical engineering student. The duo leads the 2021-22 Northrop Grumman Collaboration Project after serving as chief systems engineers in their previous year of work on the project.
Passing the torch
Like most student teams in the college, project leads move on and other team members take over. In this instance, Hymas completed his role as the project manager and was hired to work for Northrop Grumman. He will be on the flip side of the next NGCP as it ramps up again in the 2021 fall semester. Taking his place will be Chavez and Toro.
"This is something Maria and I are really looking forward to," says Chavez. "Jeff did so well and Tristan before that. A lot to impress and live up to. For Maria and myself, this is really exciting and probably the most rewarding thing I can think of in the past three years we've put into this project."
Haggag also departed from the team and takes with him the experience that will land him his first engineering job.
"I got what the project promised—an experience as close as possible to industry experience," says Haggag. "Many projects teach the technical steps and how to manufacture something, but not the culture and common industry practices of the job. The experience I gained from this project is priceless."
---
It's a Three-Peat
The clock is ticking. General contractor and building firm UNICO is hard at work to win over their potential client, the city of San Francisco.
City officials want to build a fire station on a port. It must be two stories, have all the amenities of a typical fire station, and it must be done in 22 months within a budget of $33.5 million.
With less than 10 hours before deadline, officials send an addendum. They would like to consider an option for the station to be built on a floating foundation. UNICO's at an impasse—they have worked on their proposal with a fixed foundation. Committing to a floating foundation would require a vast rework to their proposal. UNICO's employees are split—start over or continue with the work that has already been done?
Reasoned, impassioned debate monopolizes the team's focus. Capitulating, the team appeals to project executive Arminda Diaz. Make an executive decision, they ask. Diaz weighs in—she decides to move forward with what they have worked on thus far, with supplemental analysis of the feasibility of a floating foundation.
It was the right decision. UNICO won the contract, and the student team went on to win first place in the competition for the third year in a row…
… Pulling back the curtain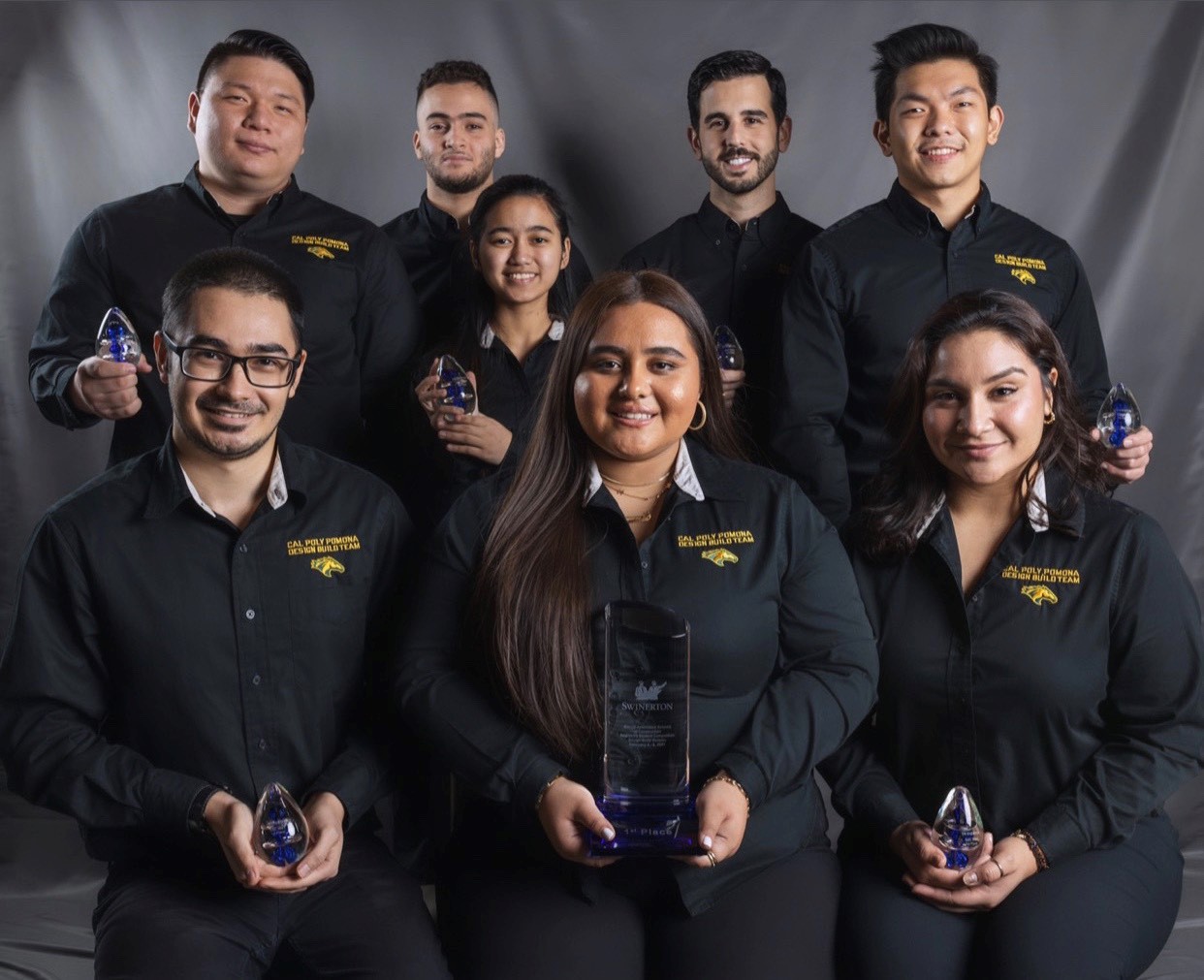 UNICO is not a real construction firm and the client's request is just as make-believe. This was the scenario put forth in a student competition, the 2021 ASC Design-Build Competition. It is the largest of its kind, and tasks student teams with winning over fictional clients as fictional construction, design and architecture firms. Typically, crafting a proposal for a client is a long process, but the competition crunches it down to a 16-hour challenge. Conceptual design; cost analysis; construction scheduling; mechanical, electrical, and plumbing; and sustainability analysis—all this and more must be done within less than a day.
Challenging to be sure, and only exacerbated by this year's virtual format. But for Ayman Jaber, civil engineering student and lead architect, it is "Easy Money, Baby." The team called their architecture firm E.M.B Architects.
Photo above: The winning student team. Front row, left to right: Sepehr Ramshini, Arminda Diaz, Mayra Peredo. Back row, left to right: Ryan Tran, Ayman Jaber, Jeri Robles, Arutyun Akopyan, Tyson Sint.
They've done this before
This is not the first or second time a CPP Engineering team has won this competition. It is their third win a row—the last time this happened in the competition's history was over 15 years ago.
"I feel so happy. The amount of work we put into this is so much outside of school and work," says Arminda Diaz ('21, construction engineering management), team captain and project executive for the team's construction firm UNICO. "So when you get the news that you won first place, it's paid off."
"I started from zero and learned the process of construction. The only thing you need is passion." - Sepehr Ramshini, construction engineering student and the team's preconstruction manager
For Diaz, she has been a part of all three winning teams and has received internships and job offers through the competition. In fact, all of her teammates have internships.
For the 2021 competition, the team ran away with the win. Judges, who work in the construction industry, were baffled by how the team was able to assemble their proposal in a mere 16 hours. Bafflement turned into a soft interrogation, where judges asked technical and difficult questions to make sure the proposal was not smoke and mirrors. The harder the questions, the better the chances your presentation was very good, Diaz notes.
Real-world in a microcosm
From client request to project proposal, this is a true learn by doing experience. Every part of the competition calls forth real-world skills in construction management.
"Basically, it's a simulation of what happens in the real world. When an owner wants to build a building, it'll ask companies to create a design and another to build it for them," says Assistant Professor Jeyoung Woo from the civil engineering department and faculty advisor for the team.
"I started from zero and learned the process of construction," says Sepehr Ramshini, construction engineering student and the team's preconstruction manager. "The only thing you need is passion."
What's next
The team is always recruiting. The winning teams are always a combination of rookies and veterans. Veterans lead the rookies, the rookies become veterans, and the veterans graduate. The cycle has proven to be sustainable.
"Even new students get familiar with topics and industry, and they become so confident in their area and career path," says Woo. "They're more engaged and motivated in the classroom and want to share and help others to succeed."
For Diaz, she is graduating and pondering her job offers.
While she is leaving the team, she takes with her lifelong friends.
"My teammates are my best friends. I go to them for whatever—career or personal life advice that I need," she says.
Diaz leaves a final farewell: "Thanks for putting up with the crazy schedule for the past year, and sorry I forgot to feed you guys lunch sometimes."
---
Change For Today, Not Tomorrow
It is 2020 and Zareen Ahmed closes her virtual thermal fluids class.
She opens a new window on her browser to watch the protests that roil the nation.
What does it mean to be an engineer when the nation contracts in pain?
Class time is instructional time, right?" says Ahmed ('21, mechanical engineering). "No one's going to take the time out of their engineering coursework to actually talk about systemic racism, and even if we did something where students went into their classes and took a session, we would be taking a professor back one session."
And so, she and her team of Engineering Student Ambassadors (ESAs)—a carefully selected group of undergraduate students who represent the college both on and off campus—launched their three-part virtual lecture series over the spring 2021 semester. They invited speakers—experienced alumni who dealt with systemic racism, and faculty experts in microaggressions and student engagement. Students came to listen and participate in the discussion. None of the presentations were recorded to encourage free discourse.
"I want to work somewhere that does good for the community." – Zareen Ahmed ('21, mechanical engineering)
Her team's initiative was one of four. Three other ESA groups took on their own projects—one group held an outreach event for high school students, another held a social mixer for current students, and the final group built a web page that centralizes inclusive resources on campus. All of it was virtual and all of them asked a fundamental question: What can we do today to make the college more inclusive?
Ahmed and her team organized each lecture from top to bottom—the initial contact with the speaker, assembling marketing materials, and moderating the sessions—while concluding another challenging, virtual, and remote semester. It mattered too much to excuse themselves of this work even when they had a valid reason to put it aside for someone else.
Ahmed wants change, and hopes these virtual lectures move that stubborn needle. She wants to be the change too. First interested in policy, Ahmed grew cold to the idea of the time it takes between announcing policy and executing it. She wants to be the change now.
"Policy can take forever, but the execution of that policy is possible through engineering," says Ahmed. "If you want to help a community through policy that fixes their infrastructure, a civil engineer has to do that."
So, Ahmed joins the class of 2021 with an eye toward work that brings tangible change.
"I want to work somewhere that does good for the community."
Photo above: Zareen Ahmed ('21, mechanical engineering)